16 Free Spring Knitting Patterns
16 Free Spring Knitting Patterns- Spring is in the air and it's time to get knitting! Check out these free patterns for colorful and fun spring projects. Beginner-friendly!
Whether you're looking for something to wear or something to decorate your home, these free spring knitting patterns are sure to inspire you to get creative and start knitting.
KEEP IN TOUCH! FOR MORE INSPIRATIONS, TUTORIALS, AND FREE KNITTING PATTERNS, SIGN UP FOR MY WEEKLY NEWSLETTER:
The ad-free, printable version of these patterns are available at Shop Gina Michele for a small fee.
16 Free Spring Knitting Patterns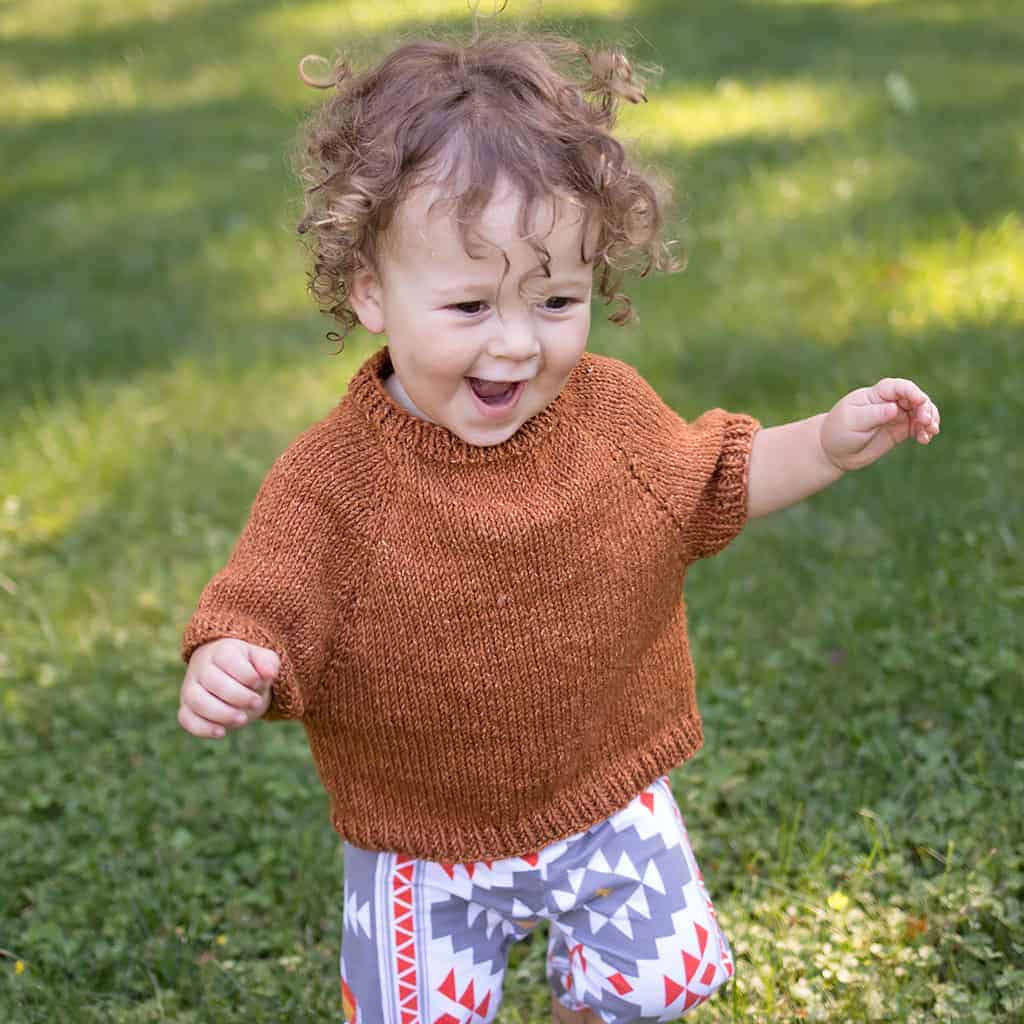 Top Down Baby Sweater Knitting Pattern
This sweater is knit using circular needles. You start at the collar and work your way down. The sleeve stitches are put on a holder and finished off after you are done with the body. The sweater is knit in one piece and there are no seams to sew!
This sweater is a quick and easy knit that uses only 1 skein of yarn. It has 3/4 length sleeves and a loose fit.
Drop Stitch Scarf Knitting Pattern
The Drop Stitch creates a pretty, lacy look that's ideal for spring and summer knitting projects. The Drop Stitch may look complicated, but it's actually beginner-friendly. After a stitch is knitted, you wrap the yarn twice around the needle. On the next row, you push the wraps off the needle creating the drops. Video tutorial is included.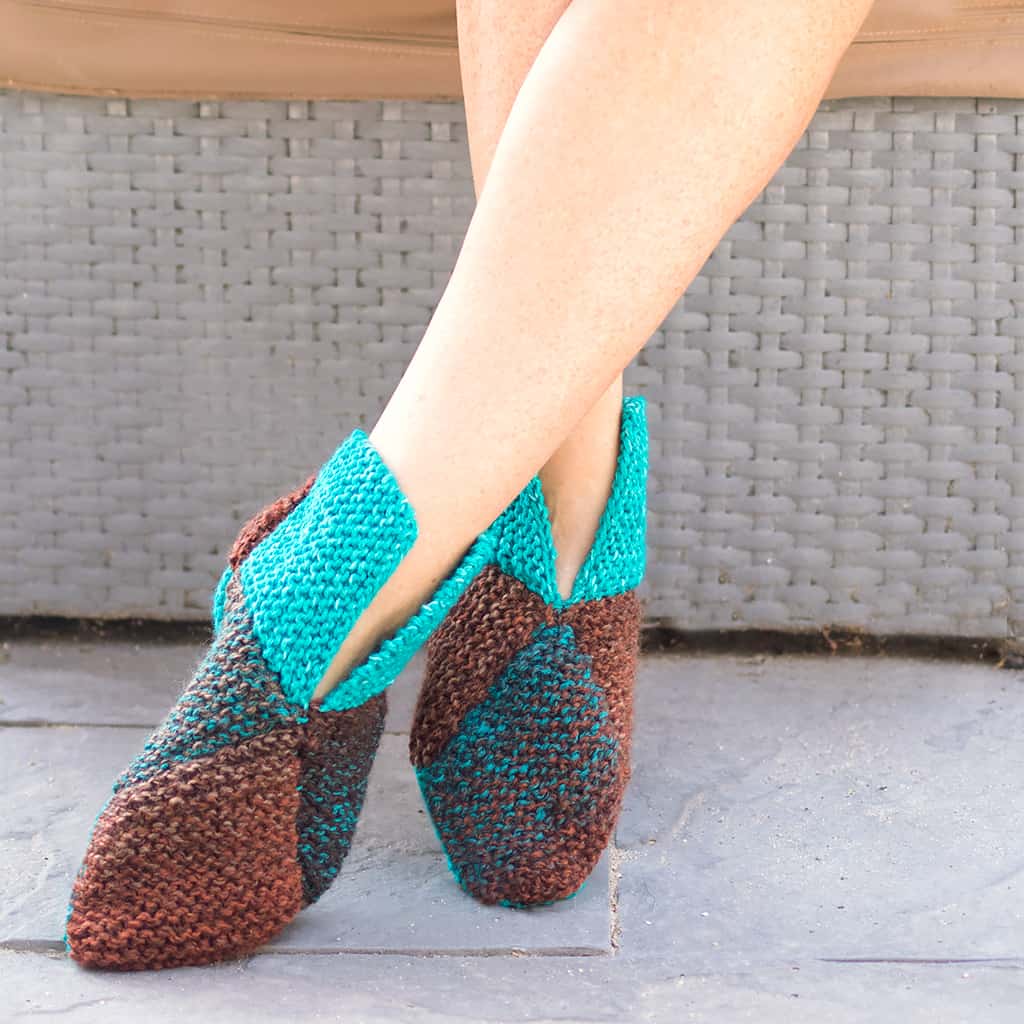 Origami Slippers Knitting Pattern
A beginner-friendly pattern for cozy slippers that comes together like magic!
These slipper socks look complicated, but they're actually easy to make! 16 same-size squares are knit (8 for each slipper), then they are joined together, folded over and sewn.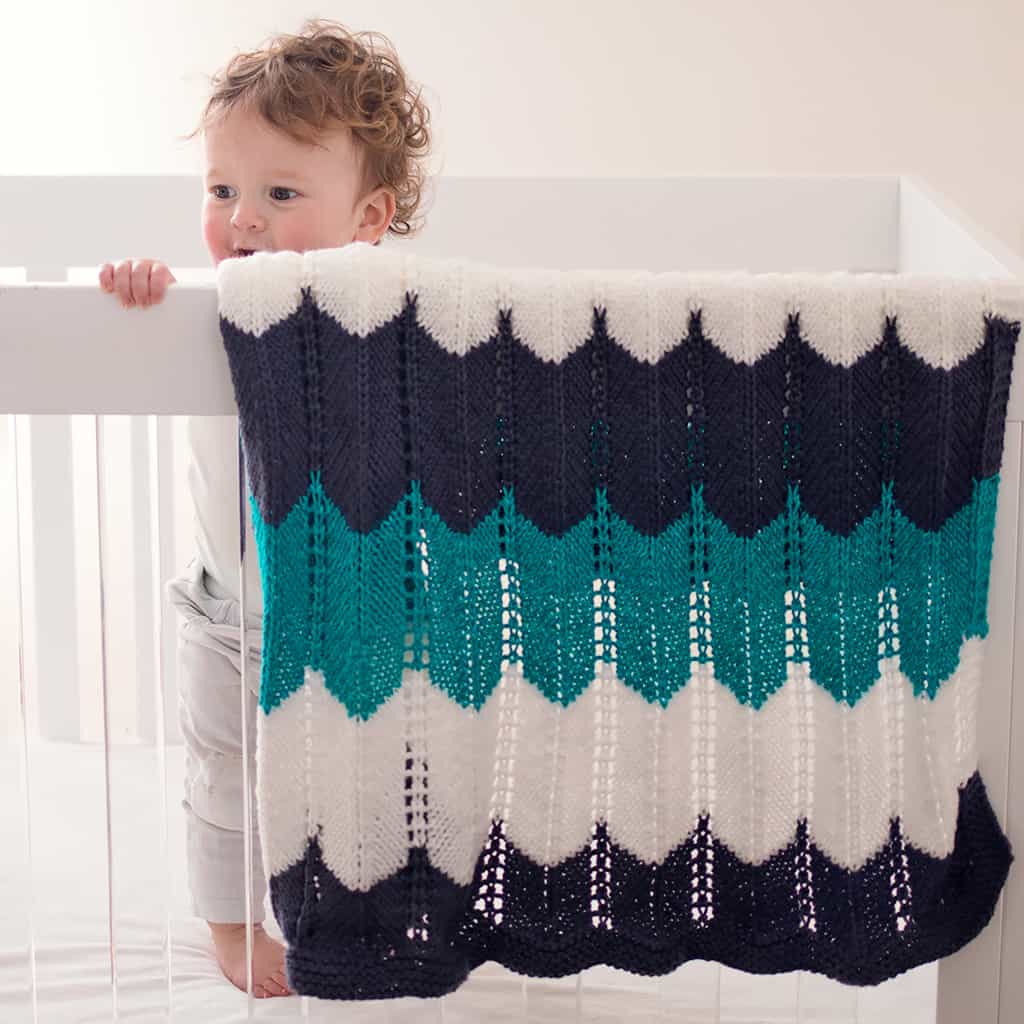 Waves Baby Blanket Knitting Pattern
This wave pattern may look complicated, but it's a breeze to knit! The pattern is created using a series of knit and purl stitches. This Waves Baby Blanket is light, airy and ideal for spring temperatures. I went with a coastal color palette, but you also use this pattern as a scrap-busting project and knit the blanket using a rainbow of colors.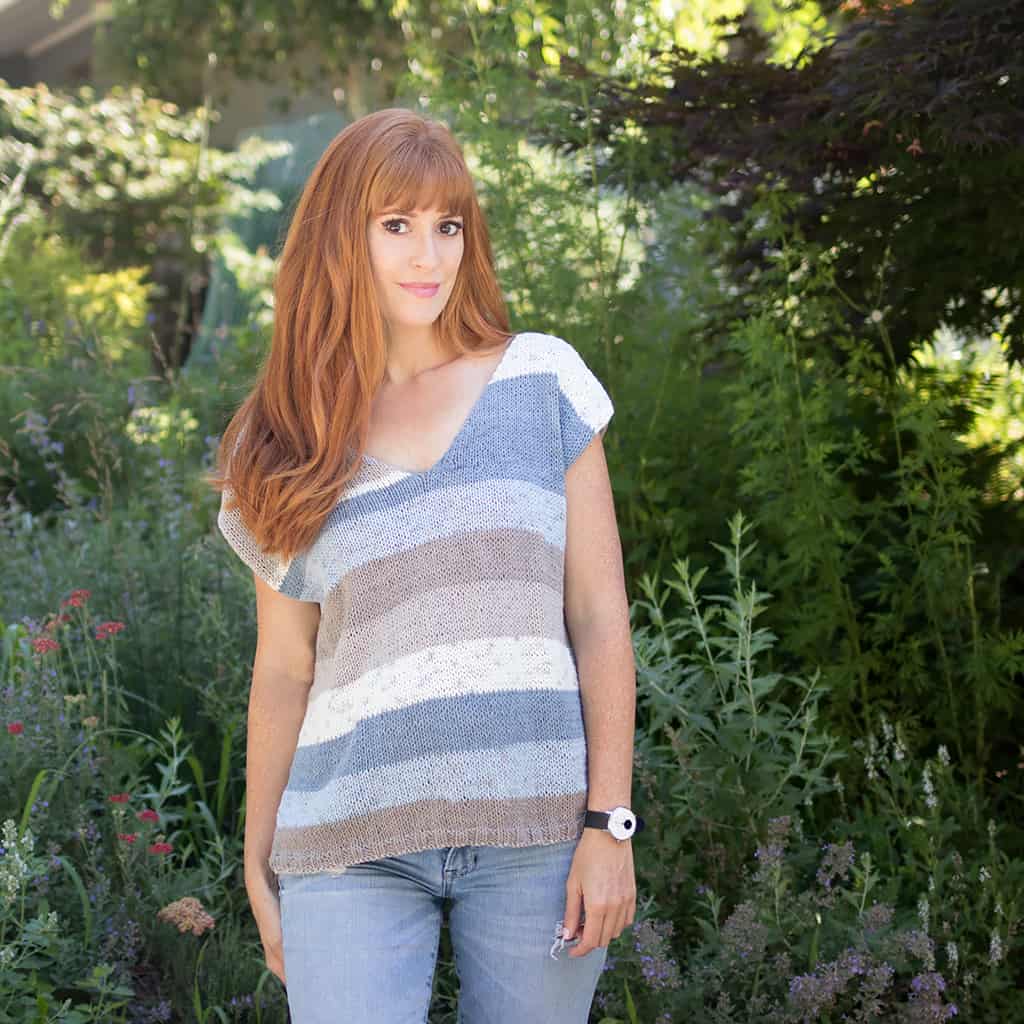 Easy Summer Sweater Knitting Pattern
Knitting sweaters is usually a complicated and time consuming process. Not this one! This loose fitting sweater consists of a basic Stockinette Stitch. There's no armhole shaping or adding sleeves. The entire sweater is knit on single point needles, so it's beginner-friendly.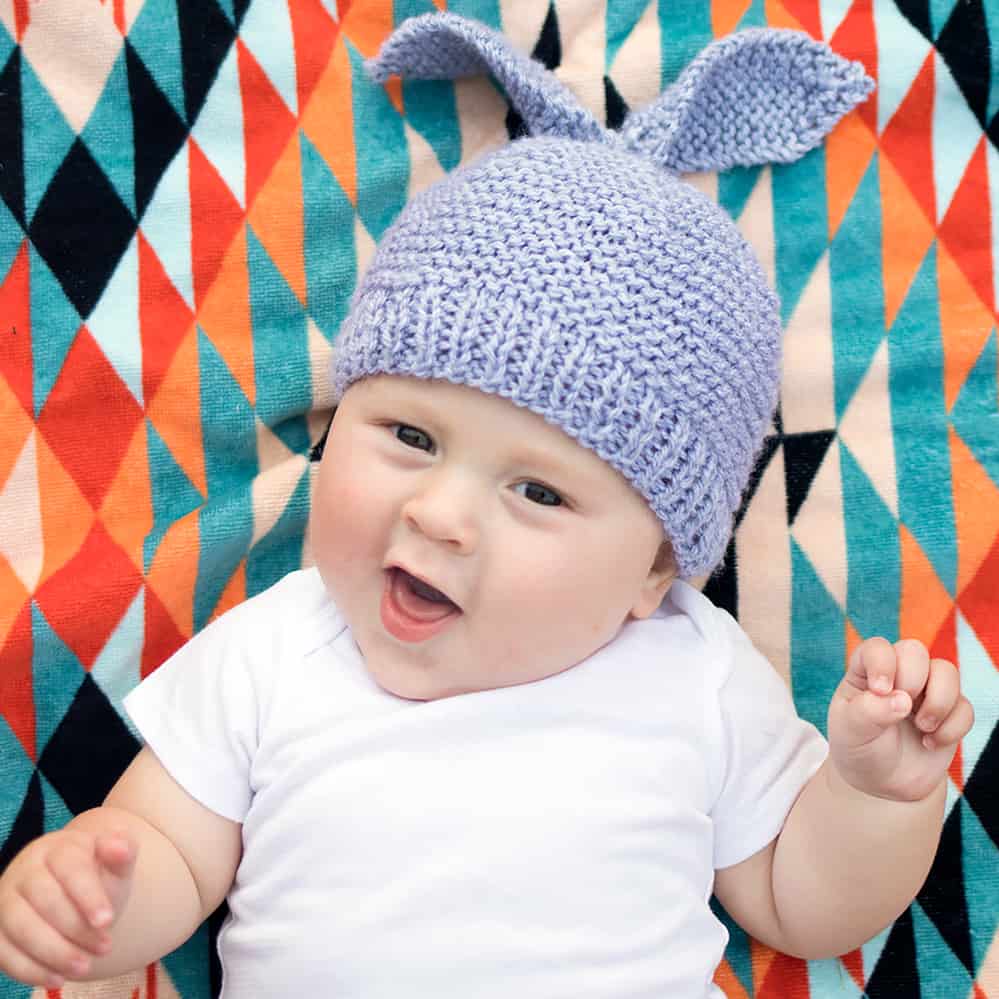 This bunny hat is ideal for beginners since it is knit on single point needles using basic rib and garter stitches. The ears are knit separately and then sewn on. This is a fast & fun project that will keep your little one toasty when the cool weather arrives.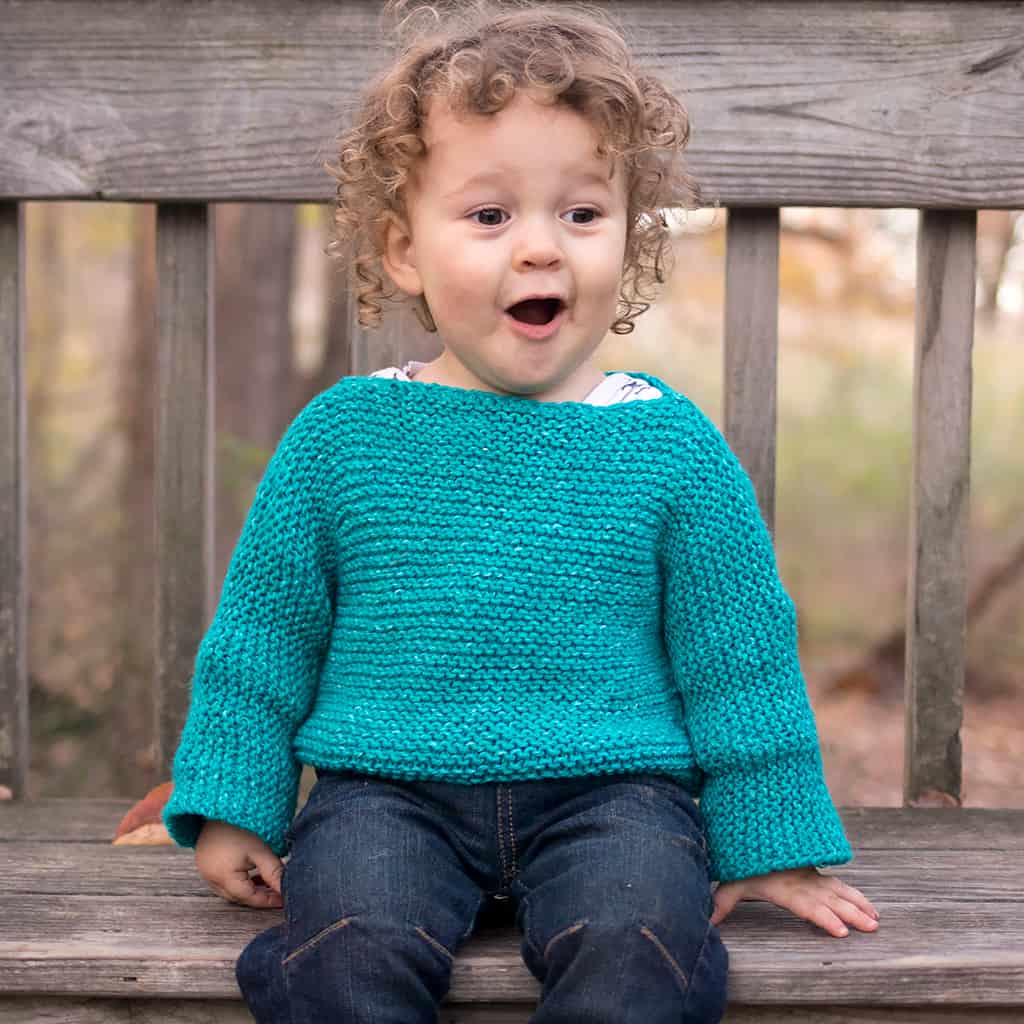 One Piece Garter Stitch Baby Sweater
If you're new to knitting, or you just want an easy project, this baby sweater is it! This sweater is knit entirely in Garter Stitch and it is worked as one piece. Instead of having to sew 4 pieces together (2 sleeves, front, and back), you just fold this sweater over and sew under the arms and side seams. There is some simple casting on and binding off for the sleeves and neck. This is a straight-forward knit that's ideal for beginners!
This gender neutral sweater features a relaxed shaped and a boatneck neckline.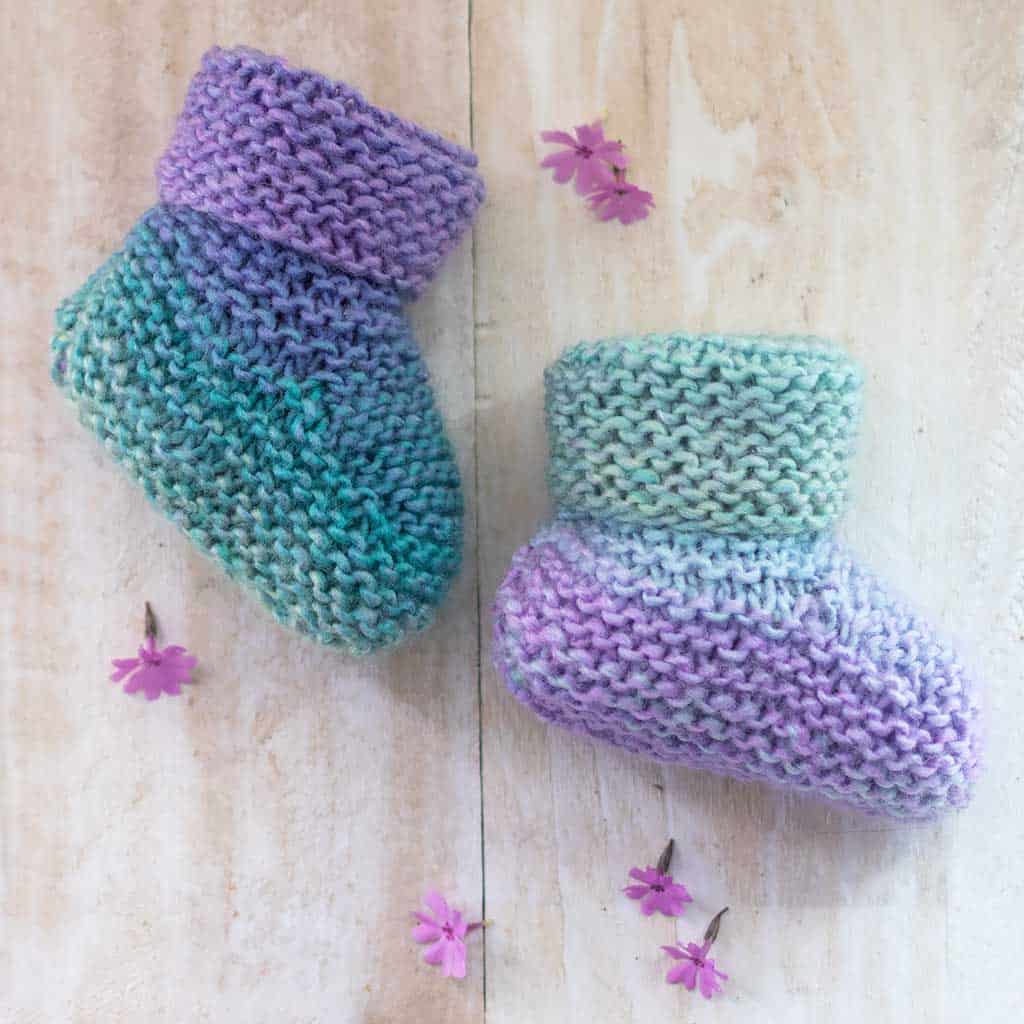 How to Knit Baby Booties Step by Step
A pair of baby booties make a great gift. There are tons of patterns available but most of them require double needles and complicated shaping. Not this knitting pattern! These easy knitted baby booties are worked on single point knitting needles using the garter (knit every row) stitch.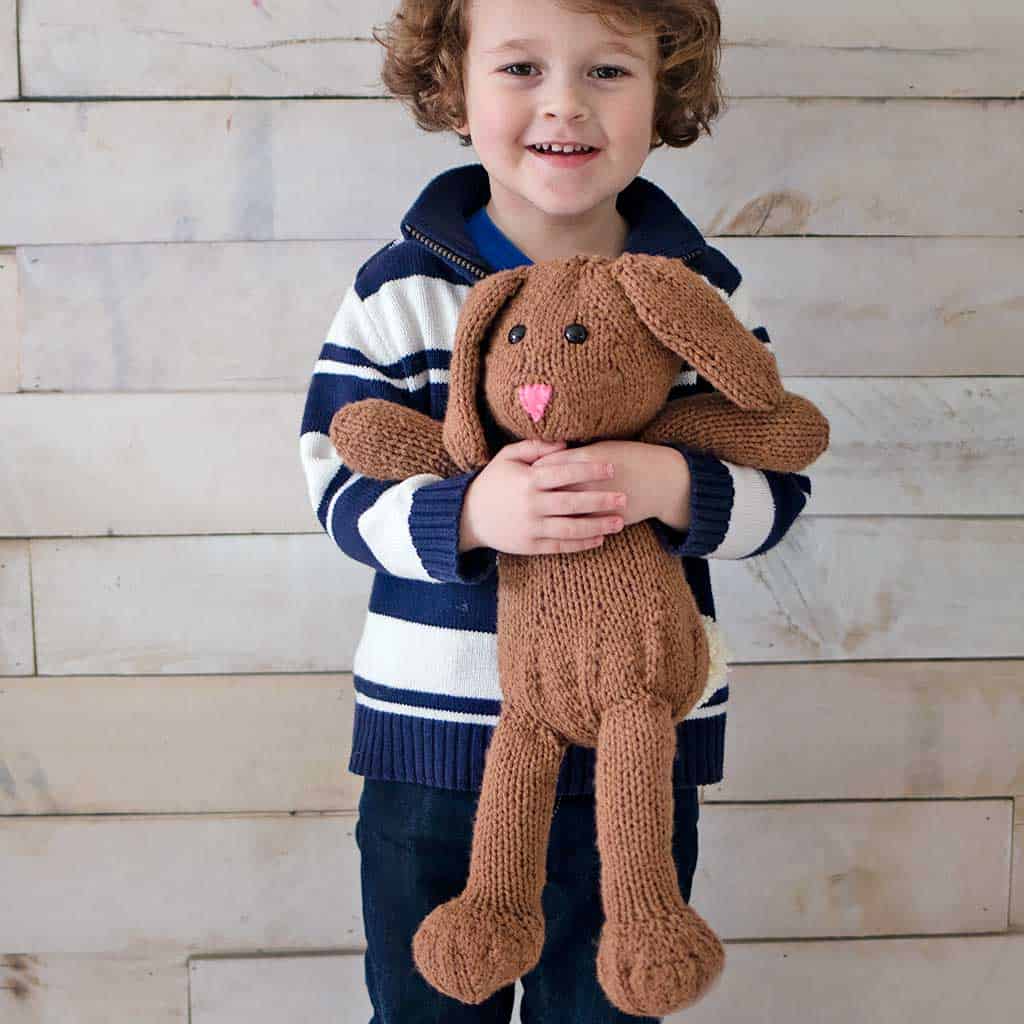 Flat Knit Bunny Knitting Pattern
Knit on straight needles, this cute plush bunny is sure to delight little ones!
Knit bunnies can be a fun and creative project for those who enjoy knitting, and they also make a great gift for children or adults who love stuffed animals.
This knit bunny is created by knitting a series of panels (body, arms, legs and ears), then sewing them together and stuffing them with polyfill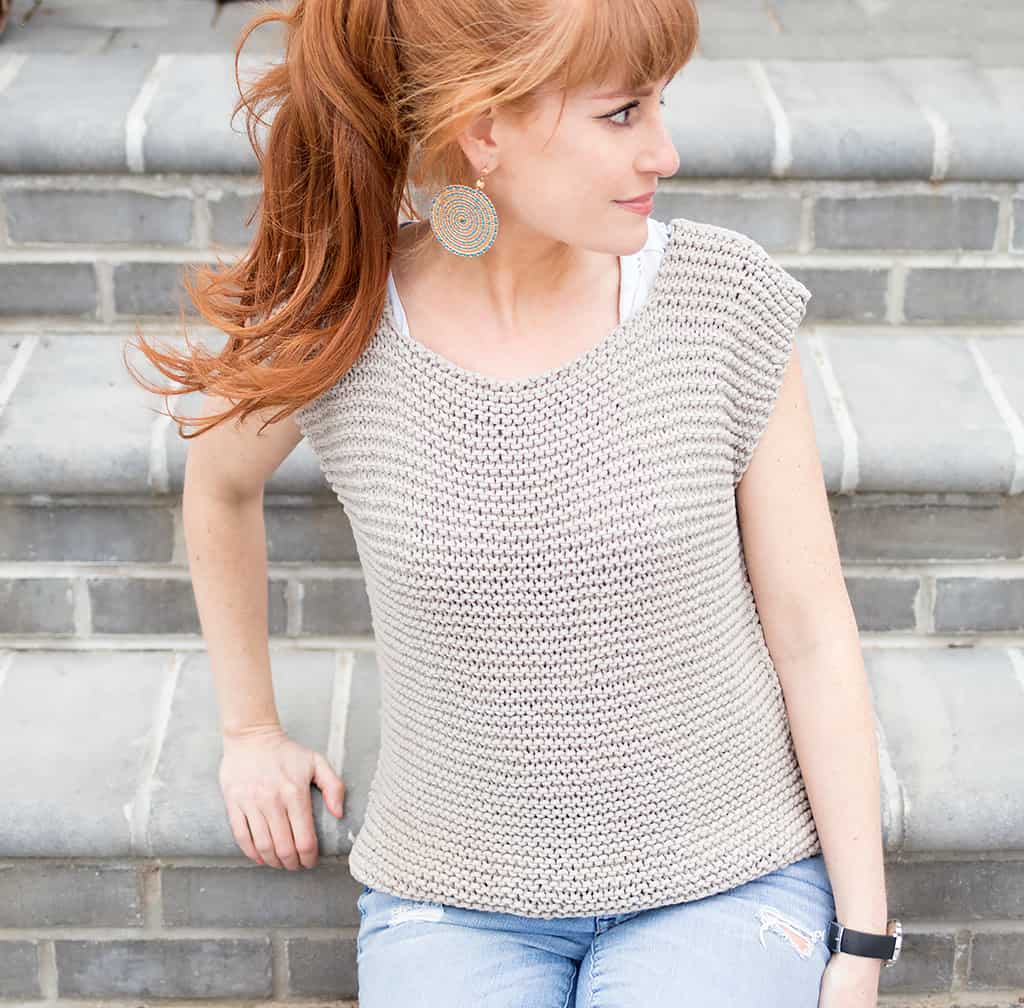 Easy Garter Stitch Tank Knitting Pattern
This Garter Stitch Tank Knitting Pattern is an easy basic to get you through the spring season. This sleeveless top features a relaxed shape with a scoop neckline. It's the perfect addition to your summer wardrobe. Best of all? This tank is unbelievably easy to knit! It's knit in Garter Stitch and there's minimal shaping (only the neck hole).
Easy Toddler Pants Knitting Pattern
Knit these cute, lightweight pants with this free, beginner-friendly pattern! These toddler pants are knit flat on straight needles using stockinette stitch. I used a lightweight cotton-blend yarn which is perfect for spring.
Easiest Toddler Slipper Knitting Pattern
These foldover slippers These slippers are knit flat and then sewn together. There's no heel shaping or double point needles. They're very easy to  knit, even for beginners!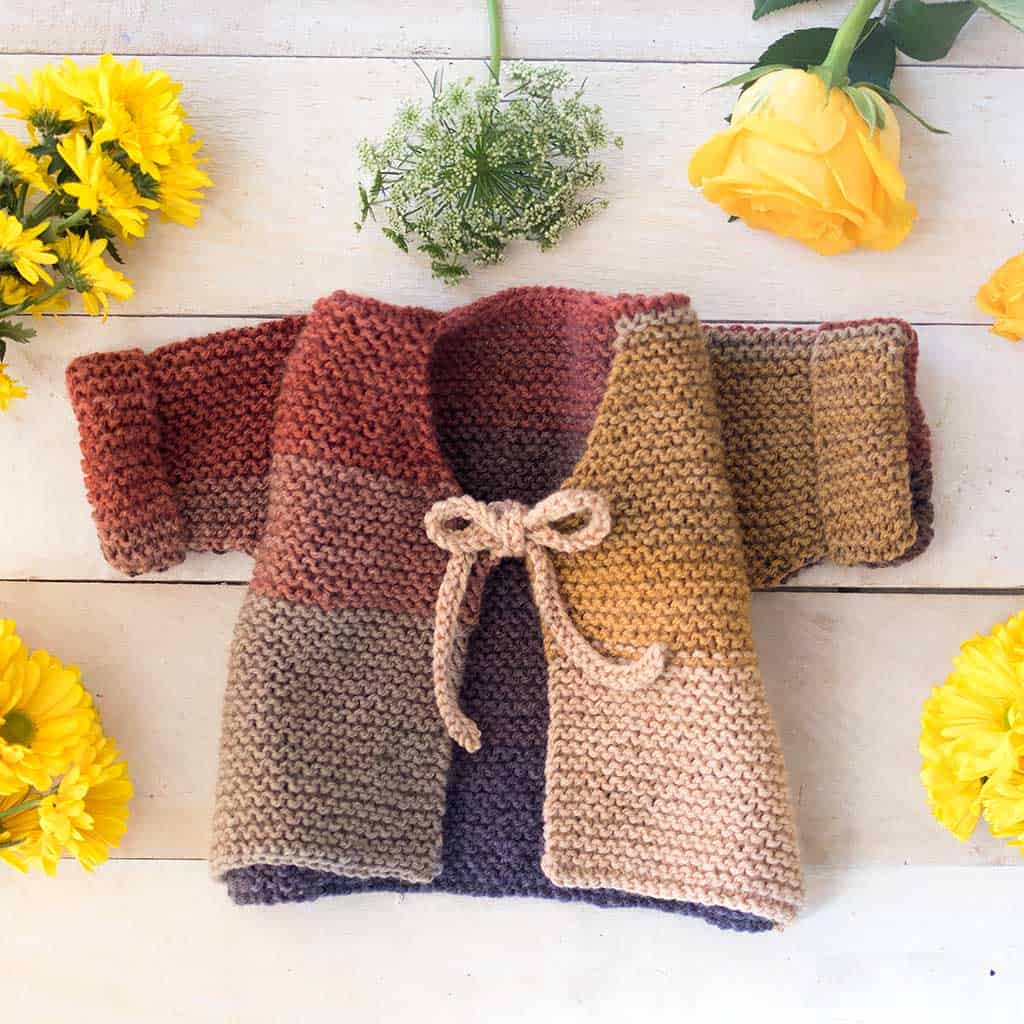 Beginner Baby Cardigan Knitting Pattern
A fast and easy knitting pattern for a classic Garter Stitch cardigan.
This Garter Stitch baby cardigan is ideal for beginner knitters. It is knit in one piece (from the bottom up), then folded over and seamed. The ties are knit separately and then sewn on. No buttons or buttonholes are needed!
This classic baby cardigan is a quick knit and it makes a great gift!
Easy Kids Hooded Poncho Knitting Pattern
This Kids Hooded Poncho Knitting Pattern is knit in Stockinette Stitch with a Garter Stitch trim. It requires minimal shaping and the relaxed fit can accommodate a variety of sizes. You can adjust the pattern for older children by adding to the length.  The front and back are knit separately using an identical pattern. Then the stitches are picked up and knit around the collar to create the hood. 
Easiest Baby Booties Ever Knitting Pattern
 Hand-knit baby booties are a thoughtful gift, but if you're a beginner knitter they can be tricky to make. This Easiest Baby Booties Ever Knitting Pattern is perfect for beginners! Most baby bootie knitting patterns require double-pointed needles and have heel shaping. These are knit flat and shaped through some well-placed decreases. The foldover shape in the front helps keep the booties on tiny feet. Best of all, this pair of baby booties only takes about 30 minutes to make!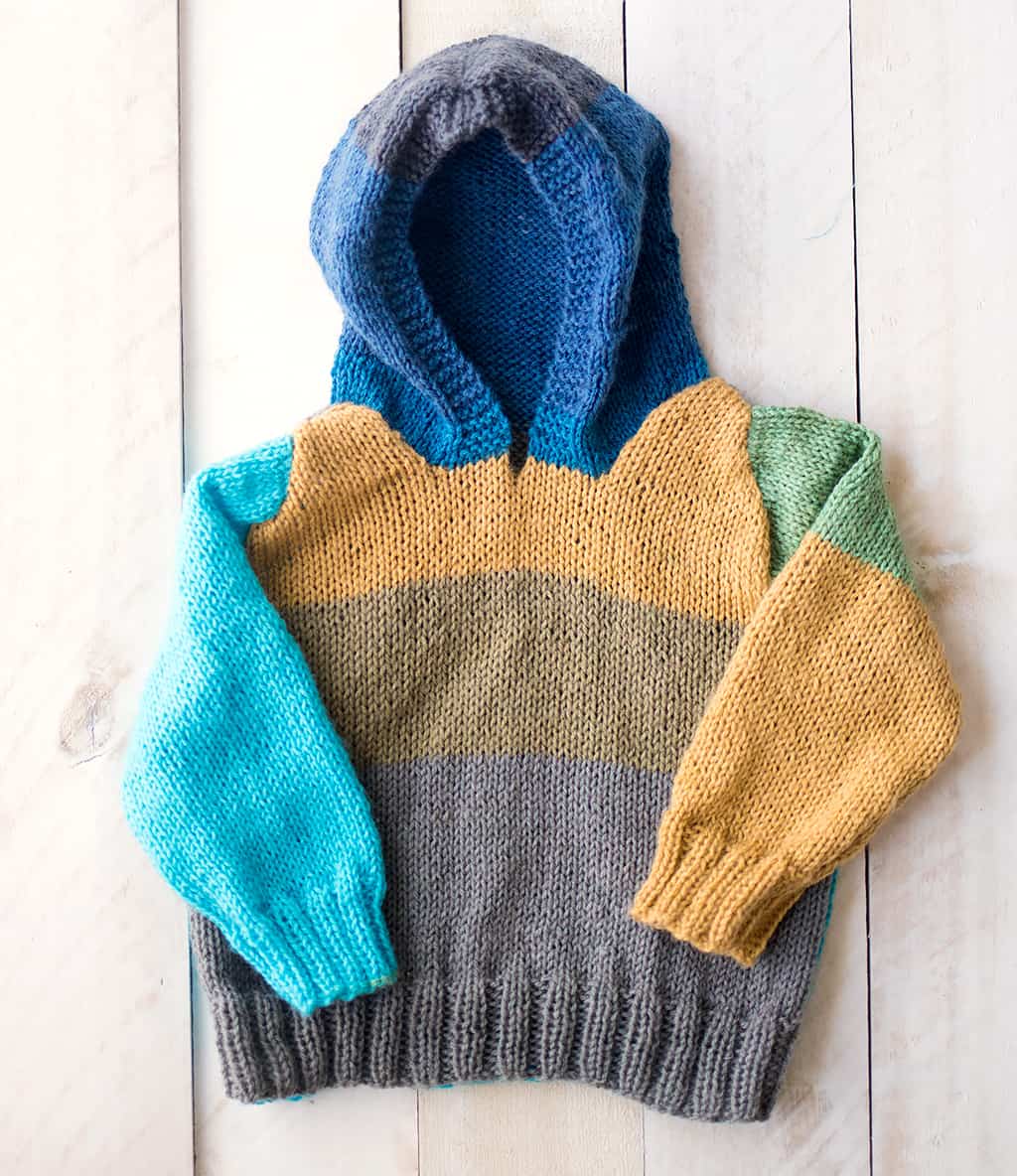 Baby Hooded Sweater Knitting Pattern
This hooded baby sweater is worked in a simple Stockinette Stitch using self-striping yarn. It has a ribbed hem and cuffs. There are some basic increases/decreases and the hooded is worked on circular needles.
I love seeing your finished projects! If you enjoyed making any of these 16 Free Spring Knitting Patterns or any of my other free knitting patterns, I'd love to see yours on Instagram, just tag me @ginamicheleblog. Happy knitting!
Like what you see here? Don't forget to visit my other blogs: