Easiest Baby Booties Ever Knitting Pattern
Easiest Baby Booties Ever Knitting Pattern- these stay-on booties make a great gift!
Hand-knit baby booties are a thoughtful gift, but if you're a beginner knitter they can be tricky to make. This Easiest Baby Booties Ever Knitting Pattern is perfect for beginners! Most baby bootie knitting patterns require double-pointed needles and have heel shaping. These are knit flat and shaped through some well-placed decreases. The foldover shape in the front helps keep the booties on tiny feet. Best of all, this pair of baby booties only takes about 30 minutes to make!
I have included a video at the end of the post that shows you how to knit and assemble the booties.
Scroll down for the pattern or click below to buy the ad-free, printable version for a small fee. The printable version is an instant download that conveniently prints on 2 pages. It contains additional sizes as well.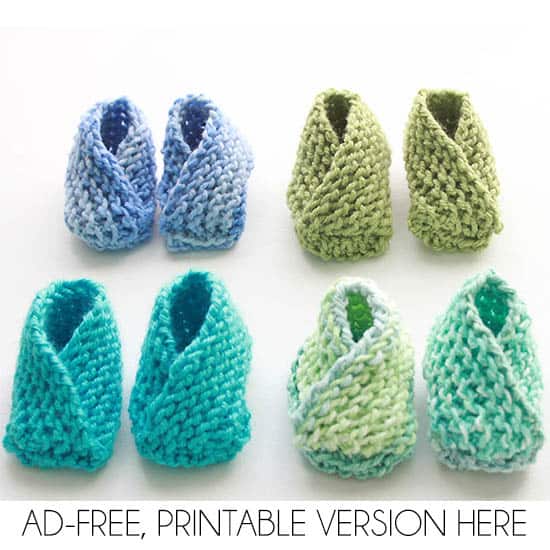 Easiest Baby Booties Ever Knitting Pattern for Beginner Knitters
(As an Amazon Associate I earn from qualifying purchases)
Yarn: Medium weight yarn (worsted weight yarn) (these booties are a great way to use up scrap yarn!)
Needles: Size US 8 single point knitting needles
Footbed measures 2 3/4 inches long
Size: 0-3 months old (for newborns)
[Make 2]
Cast on 26 stitches. Work in Garter Stitch for 10 rows.
Bind off 10 stitches at the beginning of the next row. Finish row.
Bind off 10 stitches at the beginning of the next row- this leaves you with 6 stitches in the middle. Garter Stitch remaining stitches for 20 rows. Bind off.
[Update: Many readers asked for an adult version of this bootie- here is the pattern]
How to finish the booties
Here is the finished piece. It looks like the letter "T". The upper part will become the back and sides of the bootie. The thinner, bottom part will be the footbed
Take one side of the upper part of the "T" and place it on top of the footbed.
Take the other side of the "T" and place it on top of the 2 layers. Using a yarn needle, sew the bootie together at the toe and the sides.
Keep in touch!
For more inspirations, projects, and free knitting patterns, sign up for our weekly newsletter
Looking for more Baby Knitting Patterns and Knit Baby Bootie Patterns?
Flat Knit Baby Socks Knitting Pattern
Easy Garter Stich Booties Knitting Pattern
One Piece Garter Stitch Baby Sweater Knitting Pattern
I hope you liked this Easiest Baby Booties Knitting Pattern! I love seeing your finished projects! If you enjoyed making these baby booties, I'd love to see yours on Instagram, just tag me @ginamicheleblog. Happy knitting!