Easiest Toddler Slippers Knitting Pattern- now with extended sizes!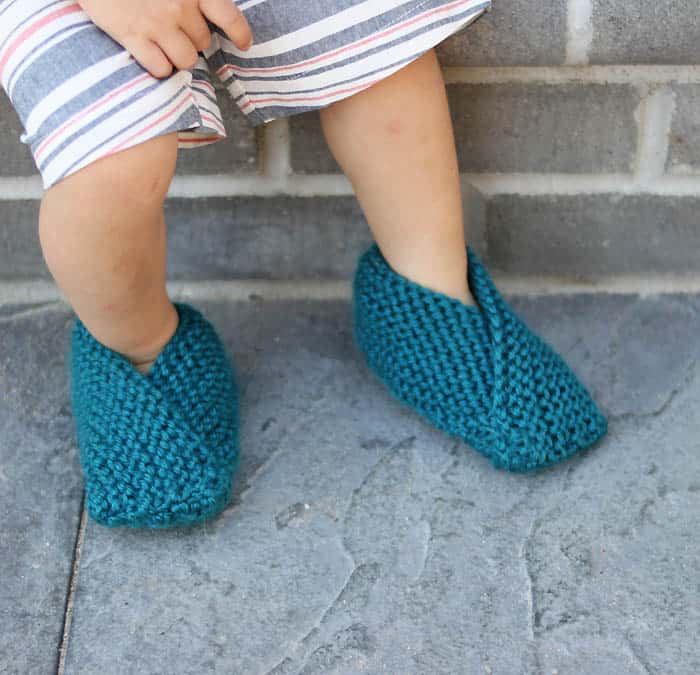 My Easiest Baby Booties knitting pattern is the most popular pattern I've ever posted. I'm so happy that you guys like it! I've received many requests for extended sizes for toddlers. This knitting pattern will fit up to toddler size 12 (scroll down a bit for the other sizes).
I changed the yarn from the other patterns (from worsted to bulky) to make the slippers more substantial. These slippers are knit flat and then sewn together. There's no heel shaping or double point needles. They're very easy to knit, even for beginners!
Yarn: Red Heart Soft Essentials (Teal)
Needles: Size US 8 Straight knitting Needles
Free Knitting Pattern
Size: Toddler 7-8, 9-10, 11-12
Cast on 48 (52, 56) sts. Work in garter stitch for 15 (16,17) rows. Bind off 19 (20, 21) sts, then knit across the rest of the row. Bind off 19 sts at the beginning of the next row leaving 10 (12, 14) sts. in the middle. Knit in garter stitch until the middle piece measures 5 (5 1/2, 6) inches. Bind off.
To finish: This previous pattern I posted has pictures/directions for assembling the booties as well as a video tutorial.
Want this Slipper Knitting Pattern in other sizes?
Follow
(function(d, s, id) {var js, fjs = d.getElementsByTagName(s)[0];if (d.getElementById(id)) return;js = d.createElement(s);js.id = id;js.src = "https://widget.bloglovin.com/assets/widget/loader.js";fjs.parentNode.insertBefore(js, fjs);}(document, "script", "bloglovin-sdk"))
amzn_assoc_placement = "adunit0";
amzn_assoc_search_bar = "true";
amzn_assoc_tracking_id = "croche085-20";
amzn_assoc_ad_mode = "manual";
amzn_assoc_ad_type = "smart";
amzn_assoc_marketplace = "amazon";
amzn_assoc_region = "US";
amzn_assoc_title = "My Amazon Picks";
amzn_assoc_asins = "B00MJ789MI,B018EOPU8K,1611803888,B01IDI35HA";
amzn_assoc_linkid = "1b4108cb91ed8af49ac9ef3dc2bfabc7";