How to Sew a Bowl from Fabric Scraps
How to Sew a Bowl from Fabric Scraps- upgrade your fabric scraps into these colorful bowls! Beginner-friendly!
A while back I posted a tutorial showing how to make twine from fabric scraps. I received many questions asking what the fabric twine can be used for. It can be used in many different ways! I've used it in place of macramé cord when making hanging planters, for potholders, for fabric scrap rugs and I used it to adorn gifts and I've even wrapped it around plain flower pots. This fabric twine is also easy to sew (either by hand or using a machine with a zig-zag stitch).
The video below shows you how to turn your old fabric scraps into twine. I've tried making twine with different fabrics (rayon, silk), and I have to say that woven cotton is a good choice because it is easy to work with. Using fabric with different patterns creates beautiful twine. You can even use old clothing for fabric. This really is a great project for scrapbusting!
Tear or cut (approximately) 1 1/2 inch wide strips of fabric. Take 2 strands and make a knot at the end. Loop them over something to hold. I used a nail and scrap wood, but you can use anything. Separate the strands and twist the right one away from you 2 times. Pass it over the left strand, and repeat.
When you reach the end of the fabric strip, it's time to add another. This is called a join. Stagger your joins so they are not right next to each other. Staggering the joins will result in a stronger twine.
How to Sew a Bowl from Fabric Scraps
Instructions:
Once your scrap fabric twine is made, it's time to start sewing the bowls. You'll need a wide zigzag stitch to catch both sides of the twine. Starting the bowl is a little tricky, but once you sew a few rounds, it becomes a lot easier.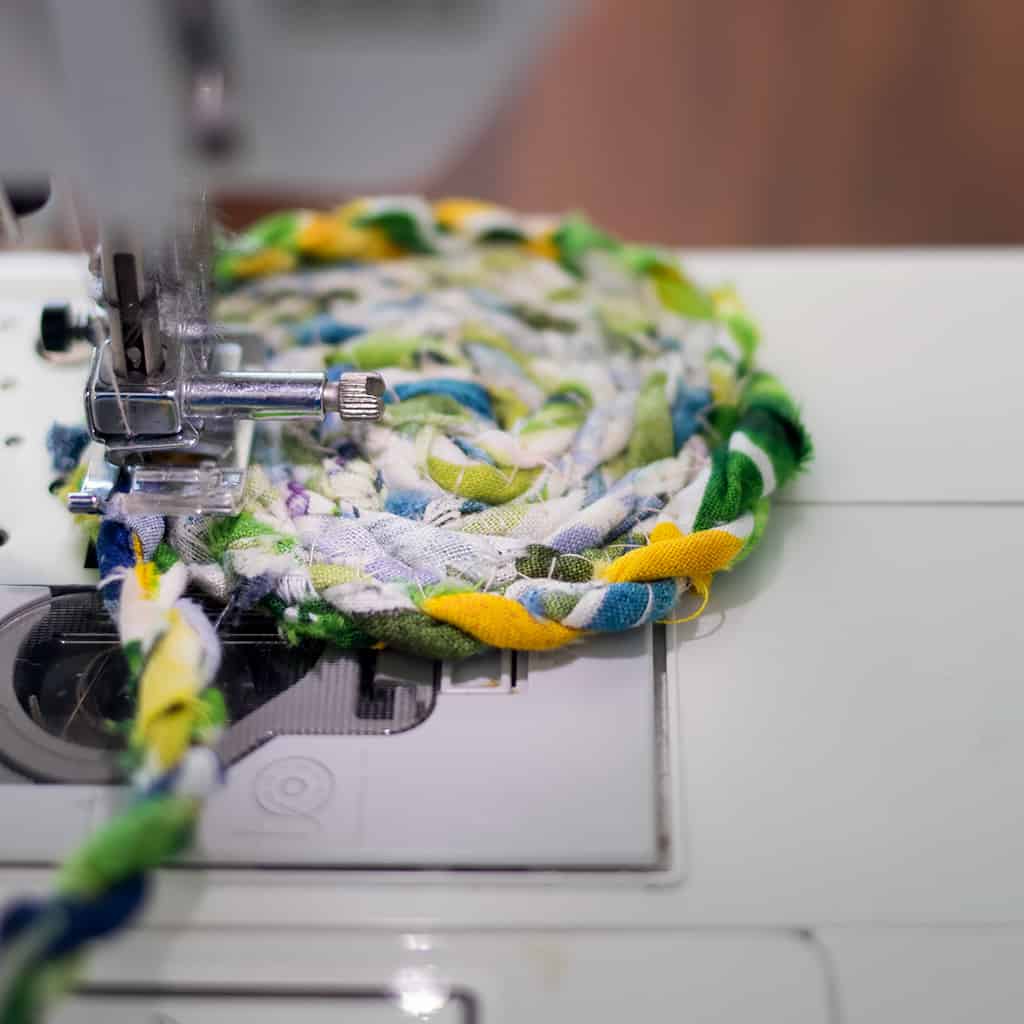 Start at the knotted end and being coiling the twine. Sew the 2 sides of the twine together, moving the piece in a circular motion. Once you've made the base, it's time to sew the sides. Turn the base on its side and keep sewing the new strand. If this is difficult to understand, the below video tutorial will show you how it's done.
Once the bowl is the size you'd like it to be, cut the end of the twine and hand sew it in place.
Looking for more Free Sewing Patterns?
How to Sew Baby Blocks with Tags
How to Add Bra Cups to a Dress
How to Sew Easy Envelope Pillows
This fabric bowl can also be turned into a cute Easter basket
I love seeing your finished projects! If you enjoyed making this post- How to Sew a Bowl from Fabric Scraps, or any of my other crafts and free patterns, I'd love to see yours on Instagram, just tag me @ginamicheleblog. Happy sewing!