Easy Lion Brand Cupcake Scarf Knitting Pattern
Easy Lion Brand Cupcake Scarf Knitting Pattern- a beginner-friendly pattern for a colorful, textured scarf!
For this pattern, I used Lion Brand Cupcake yarn. Cupcake has really long colorways so it's ideal for color block throws and scarves. It creates pretty and vibrant gradient colors without the hassle of switching yarns. Thanks to its generous size, you only need one ball for this project.
This scarf is a mixture of garter and seed stitch. Seed stitch gets its name from the raised bumps that resemble seeds. It's a reversible stitch that's created using knit and purl stitches, but instead of having the stitches stack on top of each other to form ribbing, they are offset.
THE AD-FREE, PRINTABLE VERSION OF THIS PATTERN CAN BE PURCHASED FOR A SMALL FEE AT MY PATTERN STORE, SHOP GINA MICHELE. PLEASE CLICK ON THE IMAGE BELOW TO PURCHASE THE PDF, OR SCROLL DOWN FOR THE FREE VERSION
Easy Lion Brand Cupcake Scarf Knitting Pattern
Yarn: Lion Brand Cupcake yarn in Beach Ball (1 skein)
Needles: Size US 6 single point knitting needles
Gauge: not necessary for this pattern
Size: 65 inches long (there is more than enough yarn to make this scarf longer if you desire)
Cast on 41 sts. Work in garter stitch until the color begins to change. On a right side row begin working in Seed Stitch
Row 1 K1, *p1, k1; repeat from * to end of row.
Repeat this one row until the colors start to change again. On a right side row switch back to garter stitch.
Alternate between garter and seed stitch sections until the scarf is desired length (mine is 65 inches long). Bind off on a right side row. Weave in ends.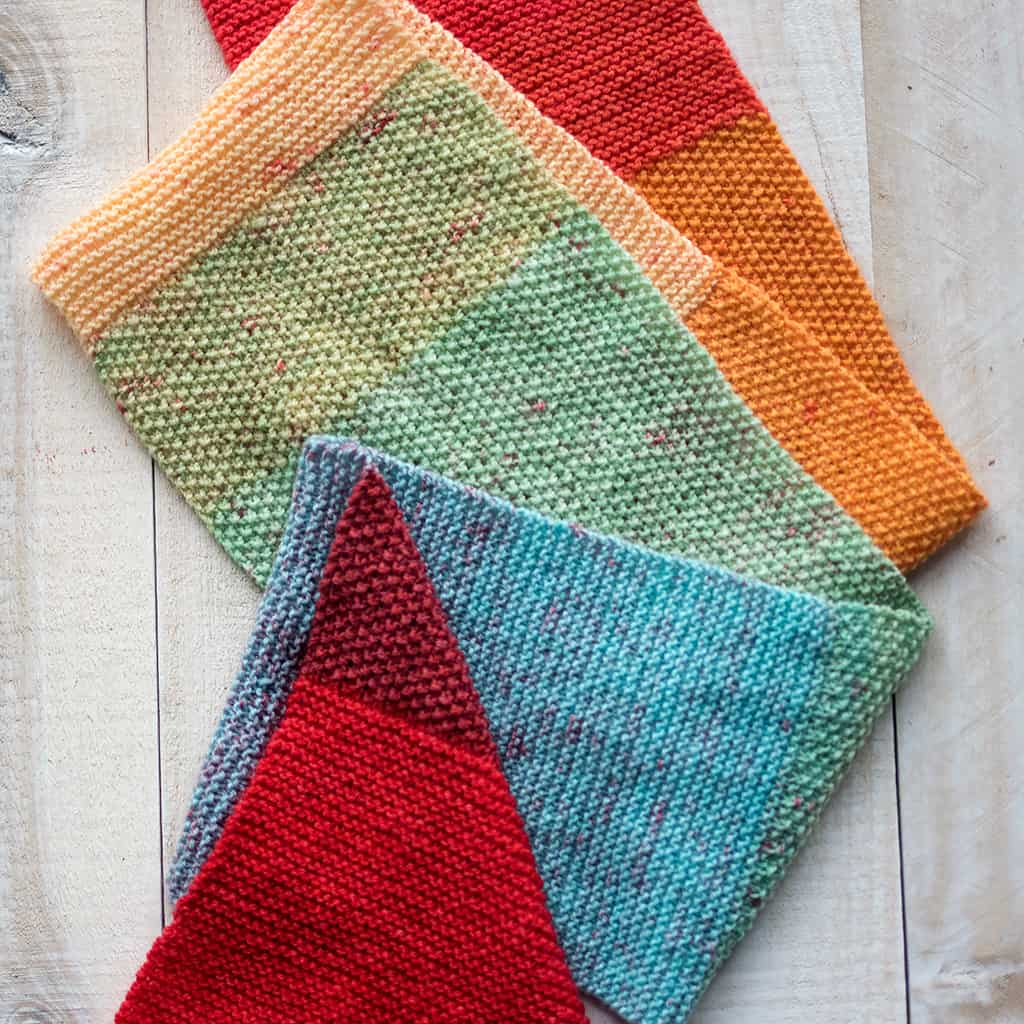 Looking for more free scarf knitting patterns?
Easy Chevron Scarf Knitting Pattern
Zig Zag Scarf Knitting Pattern
Drop Stitch Scarf Knitting Pattern
Leftover Yarn Scarf Knitting Pattern