How to Make Scented Scrap Fabric Christmas Trees- 2 Ways
This post, How to Make Scented Scrap Fabric Christmas Trees– 2 Ways, is sponsored by BabbleBoxx on behalf of Fiskars.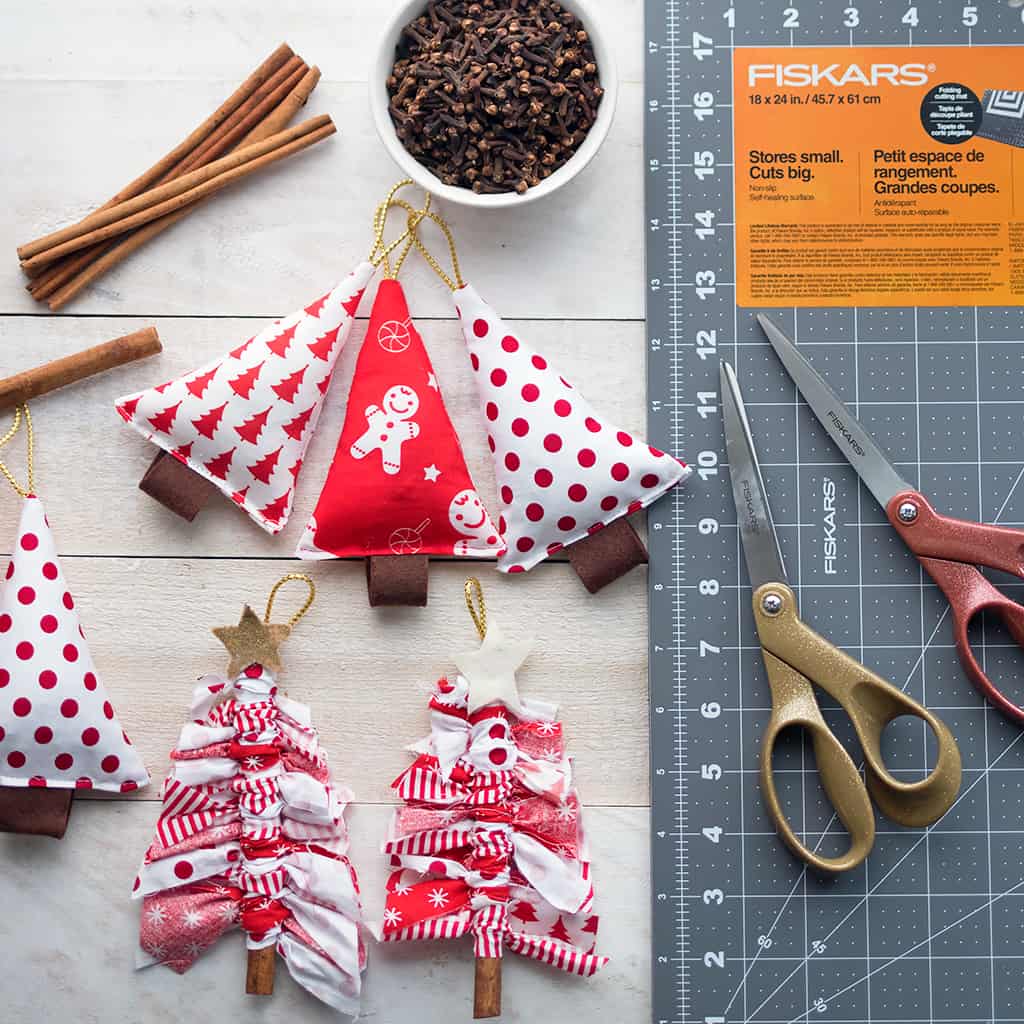 The holidays are my favorite time of the year. In addition to the extra family time and great food, I love the opportunity to make one-of-a-kind decorations and presents. Today I'm going to show you how to turn your scrap fabric into festive ornaments that smell as good as they look!
Quality makes a difference when crafting and Fiskars is in a class by itself. Their premium sewing and crafting tools are not only incredibly durable and remarkably precise but stylish too! Fiskars has been my go-to brand for crafting and sewing supplies for years, so I'm thrilled to have them sponsor this post.
How to Make Scented Scrap Fabric Christmas Trees
These Scrap Fabric Christmas Trees take minutes to sew and they're filled with the wonderful scents of the holiday. They can be used as Christmas ornaments, as gift toppers, or strung as a garland. I have included tutorials for both sew and no-sew versions.
Supplies needed:
Woven cotton fabric scraps
Cord or string (for hanging)
Cinnamon sticks
Fiskars scissors
Fiskars cutting mat
Fiskars ruler
Felt
For the sewn version:
Fiber fill and cloves
Fiskars Premier 8" Fashion Sparkle Scissors – Gold (also available in Silver and Copper)
I always have a dedicated pair of scissors that I use strictly for fabric. Household scissors that are used on paper and cardboard dull quickly and won't cut clean lines on the fabric. These Fiskars Premier 8″ Fashion Sparkle Scissors have high-grade stainless steel blades and an ergonomically sculpted handle for ultimate cutting control. They feature a precision-ground edge that stays sharp longer and cuts all the way to the tip, an essential feature for cutting fabric.
18" X 24" Folding Cutting Mat
Whether sewing or creating paper crafts, a cutting mat is essential. Fiskars Folding Cutting Mat folds in half for easy storage and travel. This mat has a high quality, self-healing surface and a thick, non-slip backing.
3"X18" Acrylic Ruler
I always work with an acrylic ruler, because it allows you to see everything. Fiskars Acrylic Ruler features a highlighted seam allowance and easy-to-read grid lines that make cutting strips of fabric from the bolt a snap.
Turquoise Pointed-tip Kids Scissors (5″)
If you have a little helper, they're going to need their own scissors! Fiskars Pointed-tip Kids Scissors are designed to be safe and comfortable. They feature innovative safety edge blades for high-quality cutting with a safer blade angle. They have a large finger loop that comfortably fits little hands.
Now that we have the proper tools, it's time to create!
For the Sewn Christmas Trees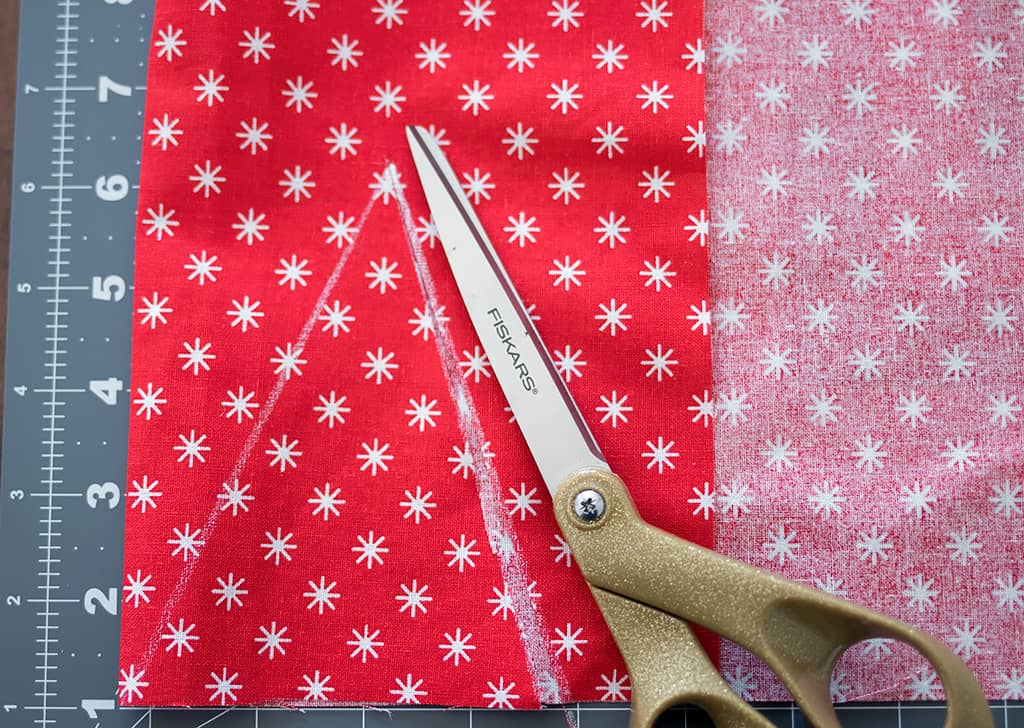 The trees measure 6 inches high and 7 inches wide. Fold the fabric over and mark 3 1/2 inches in to find the middle. Measure 6 inches up to find the top of the tree. Using a ruler,, mark diagonal lines at either side. Cut out.
Using the triangle as a pattern to cut out more trees.
The next step is to attach a loop so you can hang the ornament. Cut the cord to a length of 5 inches. With the right side of the fabric facing, sew the cord to the top of the tree.
Layer the other top of fabric on top and sew together at the sides.
Turn the ornament right side out and stuff with fiber fill.
Add the cloves (we used approximately 2 tablespoons per ornament).
To make the trunk- cut a piece of brown felt into a 4 inch by 1 1/2 inch rectangle. Fold over. Tuck the bottom ends of the tree inside and place the trunk in the middle. Sew the seam closed.
For the No-Sew Christmas Trees
Cut strips of fabric that measure 9 inches long and 1 inch wide. You will need approximately 15 strips for each ornament. Starting at the bottom, tie on the strips.
Keep tying until you reach the top. Leave 1 inch of space for the star.
Once all the ties are on, place the ornament on the cutting mat and cut them on an angle. Cut a star out of felt and glue on. Make a tie for hanging and glue to the back.
Whether you're creating festive décor, making keepsake presents or looking for the ideal gift for someone crafty, Fiskars has you covered this holiday season!
Instagram:
#HolidayswithFiskars