McCalls Sewing Pattern 8097
McCalls Sewing Pattern 8097- a casual summer skirt with 3 variations. Perfect for beginners!
This pattern lets you create a charming and comfortable bohemian-inspired skirt that's perfect for casual days. McCalls 8097 is an easy-to-follow pattern that can be completed in an afternoon. With its relaxed and flowy design, this pattern captures the essence of carefree and chic boho style. Perfect for beginners and seasoned sewers alike.
KEEP IN TOUCH! FOR MORE INSPIRATIONS, TUTORIALS, AND FREE KNITTING PATTERNS, SIGN UP FOR MY WEEKLY NEWSLETTER: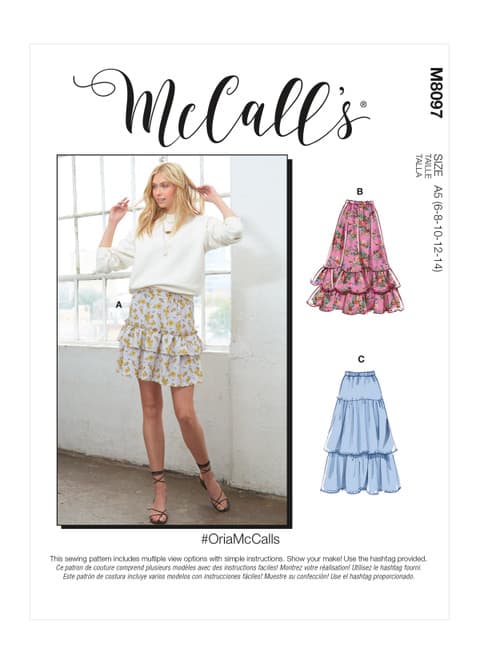 McCalls Sewing Pattern 8097
This women's elastic waist skirt has length and tier variations. I chose to make variation "B" which is a maxi skirt with a double, gathered layers at the bottom.
Recommended fabrics: Crepe de Chine, Crepes, Challis, Stable Knits.
This skirt was a breeze to make! My only (minor) complaint is the bottom ruffles are made using 3 panels of fabric. When they are attached to the skirt, there are seams that don't line up with anything. f I were to make this skirt again, I would use a printed fabric that would disguise the seams.
Tips for Gathering Fabric
Gathering fabric is a technique used in sewing to create controlled folds and ruffles, adding dimension and texture to your projects. Here are some tips to help you successfully gather fabric:
Choose the Right Stitch: Use a long stitch length on your sewing machine, typically around 4mm. This helps create more space between the stitches for easy gathering.
Thread Tension: Increase the tension slightly on your sewing machine. This will help create the gathers by pulling the fabric together.
Use a Strong Thread: Consider using a strong thread, like polyester, for gathering. This will reduce the chances of the thread breaking while pulling.
Leave Extra Thread: Leave long thread tails at both ends of the fabric when you start sewing. This makes it easier to control and adjust the gathering later.
Mark the Gathering Line: On the fabric you want to gather, mark a line using chalk or washable fabric marker where you want the gathering to start and end. This provides a visual guide as you sew.
Stay Stitching: To prevent excessive fraying, you can sew a row of straight stitches just inside the seam allowance along the gathering line.
Basting Stitch: Sew a straight line just above the marked gathering line, without backstitching at the beginning and end. This is your basting stitch.
Leave Thread Tails: As mentioned earlier, leave thread tails at both ends of the basting stitches. These will be used to gather the fabric.
Gently Gather: Hold one end of the fabric and gently push the fabric along the basting stitches, creating gathers. Distribute the gathers evenly along the fabric.
Adjust and Distribute: Once you have the desired amount of gathers, you can adjust their distribution by sliding them along the basting stitches. Make sure the gathers are even and well-spaced.
Secure the Gathers: Once you're satisfied with the gathers, tie the thread tails in knots at both ends to secure them in place. Be careful not to pull too tightly or the thread might break.
Press Gathers: Gently press the gathered fabric with an iron on low heat. Be cautious not to flatten the gathers, but this step helps set them in place.
Sew the Gathers: With the gathered fabric attached to another piece of fabric (such as a skirt to a waistband), sew along the gathering line using a regular stitch length. This will secure the gathers in place.
Remove Basting Stitches: After sewing the gathers in place, you can carefully remove the basting stitches.
Remember, practice makes perfect. It's a good idea to try gathering on scrap fabric before attempting it on your main project. With a bit of patience and these tips, you'll master the art of gathering fabric in no time!
Looking for more sewing projects like this post, Butterick Sewing Pattern 6872?
Free T-Shirt Sewing Pattern for Boys and Girls
How to Sew a Baby Romper- No Pattern Necessary
Butternick Sewing Pattern 6872
How to Sew a Kid's Beach Towel Poncho- No Pattern Necessary
How to Sew a Super Easy Beach Dress- No Pattern Necessary
I love seeing your finished projects! If you enjoyed making this McCalls 8097 Sewing Pattern or any of my sewing projects, I'd love to see yours on Instagram, just tag me @ginamicheleblog. Happy sewing!
Like what you see here? Don't forget to visit my other blogs: