Butterick Sewing Pattern 6872
Butterick Sewing Pattern 6872- a lightweight, summer dress pattern with flounce sleeves and a full, gathered skirt.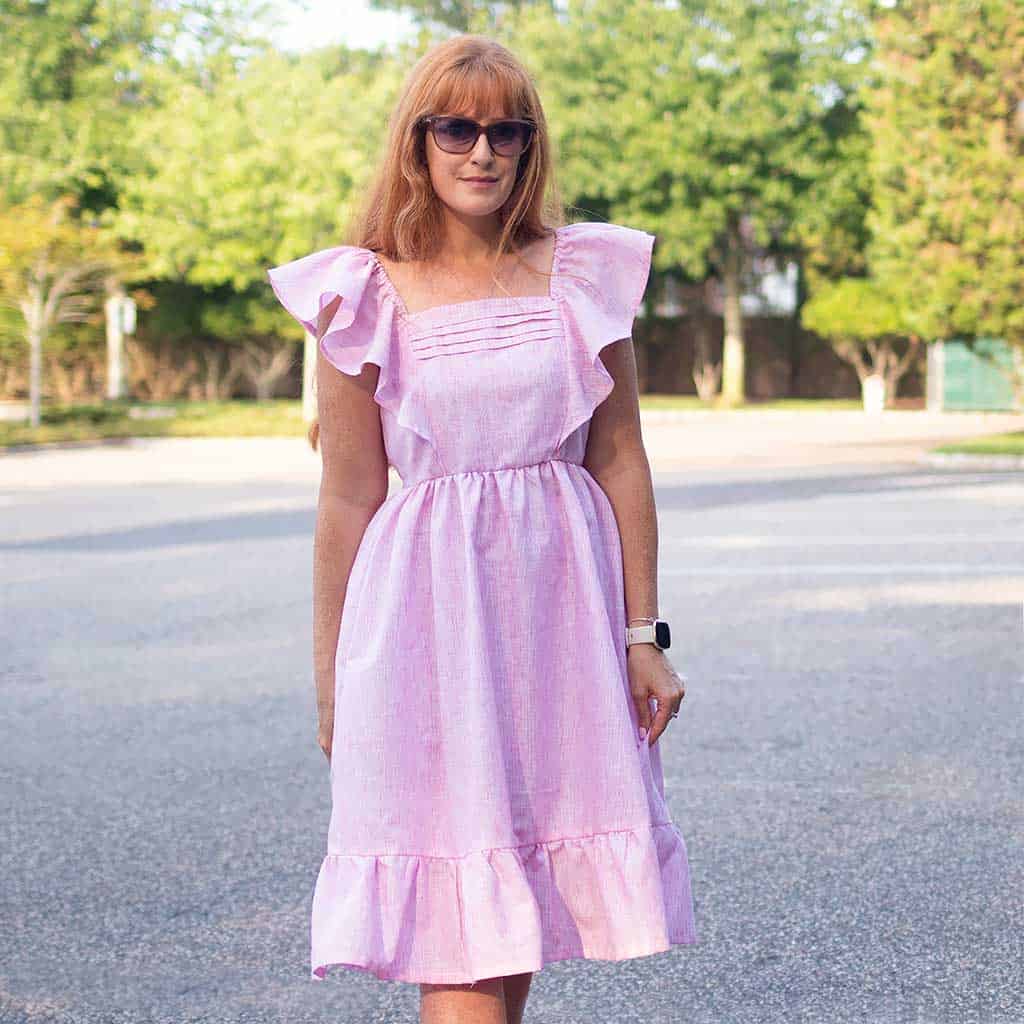 Embracing the carefree spirit of summer, this dress promises a perfect blend of comfort and style.
KEEP IN TOUCH! FOR MORE INSPIRATIONS, TUTORIALS, AND FREE KNITTING PATTERNS, SIGN UP FOR MY WEEKLY NEWSLETTER:
Butterick Sewing Pattern 6872
This sewing pattern recommended Challis, Crepe, Double Georgette, Cotton Blends, or Lightweight Linen fabric. I used this poly/cotton blend from Fabric Wholesale Direct.
This high waist dress has a square neckline with tucks and sleeve variations, and a gathered full skirt has flounced hem options. I chose to make variation "A" which has a flounce sleeve and a below-knee hem. The dress has a 20 inch invisible zipper in the back.
I bought this pattern online and I didn't read it carefully. I assumed the bodice was lined and I was disappointed to find out that it wasn't. The fabric I chose was slightly sheer so I wanted the extra coverage of a lining so I made my own. Since I changed the bodice pattern, the flounce sleeves were tricker to add.
The skirt was very easy to sew. The bottom flounce was made of 3 separate pieces. When sewn to the skirt there are extra seams that don't line up with the side seams. This is a minor issue, but it always bothers me when seams don't line up. Fortunately, it's not too noticeable because the skirt is so full.
Tips for Sewing Women's Dresses
Choose the Right Pattern: Select a dress pattern that matches your skill level and desired style. Beginners should start with simpler patterns and gradually progress to more complex designs as they gain confidence.
Pre-wash and Iron the Fabric: Always pre-wash and iron your fabric before cutting to prevent shrinkage and ensure accurate measurements.
Take Accurate Measurements: Proper fitting is crucial for a well-made dress. Take accurate body measurements and choose the pattern size that corresponds to your measurements. Adjust the pattern if needed to achieve a custom fit.
Practice with Muslin: If you're uncertain about the fit or design, consider making a test version of the dress with inexpensive muslin fabric. This allows you to refine the fit and make any necessary adjustments before cutting into your main fabric.
Invest in Quality Sewing Tools: Good-quality sewing tools, such as sharp scissors, pins, and a reliable sewing machine, can make a significant difference in the sewing process and final outcome.
Press as You Go: Press your seams and darts as you sew to achieve a professional finish. Proper pressing helps the garment lie flat and gives it a polished look.
Finish Seams: Use appropriate seam finishes to prevent fraying and ensure the dress's durability. Options include serging, zig-zag stitching, or using French seams.
Choose the Right Fabric: Select fabrics that suit the dress pattern and style. Different fabrics drape and behave differently, so consider the garment's design and purpose when choosing the fabric.
Test Stitch Length and Tension: Before sewing your dress, test different stitch lengths and tensions on a fabric scrap to ensure you have the best settings for your chosen fabric.
Practice Hemming Techniques: Hems can be tricky, especially if your fabric is slippery or lightweight. Practice hemming techniques on scrap fabric to perfect your skills before working on the actual dress.
Be Patient and Persistent: Sewing takes time and practice. Don't be discouraged by mistakes; instead, view them as learning opportunities to improve your sewing skills.
Looking for more sewing projects like this post, Butterick Sewing Pattern 6872?
Free T-Shirt Sewing Pattern for Boys and Girls
How to Sew a Baby Romper- No Pattern Necessary
How to Sew a Kid's Beach Towel Poncho- No Pattern Necessary
How to Sew a Super Easy Beach Dress- No Pattern Necessary
I love seeing your finished projects! If you enjoyed making this Butterick Sewing Pattern 6872 or any of my sewing projects, I'd love to see yours on Instagram, just tag me @ginamicheleblog. Happy sewing!
Like what you see here? Don't forget to visit my other blogs: