How to Build an Easy Modern Birdhouse
How to Build an Easy Modern Birdhouse- beginner-friendly birdhouse plans for a nesting box that your feathered friends are sure to love!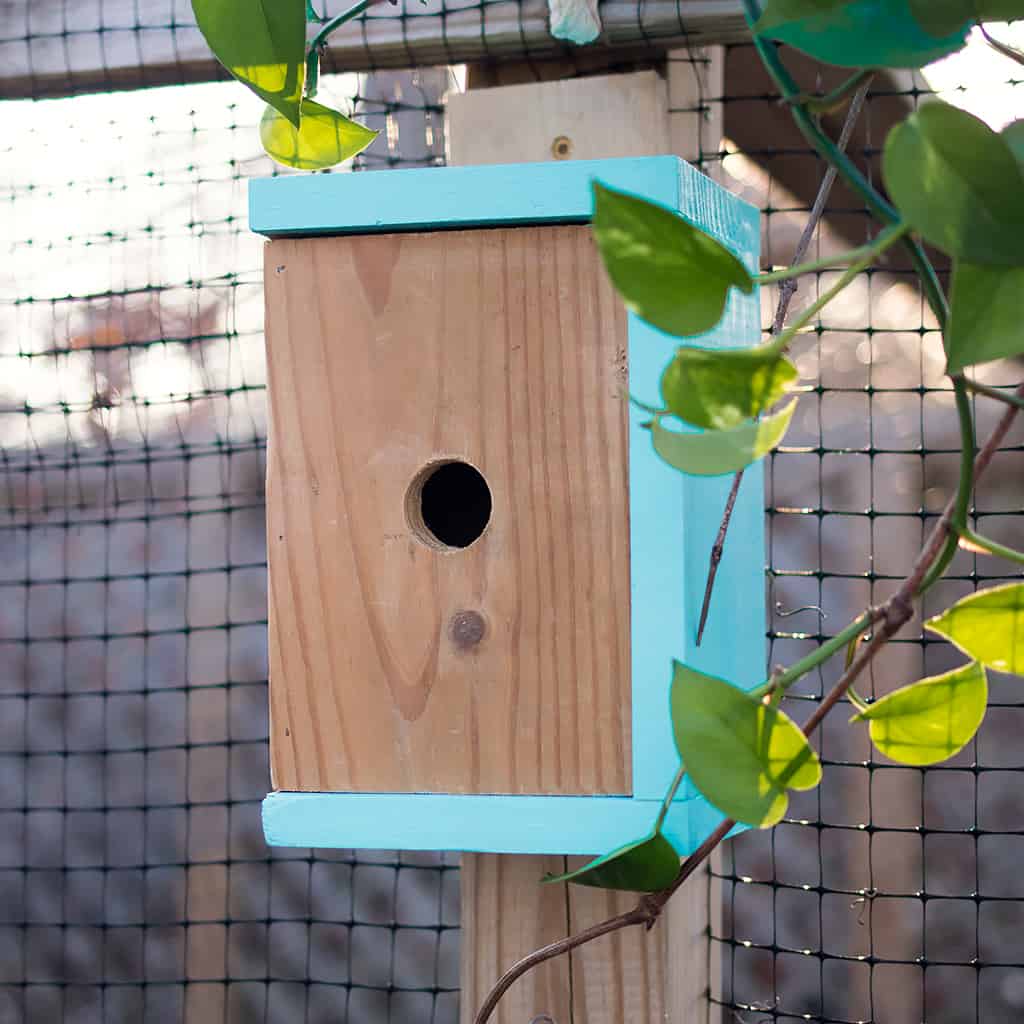 I love watching the birds in my backyard. To encourage to birds to hang out here even more, I figured I'd build some DIY birdhouses. These modern birdhouses are incredibly easy to build, even if you're new to woodworking. This wooden birdhouse is attractive, durable and my feathered friends took to it right away!
The entrance hole on the birdhouse will determine what birds it will attract. Wrens and Chickadees are both prevalent in my area. Both require a 1.25″ diameter hole. This helpful chart will show you what size opening common birds (Bluebirds, Nuthatches, Robins, Woodpeckers, Tree Swallows, Starlings, etc) require.
Many birdhouses have perches and they seem like a cute feature. However, after doing some research I found that they're not recommended. Most cavity-nesting birds can cling to the outside of the box without aid, especially if it's natural wood. Perches actually help other birds or predators who may harass the nesters.
KEEP IN TOUCH! FOR MORE INSPIRATIONS, TUTORIALS, AND FREE KNITTING PATTERNS, SIGN UP FOR OUR WEEKLY NEWSLETTER:
Supplies needed:
1X6- 3 pieces cut to 8 inches, 2 pieces cut to 6 3/8 inches ( I used pine, but any exterior grade wood, like cedar, will do)
1X4- 9 inches long
Tape measure
Corner clamps (optional, but very helpful)
Nail gun (or wood glue and hammer and nails)
Miter saw (I have this one and I love it)
Drill with spade drill bit (the hole size needed for your bird will determine what size spade bit you need)
Sandpaper
Exterior primer
Exterior paint
Painter's tape and paintbrush
Screws for mounting
How to Build an Easy Modern Birdhouse (Tutorial)
Cut the wood into the following pieces:
1×4- one piece, 8 inches long
1×6- 3 pieces, 8 inches long
1×6- 2 pieces, 6 3/8 inches long
Measure 4 inches up from the bottom on the front piece. Mark the center and drill a hole using the spade bit.
Clamp the front and side pieces together. Nail together at the top, bottom and middle.
Nail on the other side and the back. The side and the top and bottom pieces will overhang.
Attach the top and the bottom pieces using the nail gun.
Once the birdhouse is assembled, lightly sand the edges and the opening.
Place painter's tape on the interior section of the birdhouse. Then, paint a layer of exterior primer on.
Once the primer is dry, paint the top, bottom and side your choice of color.
Placement is important for your new birdhouse. You can mount the birdhouse to a pole, ledge or you can hand it directly on a tree or fence in a protected, shady area. Nesting birds prefer a secure area rather than an open field.
Looking for more home DIY projects?
How to Build Tall Outdoor Planters
I love seeing your finished projects! If you enjoyed making this post- How to Build a Modern Birdhouse, or any of my other free knitting projects, I'd love to see yours on Instagram, just tag me @ginamicheleblog. Happy DIYing!