How to Make Bath Bombs with Prizes Inside- great gift for kids!
How to Make Bath Bombs with Prizes Inside- fun & easy to make!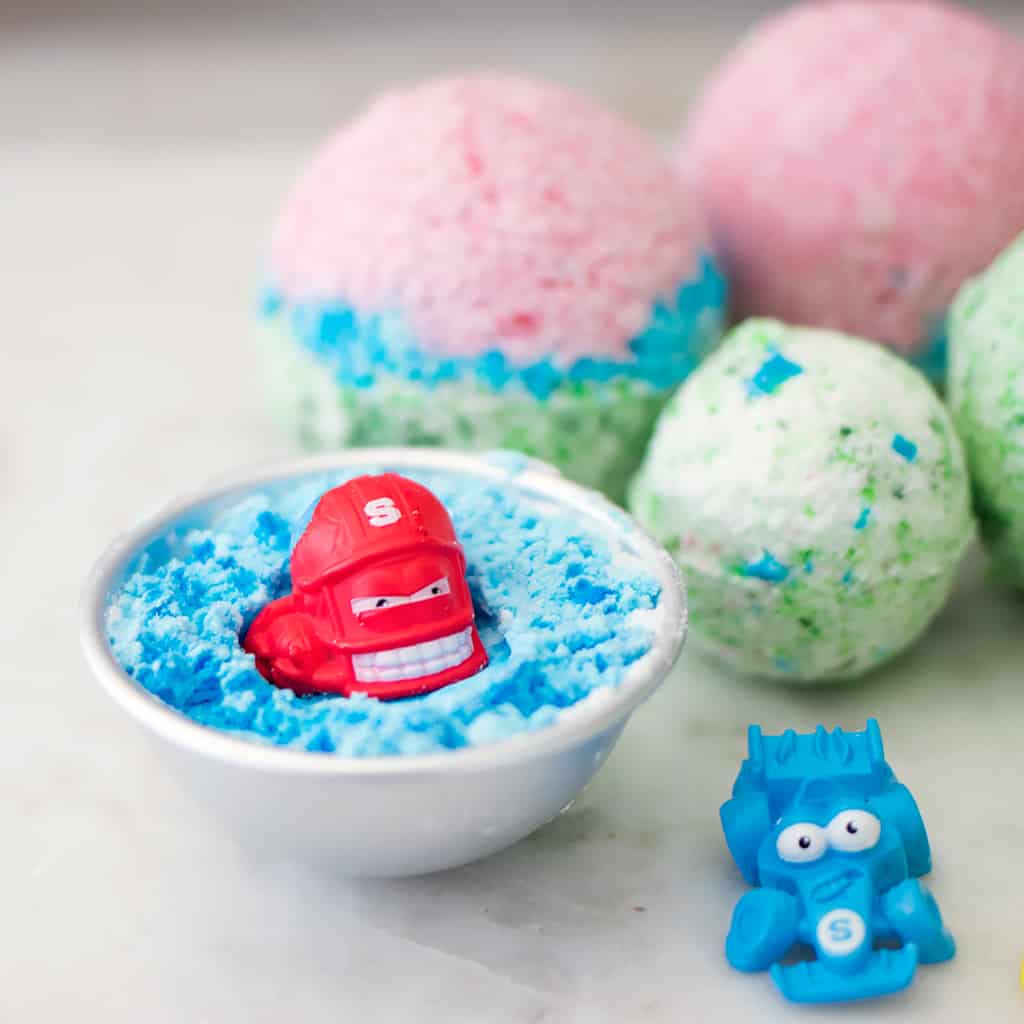 My son loves bath bombs. The only way to make them better? Add a prize inside! Prize Inside Bath Bombs usually retail for $4-$8 apiece, which can add up fast- especially if you use them daily! Luckily these bath bombs are inexpensive and easy to make. They also make great gifts for kids!
(note- since these bath bombs contain small parts, they're not recommended for young children)
Supplies needed:
Baking Soda
Cornstarch
Oil (Almond, jojoba, melted coconut oil, or olive oil)
Small rubber toys
Dyes & bath bomb mold (I used this inexpensive kit)
How to Make Bath Bombs with Prizes Inside
Whisk together 1/2 cup citric acid, 1 cup baking soda, and 3/4 cup corn starch.

Slowly (approximately 1 teaspoon at a time) pour in 1/4 cup almond oil or melted coconut oil. Stir in between pours.
If you add too much liquid at once, the citric acid will be activated (fizz and bubble) and the mixture will be ruined.
You want the mixture to have a crumbly texture and to stick together when you pinch it.
Divide the mixture into smaller bowls for different colors.
Add approximately 15 drops of essential oil and the coloring and mix together.

Fill one 1/2 of the bath bomb mold. Press the toy down. Make sure you don't press the toy all the way to the bottom of the mold.
Fill the other mold. Add extra bath bomb mixture to both sides and press the ends of the mold together.
Wipe off the excess mixture around the seam.
Tap the mold gently against a flat surface to release the bomb. Remove the mold.
Let dry for 24 hours before using.
Looking for more Kid-friendly Projects?
How to Make a Kid's Art Display
DIY Growth Ruler Inspired by Pottery Barn