How to Ice Dye- a fun fabric dyeing technique that creates beautiful, marbled prints. A great project to do with kids!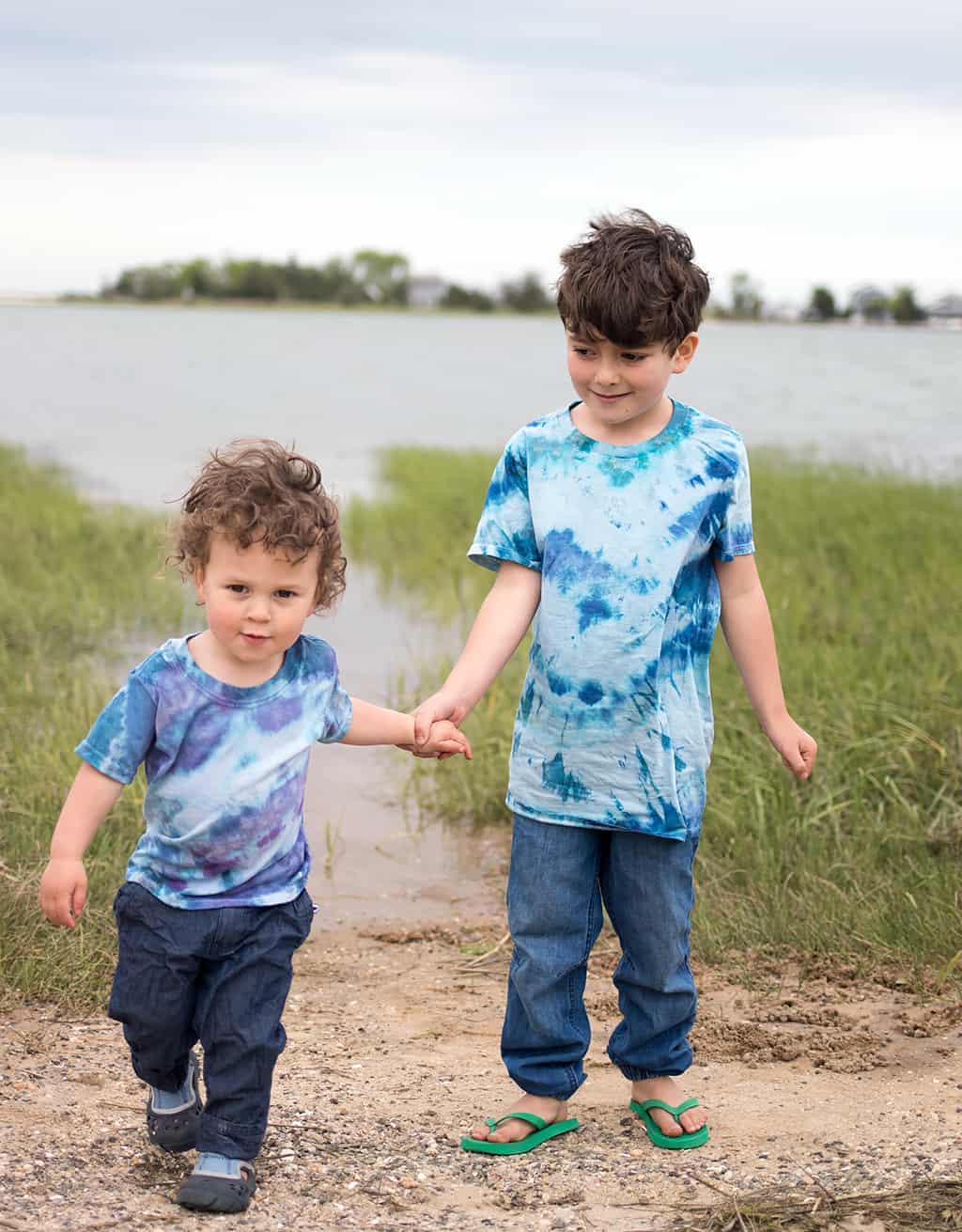 Ice dyeing is a foolproof way to create custom clothes. Ice is placed on top of the textiles and then powdered dye is sprinkled on top. As the ice melts, the dye is spread around and deposited onto the fabric.
I strongly recommend using Rit dye fixative as the final step in the dyeing process. This fixative reduces bleeding, fading and even enhances the color of your project.
I included both a video tutorial and a step by step with pictures.
How to Ice Dye
Supplies needed:
White cotton t shirts (I used these toddler and kid size shirts)
Rit powder dye in a variety of colors
Ice
Rubber bands
Baking sheet and cooling rack
Outer part of a springform pan (if you don't have a springform pan, you can use a carboard box that has the top and bottom cut off)
Dampen the t-shirts and twist them up tightly. Secure with rubber bands. Place the outer part of the springform pan on the cooling rack with the baking sheet underneath. Arrang the t-shirts inside. Make sure they are not overlapping.
Add the ice on top of the t-shirts. Make sure that all the fabric is covered.
Spoon the powdered dye on top of the ice. I used a different color on each section.
Let the ice melt.
Add the dye fixative to a bucket with hot water. Let the shirts sit in it for 10 minutes. Remove the shirts, take off the rubber bands and wash (using the hottest water setting), and dry.
Looking for more DIY projects?
How to Etch Glass the Easy Way
How to Make Twine from Fabric Scraps
How to Make Essential Oil Rollers