How to Make Mini Yarn Hat Ornaments
How to Make Mini Yarn Hat Ornaments- these ornaments are easy and fun to make and they're a great way to make use of scrap yarn!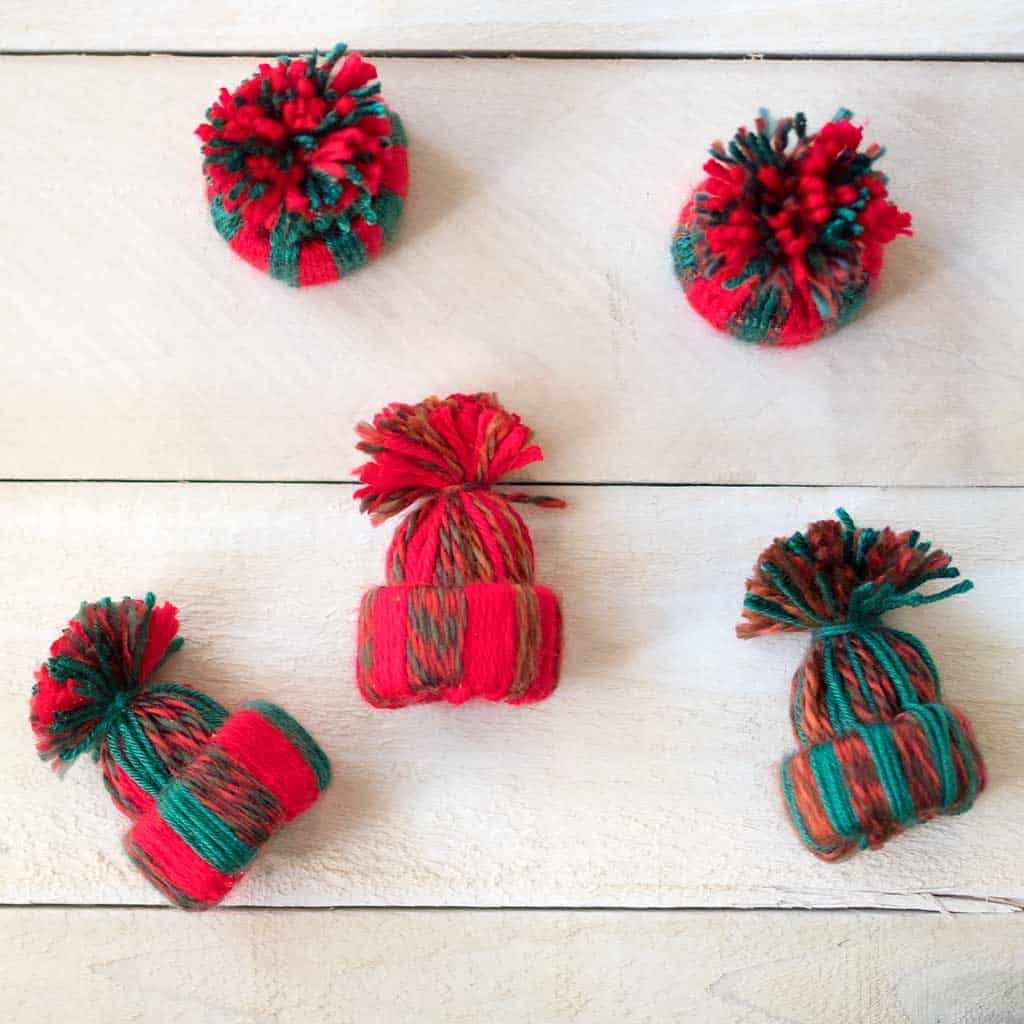 These mini yarn hats make great Christmas tree decorations. They can also be strung as garland or used as gift toppers. This little yarn hat is created by knotting pieces of yarn around a cardboard ring (from a toilet paper tube). This is a fun project to make with older kids!
For this mini hat project, I created both step-by-step instructions and a video tutorial.
KEEP IN TOUCH! FOR MORE INSPIRATIONS, PROJECTS, AND FREE KNITTING PATTERNS, SIGN UP FOR OUR WEEKLY NEWSLETTER:
How to Make Mini Yarn Hat Ornaments
Supplies needed:
Leftover yarn in a variety of colors (I think weight #3 DK yarn and weight #4 worsted weight yarn work the best)
Cardboard tube (like from toilet paper rolls or paper towel rolls)
Ruler
Scissors
Cut a section of the toilet paper roll that measures approximately 3/4-1 inch wide.
Cut strands of yarn that measure 11 inches long. You will need a lot of strands for each hat. I cut a handful and then cut more as needed.
Fold the yarn strand in half and thread through the toilet paper roll. Thread the ends of the yarn through the loop and pull to tighten.
This is what each strand of yarn will look like.
Keep adding strands of yarn making sure that they are close to each other so there are no gaps. Switch the colors to create stripes if you choose.
Keep tying on the yarn strands until the toilet paper ring is completely covered.
Push the ends of the yarn through the toilet paper ring.
Cut a length of yarn and knot it approximately 2 inches up from the bottom of the hat.
Cut ends of the yarn to create a pom pom at the top of the hat. If you need something extra to fill out the hat shape, they can be stuffed with tissue paper or a cotton ball.
Looking for holiday crafts?
How to Make Scented Scrap Fabric Christmas Trees- 2 Ways.
How to Make Yarn Wrapped Christmas Ornaments
Easy Wood Burned Gift Tags or Christmas Ornaments
I love seeing your finished projects! If you enjoyed making this post, How to Make Mini Yarn Hats, or any of my other Christmas craft projects, I'd love to see yours on Instagram, just tag me @ginamicheleblog. Happy holiday crafting!