Fast Way to Age Terra Cotta Pots
Fast Way to Age Terra Cotta Pots- age your terra cotta pots in one day using this simple technique.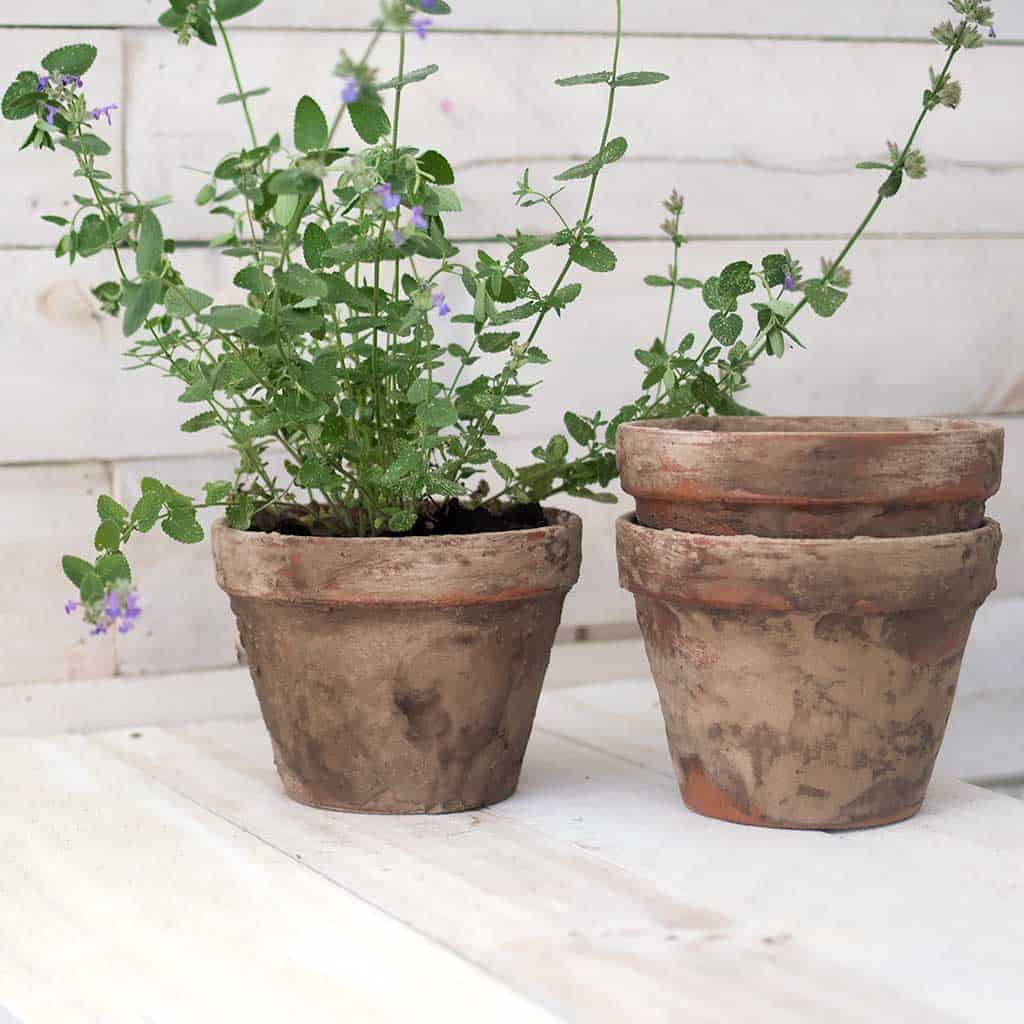 Terra cotta pot and inexpensive and an attractive alternative to plastic. Unfortunately, the orange color doesn't work for some homes (mine included). When terra cotta pots age, they take on a beautiful patina.
There are several ways to speed up this aging process (using buttermilk or plain yogurt on the pots), but they take several weeks.
This aged look is created by using a mix of Garden Lime and water. You can take your flower pots from brand new to aged in one day!
What is a Garden Lime?
Garden lime is a rock powder used to raise the pH level of soils high in acidity.
When mixed with water and brushed onto terracotta pots, it creates a weathered look.
KEEP IN TOUCH! FOR MORE INSPIRATION, PROJECTS, AND FREE KNITTING PATTERNS, SIGN UP FOR OUR WEEKLY NEWSLETTER:
Fast Way to Age Terra Cotta Pots
(As an Amazon Associate I earn from qualifying purchases)
Supplies needed:
Terra cotta clay pots
Paintbrush and sponge or Sponge brush
Sandpaper
Instructions:
Mix the Garden Lime with water in a 1:1 ratio (for example- 2 cups of garden lime and 2 cups of water). Stir well. The mixture should have the consistency of paste. If it's too runny, add more Garden Lime.
Brush it onto the terra cotta pot using a paint brush. Keep in mind that you will be sanding some of the mixture off, so it's ok if it's thick.
Let the mixture dry thoroughly on the pot. Sand allover the pot, focusing on areas when the mixture dried heavy.
Light touch up any large, bare areas with more Garden Lime mixture with a second coat.
Spray the dry pots with a thin coat of matte sealer.
Looking for more Gardening Projects?
Easy Way to Successfully Propagate Hydrangea
Raised Vegetable Garden with Pea Gravel DIY
How to Propagate Succulents (the easy way!)
I love seeing your finished projects! If you enjoyed making this aged terracotta pots post or any of my other gardening posts, I'd love to see yours on Instagram, just tag me @ginamicheleblog. Happy gardening!