Jack-O-Lantern Costume DIY- Easy to Sew!
Jack-O-Lantern Costume DIY- a spooktacular costume that easy to sew!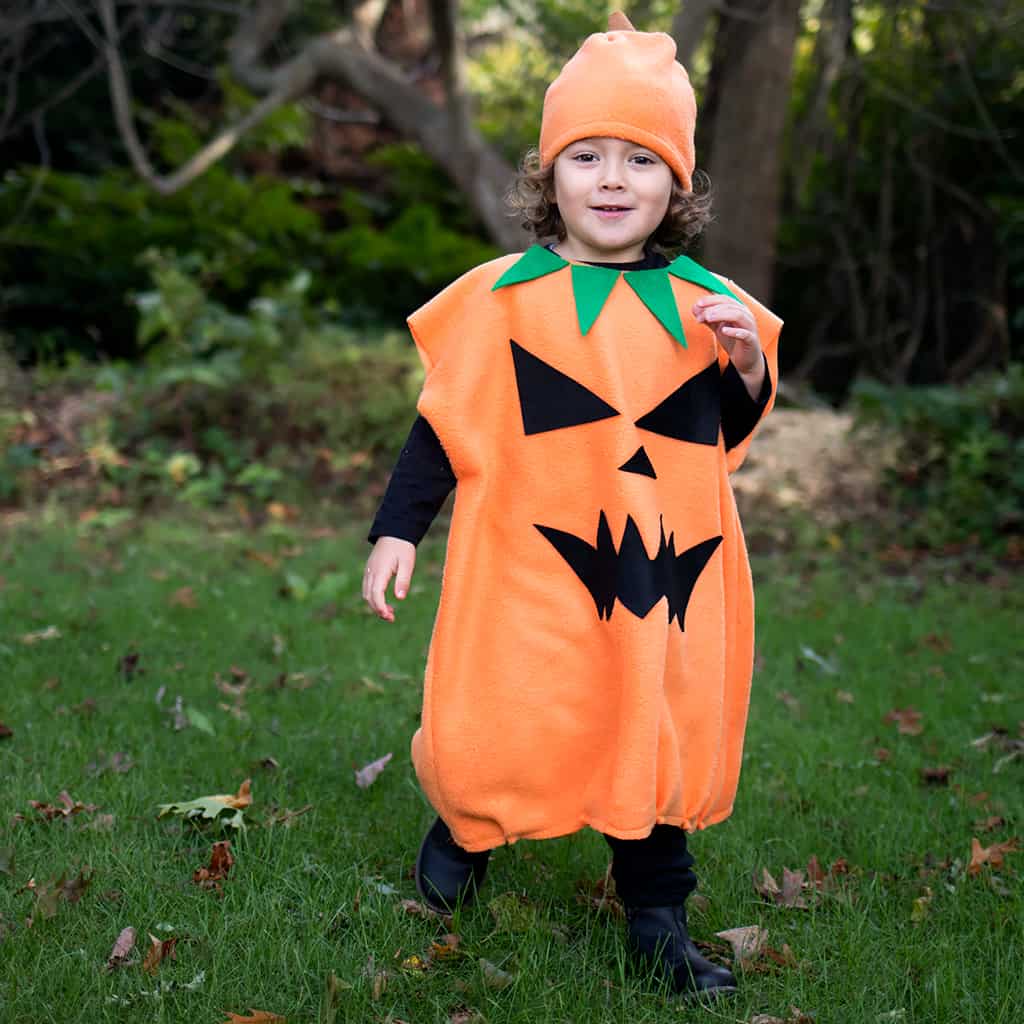 This Jack-O-Lantern Costume DIY is cute, comfortable and it can be customized with any face. My little guy is obsessed with anything spooky, so I went with scary. This whole costume took less than 30 minutes to make. It's ideal for beginners because there's very little sewing involved. The face and leaves are adhesive felt, which makes this costume a breeze to create!
Supplies needed for Jack-O-Lantern Costume DIY
Orange fleece (1 yard)
Brown Felt
Looking for more Easy Halloween Costumes?
DIY Halloween Devil Horns with Veil
How to make a Jack-O-Lantern Costume DIY
Cut the bottom 10 inches off the fabric and put aside. This will be used to make the hat later on.
Fold the fabric over. Measure 17 inches across the top (near the fold line) and 28 inches across the bottom. Draw a slightly rounded shape from the top of the fold line to the bottom on both sides and cut out.
Measure 8 1/2 inches from the top edge of the fabric. Mark this spot with a pin. Measure 3 inches across on either side of the pin and mark. Cut a small semi-circle and try on the child to make sure it fits over the head. Remember- it's best to start small and gradually increase the neck hole.
Sew the side seams of the fabric leaving a 9 inch opening at the top for arm holes.
On the bottom hem, fold the fabric over 1 inch, every 4 inches and stitch all around. This creates more of a rounded shape, like a pumpkin.
Draw freehand (or print out a Jack-O-Lantern template and trace) on to the back of the adhesive felt. Cut out and stick to the front of the pumpkin.
Cut triangles out of the green felt and apply them to the collar.
Fold the piece of fleece over. Take a child's hat place it on top as a pattern. Add an extra inch or all around to accommodate for the seam allowance.
Cut the brown felt into a 3 inch x 3 inch square. Roll up.
Sandwich the felt at the top of the hat in between the fleece and sew. Fold the brim under and sew in place.