DIY Hungry Caterpillar Costume
See how I transform my little one into a beloved storybook character this Halloween with this DIY Hungry Caterpillar Costume.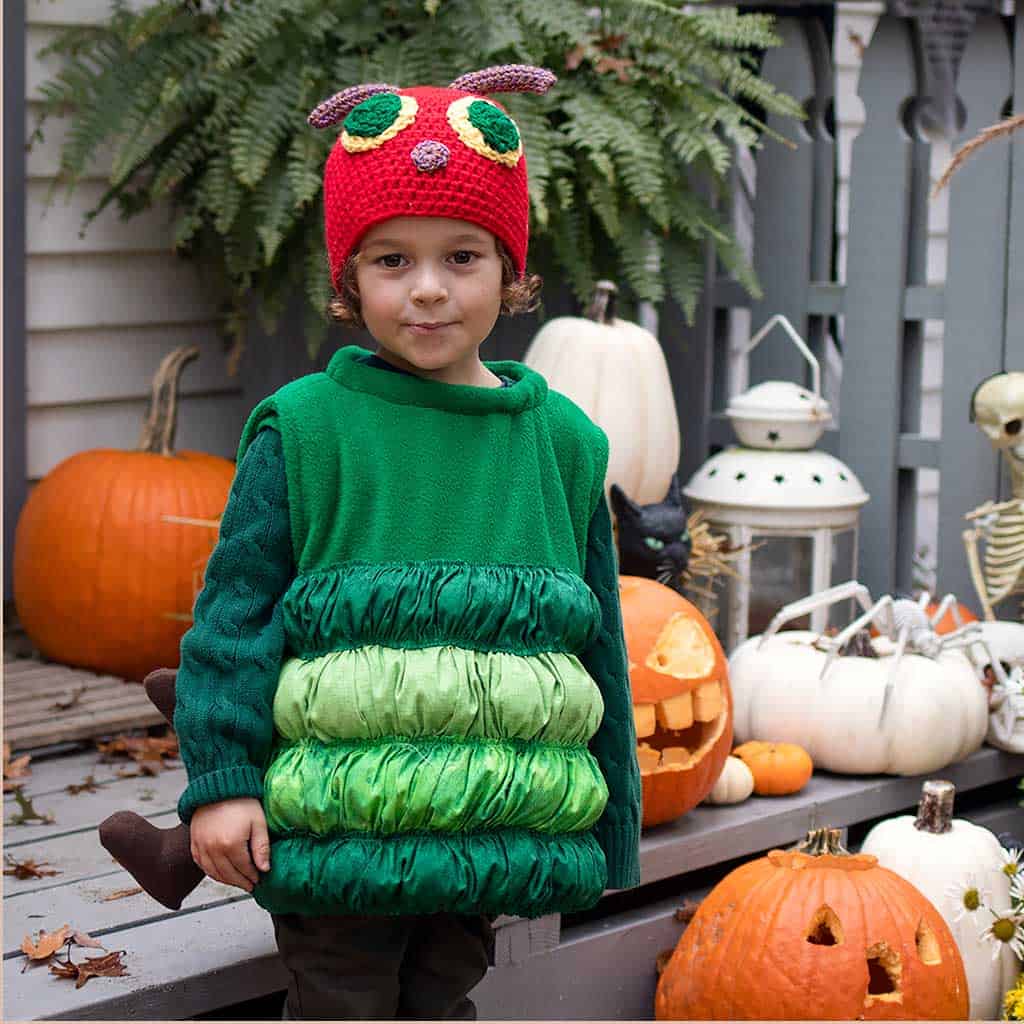 Halloween is a time for creativity and imagination, making it the perfect occasion to craft a unique and enchanting costume for your child. If you're looking for a delightful DIY project that combines the magic of storytelling with the fun of dressing up, this DIY Hungry Caterpillar Halloween costume is just the ticket. Inspired by Eric Carle's beloved children's book, 'The Very Hungry Caterpillar,' this costume is a wonderful way to bring a favorite character to life!
Note: The pattern for the hat can be found here- Hungry Caterpillar Hat Crochet Pattern
KEEP IN TOUCH! FOR MORE INSPIRATIONS, TUTORIALS, AND FREE KNITTING PATTERNS, SIGN UP FOR MY WEEKLY NEWSLETTER:
DIY Hungry Caterpillar Costume
(As an Amazon associate, I earn from qualifying purchases)
Supplies needed:
1 yard green fleece
1/2 yard green cotton in different shades
Poly fill
1/4 yard brown fleece
Unfortunately, I couldn't find a sewing pattern for a caterpillar costume, so I had to make one myself. I used a t-shirt that was a few sizes too large as a pattern. I traced it out on the green fleece and cut a front and a back.
I sewed the front and back together at the shoulder and one side. I left one side open so the stripes of cotton would be easier to sew on.
I cut the green cotton into 4 1/2 wide strips. Then I sewed it together at the ends. I pressed the top and bottom edges over 1/4 inch and made a loose stitch to gather. I sewed the stripes to the body of the costume and stuffed with with polypill. hen, I sewed the side seam.
To make the costume look more finished, I sewed a strip of fleece around the armholes and neck, turned it to the inside and stitched it in place.
The final step was to cut 4 boots out of brown fleece, sew them together at the seam, stuff and sew to the side of the costume.
Looking for more Easy Halloween Costumes like this DIY Hungry Caterpillar Costume?
Easy Jack-O-Lantern Halloween Costume
I love seeing your finished projects! If you enjoyed making this DIY Hungry Caterpillar Costume, or any of my other beginner sewing patterns, I'd love to see yours on Instagram, just tag me @ginamicheleblog. Happy Halloween sewing!
Like what you see here? Don't forget to visit my other blogs: