String Christmas Lights Knitting Pattern
Embark on a cozy and festive journey as you dive into this enchanting String Christmas Lights Knitting Pattern, designed to illuminate your holiday season with warmth and handmade charm.
As winter nights draw near, there's nothing quite like the warm glow of Christmas lights to infuse our homes with festive magic. In this knitting adventure, I invite you to weave that enchantment into your creations with our string Christmas lights pattern. As you knit each stitch, imagine the soft, twinkling glow that will emanate from your finished piece, bringing holiday cheer to every corner. Get ready to illuminate your winter projects with a touch of handcrafted brilliance, turning every stitch into a strand of holiday joy.
KEEP IN TOUCH! FOR MORE INSPIRATIONS, TUTORIALS, AND FREE KNITTING PATTERNS, SIGN UP FOR OUR WEEKLY NEWSLETTER: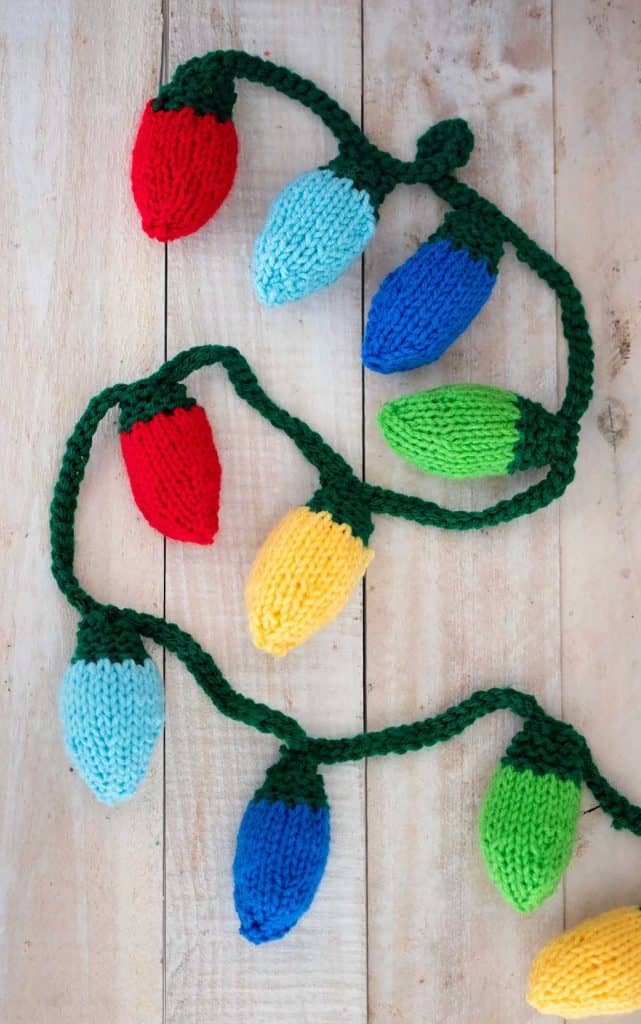 String Christmas Lights Knitting Pattern
(As an Amazon associate, I earn from qualifying purchases)
Yarn: Red Heart Super Saver #4 worsted weight yarn
Needles: Size US 7 straight knitting needles
Also needed: poly fill, yarn needle
Gauge: not necessary for this project
Size: Bulbs measure approximately 3 1/2 inches long
Pattern instructions:
With the dark green yarn, cast on 10 sts.
Work in garter stitch for 6 rows.
Break green yarn and add colored yarn
Next row: Knit in the front and back of every stitch (20 sts)
Beginning with a purl row, knit 7 rows in stockinette stitch
Next row: (K2, K2tog) across row (15 sts)
Beginning with a purl row, knit 3 rows in stockinette stitch.
Next row: (K1, K2tog) across row (10 sts)
Purl for 1 row.
Last row: K2tog across row (5 sts)
Break yarn and thread through remaining stitches. Pull to close and sew the side seam.
Finishing:
Stuff the bulb and sew the top closed.
For the chain: Using crochet hook H and #4 yarn, crochet a chain that measures 60 inches. Single crochet for 1 row. Fasten off.
Stitch the bulbs onto the chain, making sure they are evenly spaced.
As you tie off the last knot and marvel at your knitted string of Christmas lights, may the warmth of your craft brighten your festive season. Happy knitting and a joyful holiday season to you!
Looking for more holiday knitting patterns like this String Christmas Lights Knitting Pattern?
How to Knit Mini Mittens Christmas Ornaments
Flat Knit Mini Christmas Sweater Ornament Knitting Pattern
I love seeing your finished projects! If you enjoyed making this String Christmas Lights Knitting Pattern or any of my other beginner free patterns, I'd love to see yours on Instagram, just tag me @ginamicheleblog. Happy knitting!
Like what you see here? Don't forget to visit my other blogs: