Flat Knit Mini Christmas Sweater Ornament Knitting Pattern
Easy Mini Christmas Sweater Ornament Knitting Pattern- these festive mini sweaters are knit flat and ideal for beginners. Step by step video tutorial included.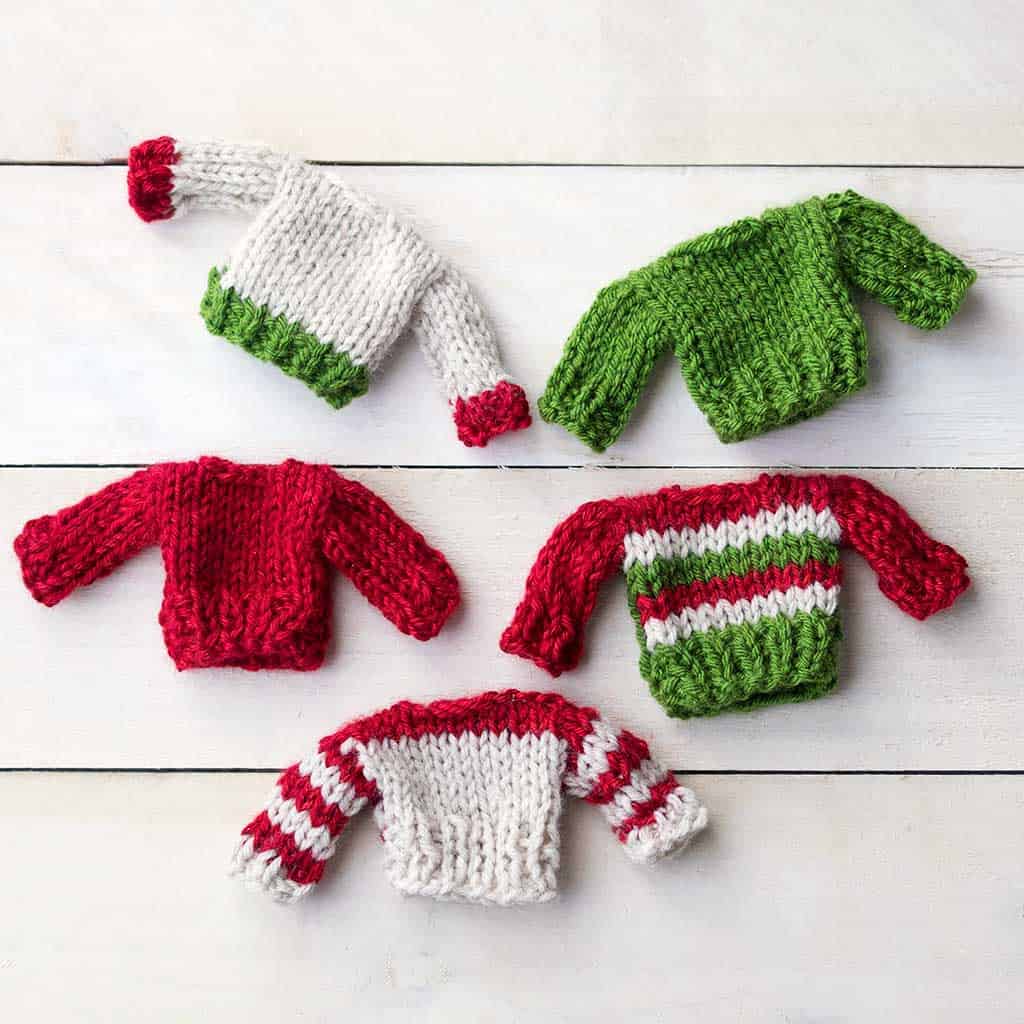 Break out your scrap yarn because it's time to knit mini sweaters! These little sweaters can be used as Christmas ornaments, gift toppers, gift card holders, holiday decor, or as garland. You can't make just one!
These knit mini sweaters are knit flat and require no sleeve shaping. They're simple to knit and they're a great way to make use of scrap yarn. This knitting pattern is ideal for beginners or anyone looking for a fast and easy holiday project.
I have included both the written pattern and a video tutorial to show you how to knit these tiny sweaters.
KEEP IN TOUCH! FOR MORE INSPIRATIONS, PROJECTS, AND FREE KNITTING PATTERNS, SIGN UP FOR OUR WEEKLY NEWSLETTER:
Easy Mini Christmas Sweater Ornament Knitting Pattern
Perfect for Christmas tree ornaments or attach to Christmas stockings!
Yarn: Any #4 worsted weight yarn in your yarn stash will work
Needles: Size 7 single point knitting needles
Gauge: not necessary for this project
Size: sweaters measure approximately 2 3/4 inches tall
Pattern instructions:
Note- the front and back of the sweater are knit as one piece. The sleeves are added separately.
The pattern below makes a solid color sweater. If you would like to add stripes, change the yarn color on a right side row.
Cast on 12 sts. Work in K1, P1 ribbing for 4 rows. Switch to stockinette stitch (knit one side, purl the other) until the piece measures 2 1/2 inches from the cast-on edge. End on a wrong side row.
Shape neck:
Row 1 (right side): Knit 4 stitches, bind off 4 stitches, knit 4 sts.
Row 2: Purl 4 stitches, cast on 4 stitches, purl 4.
Continue working in stockinette stitch until the back measures the same as the stockinette stitch front. Switch to K1, P1 ribbing on the right side and work for 4 rows. Bind off in ribbing.
Sleeves:
Count 8 stitches up from the bottom edge on both sides and place markers. With the right side facing, pick up and knit 10 stitches in between each marker. Work in Stockinette stitch for 1 1/2 inches. On a right side row, switch to K1, P1 ribbing for 2 rows. Bind off in ribbing.
Repeat on the other side of the sweater to make the other sleeve.
Finishing:
Fold the sweater over- right sides together and sew the sleeves and the side seams. Weave in ends. turn right side out.
Looking for more holiday knitting free patterns?
How to Knit Easy Mini Christmas Stockings
Easy Candy Cane Swirl Hat- Women and Kids Sizes
Easy Christmas Tree Knitting Pattern
Looking for holiday crafts?
How to Make Scented Scrap Fabric Christmas Trees- 2 Ways.
How to Make Yarn Wrapped Christmas Ornaments
Easy Wood Burned Gift Tags or Christmas Ornaments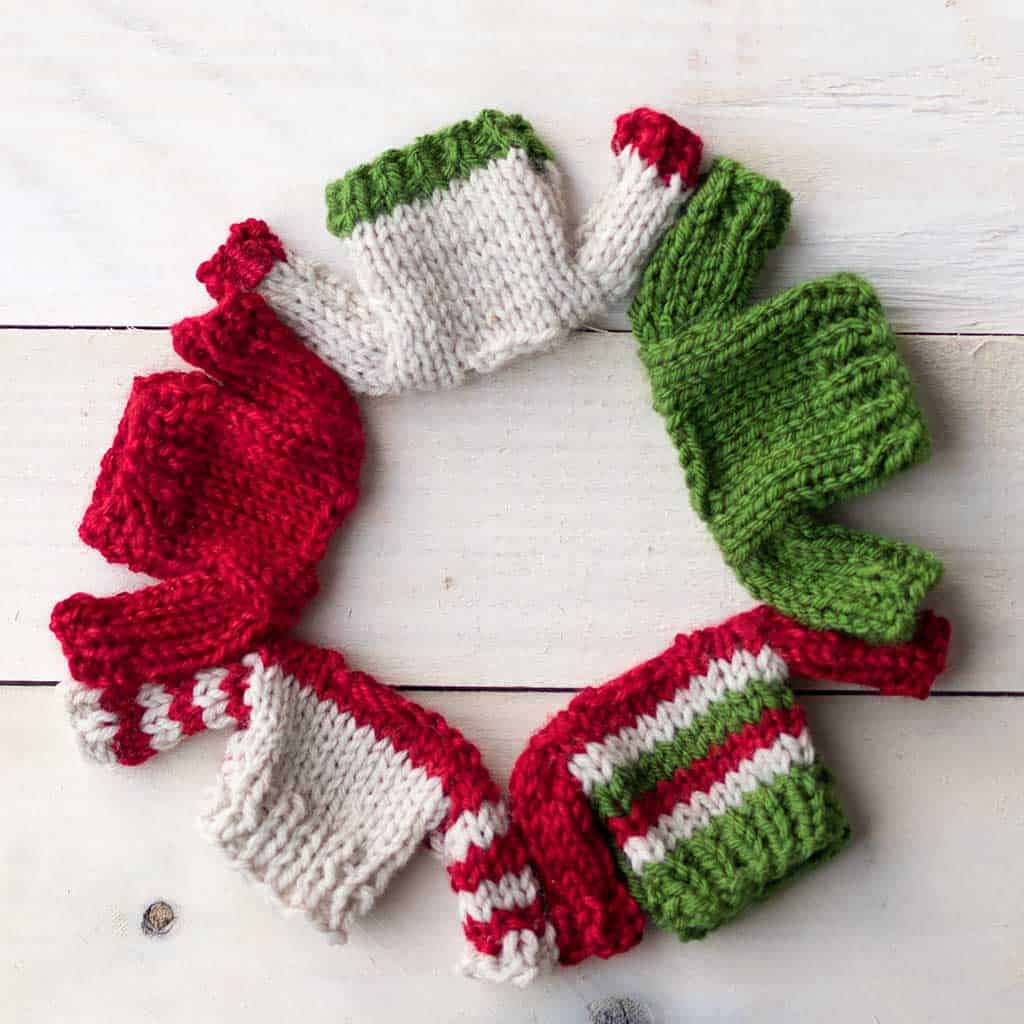 I love seeing your finished projects! If you enjoyed making this Easy Mini Christmas Sweater Ornament Knitting Pattern or any of my other free Christmas knitting patterns, I'd love to see yours on Instagram, just tag me @ginamicheleblog. Happy holiday knitting!