Pumpkin Topiary Knitting Pattern
Get ready to embrace the cozy charm of autumn with this delightful Pumpkin Topiary Knitting Pattern, perfect for adding a touch of fall flair to your home decor.
As the leaves turn vibrant shades of red and orange, and the air becomes crisp and invigorating, it's time to usher in the magic of fall into your living spaces. What better way to do this than by crafting your very own Pumpkin Topiary?
This enchanting knitting pattern will allow you to create a charming autumnal centerpiece that captures the essence of the season with each meticulously knit pumpkin. Whether you're an experienced knitter or a newbie to the craft, my step-by-step guide will help you bring the warmth and coziness of fall into your home, one pumpkin at a time.
KEEP IN TOUCH! FOR MORE INSPIRATIONS, TUTORIALS, AND FREE KNITTING PATTERNS, SIGN UP FOR MY WEEKLY NEWSLETTER:
Pumpkin Topiary Knitting Pattern
Yarn: Lion Brand Heartland in Canyonlands, Yosemite, Rocky Mountains (also needed: small amount #4 worsted weight brown yarn for the stem)
Needles: Size US 7 single point knitting needles
Also needed: yarn needle, poly-fill, crochet hook
Gauge: not necessary for this project
Pattern Instructions:
For the Small Pumpkin:
With the golden yarn, cast on 85 sts.
Work in K3, P2 ribbing for 7 inches. Bind off in ribbing.
For the Medium Pumpkin:
With the orange yarn, cast on 115 sts.
Work in K3, P2 ribbing for 9 inches. Bind off in ribbing.
For the Large Pumpkin:
With the green yarn, cast on 145 sts.
Work in K3, P2 ribbing for 11 inches. Bind off in ribbing.
How to assemble the knit pumpkin topiary
Fold the piece over and sew the side seam closed.
Make a running stitch along the bottom of the pumpkin using a yarn needle. Pull the ends of the yarn to close the opening and secure with a knot.
Stuff the pumpkin with fiber-fill.
Make a running stitch along the top of the pumpkin and pull to close the opening. Repeat these steps with the other 2 pumpkins.
Stack the medium pumpkin on top of the large pumpkin and stitch them together.
Stack the small pumpkin on top and stitch it to the medium at the base.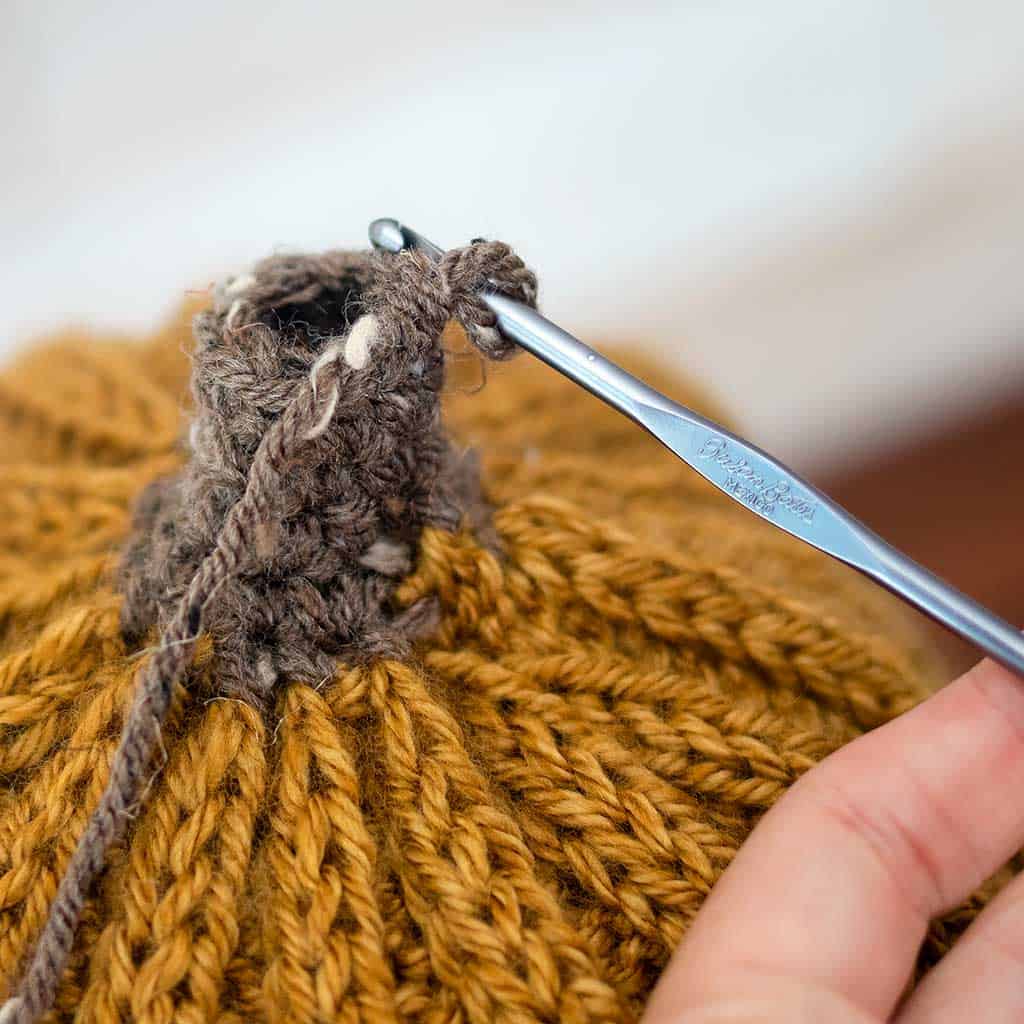 Pick up and single crochet the stitches around the top closure. Keep working in the round until the stem measures 3-4 inches tall. In the last row, single crochet in every other stitch to close the opening. Break yarn and thread through the remaining stitches. Weave in ends.
I hope you enjoy knitting this Pumpkin Topiary as much as I enjoyed creating this pattern for you. With your finished project, you now have a lovely autumnal centerpiece that will brighten up your home year after year. Whether you choose to display it on your mantel, as a table centerpiece, or as a delightful gift for a loved one, your Pumpkin Topiary is sure to bring warmth and coziness to your surroundings.
Looking for more fall knitting patterns like this Pumpkin Topiary Knitting Pattern?
Easy Jumbo Pumpkins Knitting Patterns
Plush Candy Corn Knitting Pattern
Scrap Yarn Pumpkins Knitting Pattern
Kid's Pumpkin Hat Knitting Pattern
I love seeing your finished projects! If you enjoyed making this Pumpkin Topiary Knitting Pattern, or any of my other beginner knitting patterns, I'd love to see yours on Instagram, just tag me @ginamicheleblog. Happy knitting!
Like what you see here? Don't forget to visit my other blogs: