Landscapes Scarf Knitting Pattern
Landscapes Scarf Knitting Pattern- a classic, ribbed scarf knit using self-striping Lion Brand Landscapes yarn.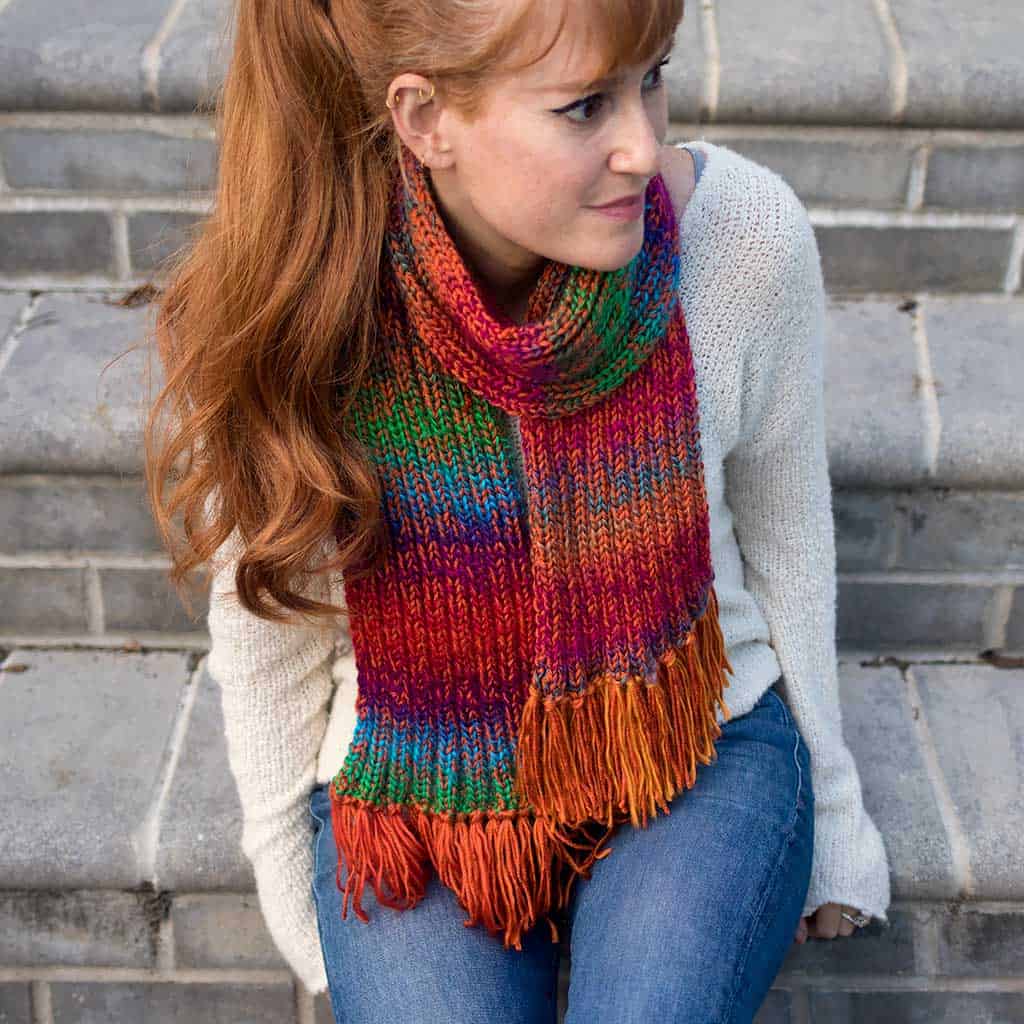 Landscapes self-striping creates beautiful, saturated bands. It's acrylic, single plied roving yarn that has a satiny feel and a richly colored palette. The downside of this beautiful yarn is that it can be fussy to work with. It splits easily and it breaks if you pull too hard while unraveling stitches. I found that pairing the yarn with another type (for this pattern it is Lion Brand Basic Stitch) makes it a lot easier to work with. This doubled yarn technique maintains the beautiful color of the Landscape yarn while adding extra weight for winter accessories.
KEEP IN TOUCH! FOR MORE INSPIRATIONS, TUTORIALS, AND FREE KNITTING PATTERNS, SIGN UP FOR OUR WEEKLY NEWSLETTER:
Landscapes Scarf Knitting Pattern
(As an Amazon associate, I earn from qualifying purchases)
Yarn: Lion Brand Basic Stitch in Pumpkin (2 skeins), Lion Brand Landscapes in Apple Orchard and in Tropics
Needles: Size US 8 single point knitting needles
Gauge: not necessary for this project
Size: 60 inches (not including fringe)
Pattern instructions:
(This scarf is worked using 2 strands of yarn at once. Hold the Basic Stitch yarn and the Landscapes yarn together when knitting)
Cast on 36 stitches. Work in K2, P2 ribbing for approximately 60 inches.(When one color of yarn runs out, tie on the other skein). Bind off in ribbing.
To make the fringe:
Cut 4 pieces of yarn (2 Basic Stitch and 2 Landscapes) that measure 8 inches long. Fold the 4 strands over, loop through the bottom of the scarf using a crochet hook. Insert the ends through the loop and pull to tighten. Repeat across the scarf.
Looking for more scarves knitting patterns like this Landscapes Scarf Knitting Pattern?
Kids Hat and Scarf Set Knitting Pattern
Easy Super Bulky Scarf Knitting Pattern
Easy Scrap Yarn Scarf Knitting Pattern
Zig Zag Scarf Knitting Pattern
I love seeing your finished projects! If you enjoyed making this Landscapes Scarf Knitting Pattern or any of my other beginner free patterns, I'd love to see yours on Instagram, just tag me @ginamicheleblog. Happy knitting!