Why I Chose Resilient Flooring
This post, Why I chose Resilient Flooring, is sponsored by Beautifully Responsible® Resilient Flooring. All opinions are entirely my own.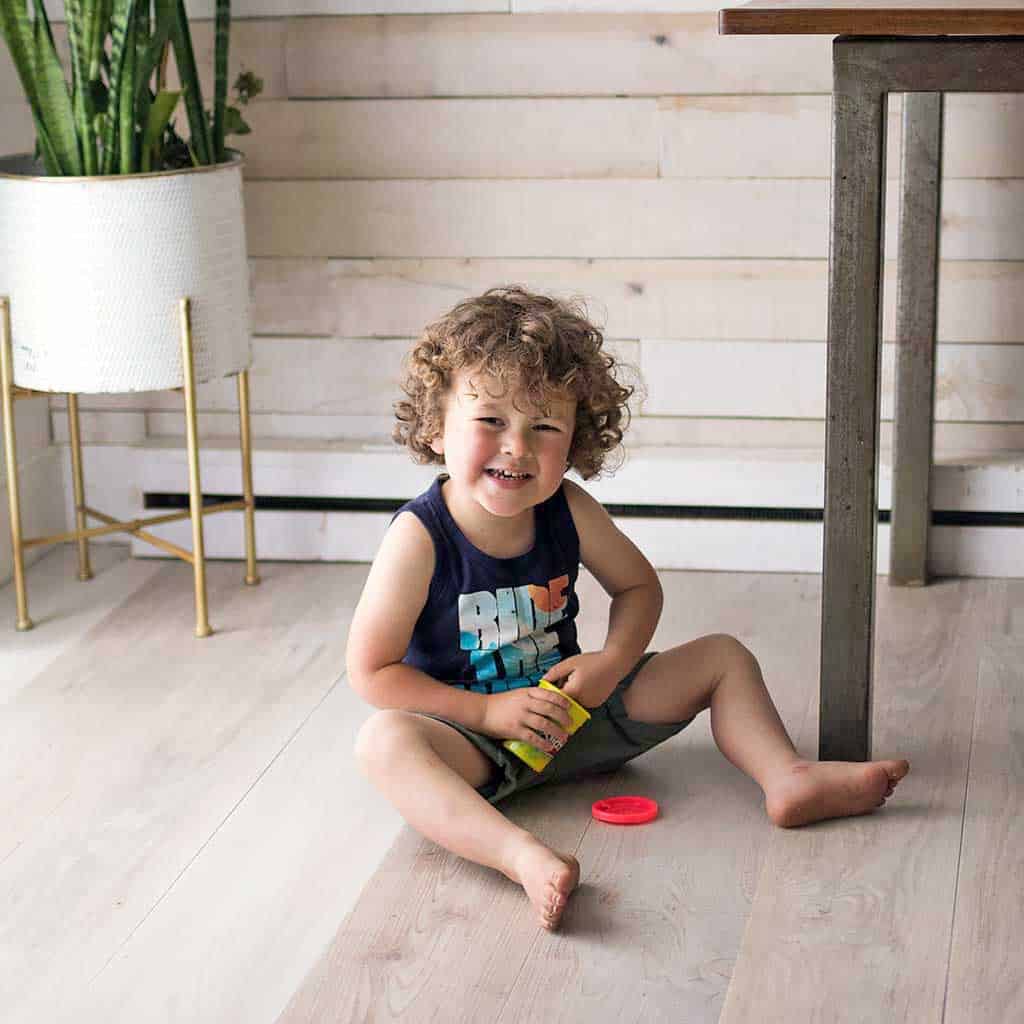 If you're interested in renovating your home, there are a lot of flooring options. New floors are an investment so you want to be sure that you chose the right option for your family and your budget.
When it came to replacing the floor in my kitchen I knew that I wanted something that was beautiful but also durable. Between the pets and the kids, the kitchen floor sees a lot of action! Resilient flooring exceeded all my expectations and it has held up beautifully!
KEEP IN TOUCH! FOR MORE INSPIRATION, PROJECTS, AND FREE KNITTING PATTERNS, SIGN UP FOR OUR WEEKLY NEWSLETTER:
What is Resilient Flooring?
Resilient flooring is a category of flooring products, just like carpet or hardwood. Resilient flooring gets its name from its ability to "give" under the impact of footsteps and then spring back into shape. Some examples of flooring in the resilient flooring category include luxury vinyl tile, linoleum, rubber, and cork
What are the Types of Resilient Flooring?
Flexible Luxury Vinyl Tile (LVT) has become a very popular choice in recent years. LVT combines natural beauty and distinctive texture of wood and stone without straining your family's budget. LVT is water-resistant, pet friendly, and highly durable. LVT reduces waste through modular installation – meaning you can easily replace individual tiles or planks as needed, without having to replace the entire floor.
Rigid core flooring (also called multilayer flooring) provides all the advantages of luxury vinyl tile – plus a few more. It provides sound absorption, exceptional underfoot comfort, and warmth. It also provides greater resistance to water, humidity, and temperature variations, making it a great choice for bathrooms, kitchens, laundry rooms, and other high-traffic areas.
Sheet Vinyl: Sheet vinyl flooring typically comes in 6', 12', or even greater widths so you can create a seamless floor with excellent top-down moisture protection. It's designed for simple DIY-friendly installation. It comes in a variety of styles and colors that closely resemble the look of more expensive stone and hardwood floors. Sheet vinyl combines lasting performance, low maintenance costs, and sound-damping benefits into one great choice for budget-conscious homeowners.
Linoleum floors are made from rapidly renewable, natural ingredients. Linseed oil (derived from flax plants) is combined with limestone, pine resin, cork, wood flour, and dye, and rolled onto a jute fiber backing. Many linoleum flooring products are also created using recycled content. This durable flooring type withstands heavy traffic and scratches over decades, without losing its color.
Cork is renewable and recyclable. It can be harvested every nine years from each cork oak tree – a significantly faster rate of renewal than the hardwood trees commonly used for floors. For flooring products, cork is ground up, compressed, and formed into sheets bonded with resins. Some manufacturers use recycled cork and cork waste to create flooring. Cork flooring is a natural insulator that muffles sound and helps homeowners use energy more efficiently. Cork is great for many applications but it is not an ideal choice for rooms that get wet (bathrooms) or homes with pets.
Rubber flooring is ideal for hard-wearing commercial (restaurant kitchens, gyms) or residential applications (home gyms, basements, rec rooms, etc) since it is durable and easy to clean. It has excellent slip resistance, water resistance, and softness. Rubber flooring is available in a vast array of colors and textures.
Vinyl composition tile (VCT) is frequently used in commercial and institutional applications (supermarkets and schools). It's also a very popular DIY product because it is easy to handle and install. VCT is low-cost and durable and it can be used in a wide range of color and design combinations. It's made in the USA of North American limestone, a highly abundant natural resource, combined with vinyl and color pigments.
Is Relisent Flooring durable?
Resilient floors hold up under tough love and heavy traffic without showing their age. They have advanced scratch protection and resistance to the harshest of stains. This long-term endurance protects your investment and benefits the environment too, by reducing the waste associated with replacing damaged or worn floors.
Is Relisent Flooring sustainable?
Resilient Flooring is committed to sourcing, designing, and manufacturing resilient flooring products with sustainability in mind. They operate responsibly by leading in environmental health and safety and reduce waste by finding new solutions to reduce energy, water, and material waste; recycling unused, factory-made material back into products.
Where can I purchase Resilient Flooring?
You can shop resilient flooring made by Beautifully Responsible® manufacturers at your local flooring store.
. Visit BeautifullyResponsible.com to learn more, and make sure to follow @ResponsibleFloors on YouTube, Instagram, and Pinterest.
Looking for more Home Decor projects?
Fast and Easy Bathroom Makeover