Spring Patio Refresh Sponsored by Wayfair
Spring Patio Refresh Sponsored by Wayfair- give your patio an easy and inexpensive upgrade with these stylish, new pieces from Wayfair!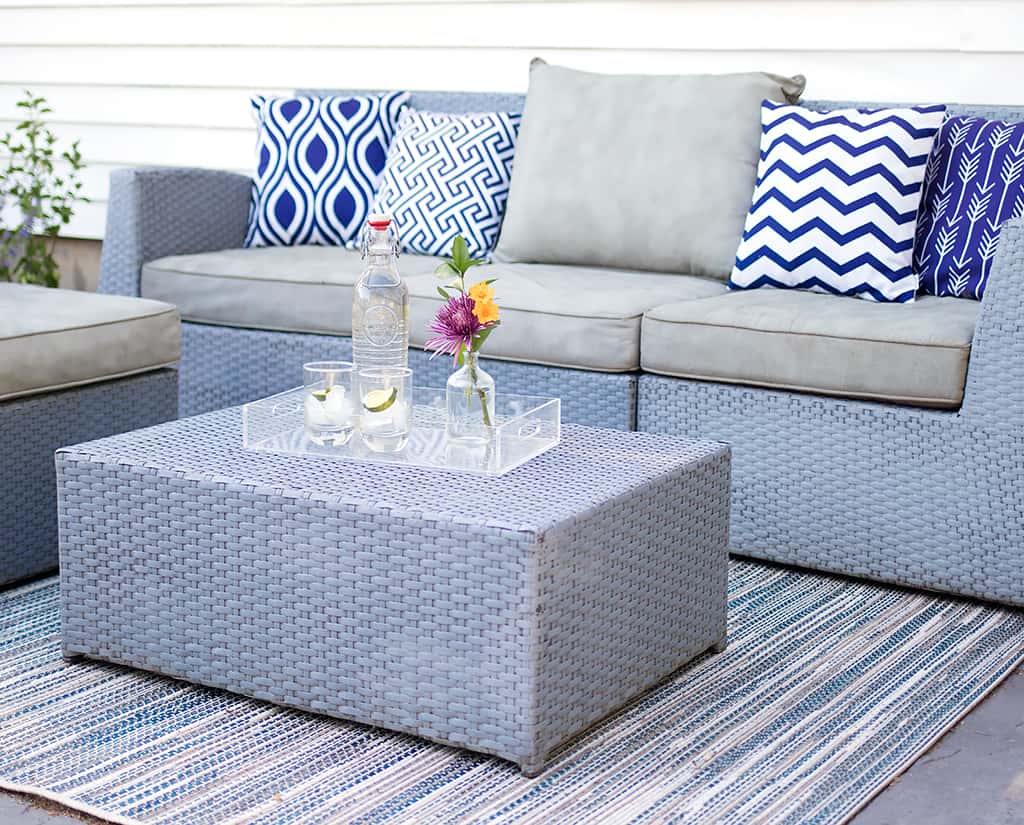 One of my goals for spring 2021 was to transform my patio space into somewhere I'd actually like to spend time. Here's what my patio sitting area looked like before. As you can see, it wasn't very welcoming!
Spring Patio Refresh with Wayfair
I decided to keep my patio set because it wasn't that old and it was still in very good condition. The cushions however, needed an upgrade. I gave them a makeover using fabric spray paint and changed the color from taupe to gray.
Wayfair has everything you need to revamp your outdoor space. They have a huge selection of outdoor patio sets, décor, outdoor lighting, fire pits, planters, and more!
Throw pillows are a great way to add color to patio seating. I had several, faded pillows that I planned on throwing out. Luckily, I found these Outdoor Square Pillow Covers (6 are included!) and I was able to give my old pillows new life! I love the contrasting, but complimenting patterns. Also, covering your old pillows is a great way to save money on a patio refresh!
This area needed another table for drinks. I decided to go with a ceramic garden stool instead of a traditional side table. The ombré blues on this Aphrodite Garden Stool remind me of the ocean. It's such a great addition to the patio!
An outdoor rug is a great way to section off a space and make it feel more intentional. This Radley Abstract Flatweave Indoor/Outdoor Rug is durable, easy to clean and it's light enough that I can easily roll it up and bring it indoors in the winter.
The finishing touch to my patio refresh were these Embossed 2-Piece Metal Pot Planter Set. I love plants, so naturally I wanted to add a few to the patio. The elevated height adds vertical interest and I like that the planters are light enough to bring indoors when it gets cold.
Since the refresh, my family and I spend a lot more time on the patio. This space feels so inviting now! Thanks Wayfair for helping me transform this space from "blah" to beautiful!