Fast and Easy Bathroom Makeover with Achim Flooring plus a Giveaway!
This post, Fast and Easy Bathroom Makeover with Achim Flooring, was sponsored by Achim Home Décor as part of an Influencer Activation and all opinions expressed in my post are my own.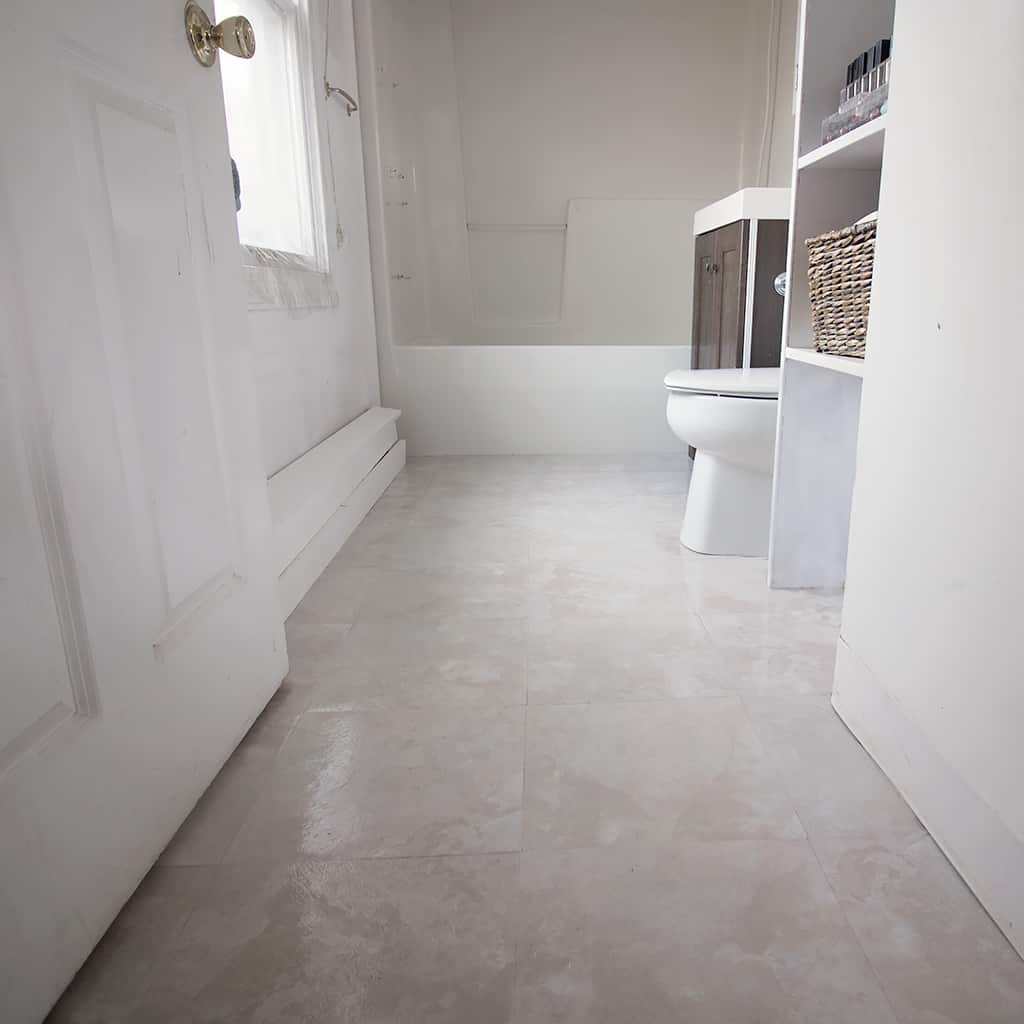 Since moving in, I've done many DIY projects to upgrade my house. One area I haven't gotten to yet was a small bathroom. This space desperately needed a makeover! I wanted to do something that was budget-friendly, easy and that would have a big impact. Enter Achim Flooring!
Fast and Easy Bathroom Makeover with Achim Home Decor

Here's the "before" picture of my bathroom. This busy tile is totally not my style. It made me dizzy to look at it! Also, the grout was stained and no amount of scrubbing made it look any better. I needed to make this bathroom look better, fast!
Achim Flooring is available both online and in-store at Walmart. I ordered mine online and it arrived in a few days. I chose the Achim Home Vinyl Floor Tile in Classic White. The tiles had the look of marble without the hefty price tag! The tiles are a generous 12″ x 12″. Their large size made installation a breeze! These vinyl tiles can be used in any room of the house including kitchens, dining rooms, bedrooms, bathrooms, foyers, and basements.
These vinyl tiles have a super-adhesive backing, so no messy glue is needed. Start at the edge of the room. I chose to start at the side opposite of the radiators. This way I could end and underneath the radiator covers, which would hide any seams that weren't perfectly straight.
The tile is very easy to cut using a utility knife. I measured around the bottom of the cabinet and then cut notches in the tile.
I checked to make sure the tile would fit and then I peeled off the backing and pressed it in place. That's all you have to do!
Keep placing down the tiles, making sure that your seams line up. The majority of the tiles didn't need to be cut, so this project moved right along!
Want to take your floors from "blah" to "beautiful"?

Enter to win a home floor makeover (up to 2,000 sq ft) and other great prizes.
The contest takes place March 1 – May 1, 2020