How to Make a Pom Pom Bunny
How to Make a Pom Pom Bunny- these fast and easy bunnies make a cute addition to any Easter basket.
These little bunnies are ideal for Easter decor or Easter baskets. They're also a great way to make use of scrap yarn. They take approximately 10 minutes to make and they're a fun project to make with older kids.
Years ago I discovered these Clover Pom Pom makers. I find them so much better than using your fingers or cardboard to create yarn pom poms. With these pompom makers, you get full, fluffy poms every time. To see the pom maker in action visit my tutorial:
KEEP IN TOUCH! FOR MORE INSPIRATIONS, PROJECTS, AND FREE KNITTING PATTERNS, SIGN UP FOR OUR WEEKLY NEWSLETTER:
How to Make a Pom Pom Bunny
Supplies needed
Yarn (I used #4 worsted weight yarn you will need white yarn for the bunny tail and different colors for the body)
Pom pom makers in 3 sizes (Large, Medium and Small)
Felt (gray felt and pink felt)
Scissors
Fabric glue
Tapestry needle
Button eyes (you could also use black pony beads)
Make 3 pom poms- 1 large, 1 medium, and 1 small (with the white yarn).
Tie the large and medium pom poms together to create the bunny body.
Thread the ties on the small pom pom through a tapestry needle and push through the large pom pom to attach. Thread the needle to the bunny's neck and tie the tail strands to the neck ones.
Cut 2 ear shapes out of felt and cut 2 smaller pieces for the pink inner ear. Glue the pink felt to the ears. Glue the ears to the top of the bunny's head.
The last step is to make the bunny's face. Cut a small pink triangle for the bunny's nose and glue it on. Attach the eyes either by sewing them or by using fabric glue.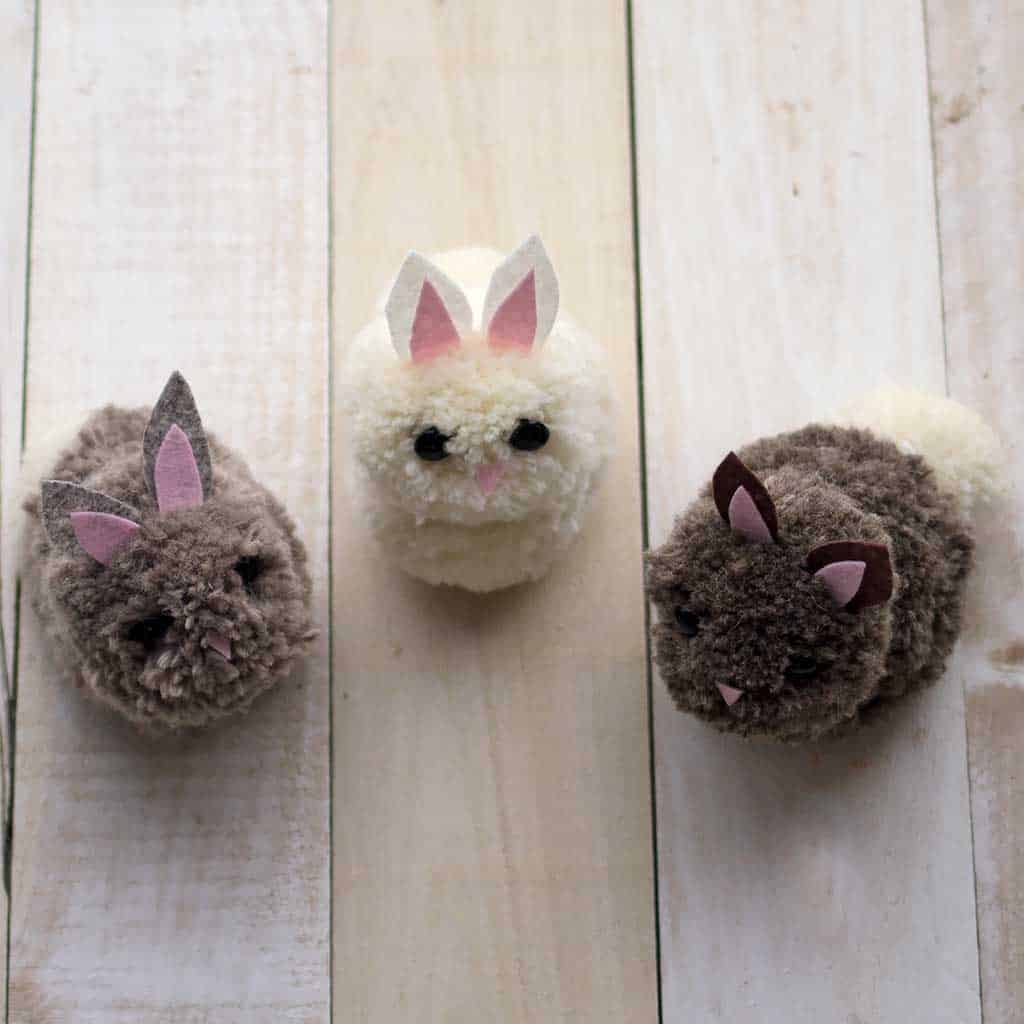 Looking for more Easter Crafts like this yarn pom pom bunny?
How to Sew Fabric Twine Easter Baskets
Whipped Cream Easter Eggs (Alternative to Shaving Cream Easter Eggs)
One Square Stuffed Bunny Crochet Pattern
I love seeing your finished projects! If you enjoyed making this Pom Pom Easter Bunny or any of my other craft projects or free patterns, I'd love to see yours on Instagram, just tag me @ginamicheleblog. Happy crafting!