One Square Stuffed Bunny Crochet Pattern
One Square Stuffed Bunny Crochet Pattern- ideal for beginners! If you can crochet a square, you can make this adorable, plush bunny!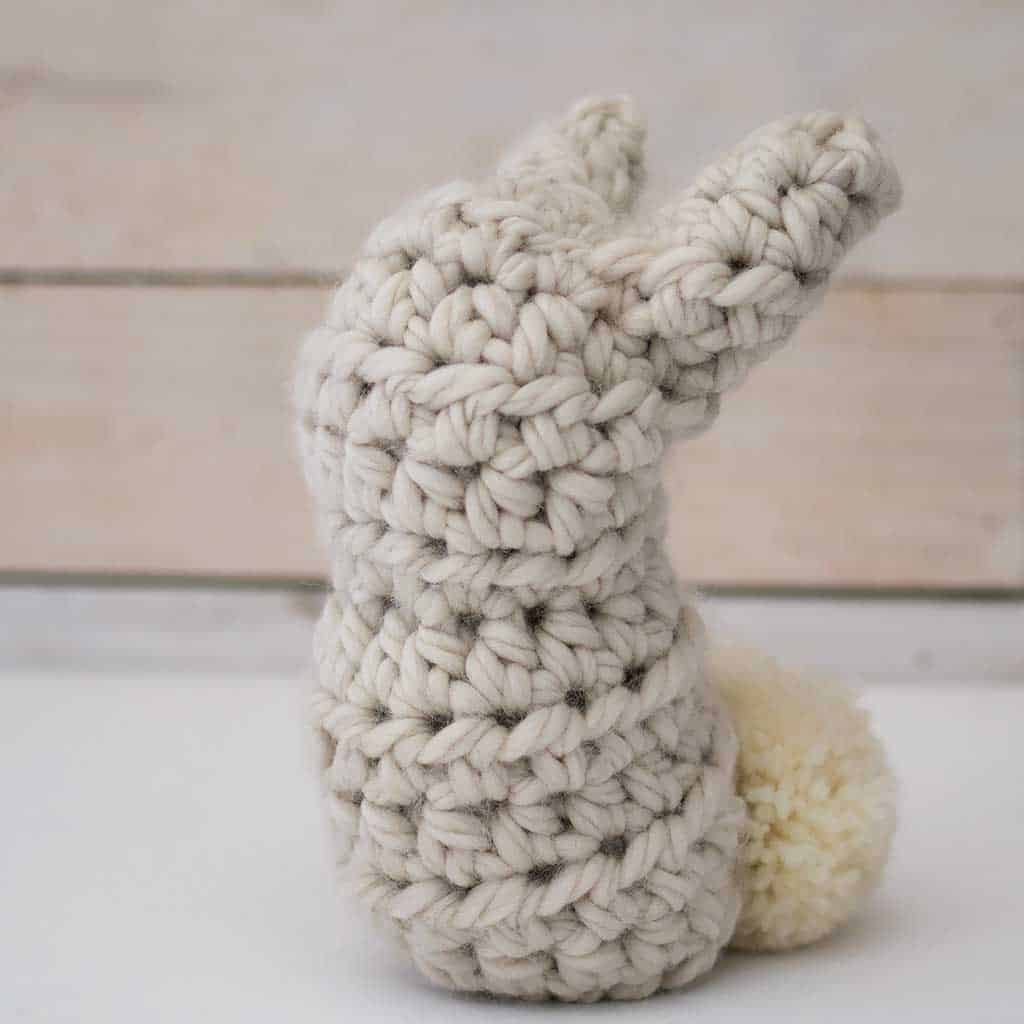 There are tons of great crochet patterns out there for stuffed animals, but most of them aren't beginner-friendly. This bunny knitting pattern is as easy as it comes- if you can crochet a square, you can make this! This little guy makes a great gift (especially in an Easter basket!) and this pattern is also a great way to make use of scrap yarn.
For this project, I have included both step-by-step instructions and a video tutorial.
KEEP IN TOUCH! FOR MORE INSPIRATIONS, PROJECTS, AND FREE KNITTING PATTERNS, SIGN UP FOR OUR WEEKLY NEWSLETTER:
One Square Stuffed Bunny Crochet Pattern
Supplies needed
K + C Nordic Yarn (1 skein)
Crochet hook size US L
Yarn needle
Fiber fill stuffing
Pom pom maker
Lion Brand Homespun in Deco
Size: The bunny measures approximately 8 inches tall
Gauge: not necessary for this project
Make a loop and chain 17 sts. Single crochet across the chain and make a turning chain.
Turn the chain over and Half Double Crochet in the "v" of each chain. Make a turning chain at the end of each row. Repeat, making a turning chain each time you finish a row. Work until your piece measures 9 inches. Cut the end of the yarn, and pull through the loop.
Using a yarn needle, make a running stitch through the center of the square. Stitch up in a triangular shape.
Pull the ends of the yarn on the side to gather. You'll see the ears and head forming.
Stuff the head with poly-fill and pull the ends of yarn tightly to close.
Make a stitch to secure.
The rest of the square will become the body. Stitch the back seam closed. Stuff the body with fiber fill. Use a liberal amount of stuffing so the bunny will stand upright. Run a stitch around the opening and pull to close. Knot to secure. Make the pom pom tail (click here for my Perfect Pom Pom Tutorial) and tie it on the back.
Sew the seam at the ears closed.
Looking for more Easy Crochet Patterns?
How to Crochet the Easiest Hat Ever
Easiest Large Pumpkin Crochet Pattern
How to Crochet a Pumpkin the Easy Way
I love seeing your finished projects! If you enjoyed making this One Square Stuffed Bunny Crochet Pattern, or any of my other free crochet patterns, I'd love to see yours on Instagram, just tag me @ginamicheleblog. Happy crocheting!