Looking for something cute to spruce up your Easter decor? This Knit Easter Chick Basket is easy and fun to make! It's knit flat (entirely in Garter Stitch), so it's perfect for beginners.
The basket has a small opening so it's perfect for holding candy. This little chick would also make a great addition to a kid's Easter Basket (I wouldn't recommend this for very small children because of the button eyes).
KEEP IN TOUCH! FOR MORE INSPIRATIONS, PROJECTS, AND FREE KNITTING PATTERNS, SIGN UP FOR OUR WEEKLY NEWSLETTER:
THE AD-FREE, PRINTABLE VERSION OF THIS PATTERN CAN BE PURCHASED FOR A SMALL FEE AT MY PATTERN STORE, SHOP GINA MICHELE. PLEASE CLICK ON THE IMAGE BELOW TO PURCHASE THE PDF.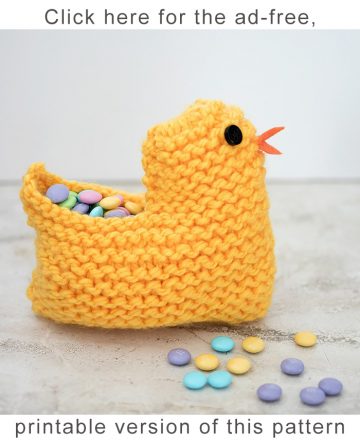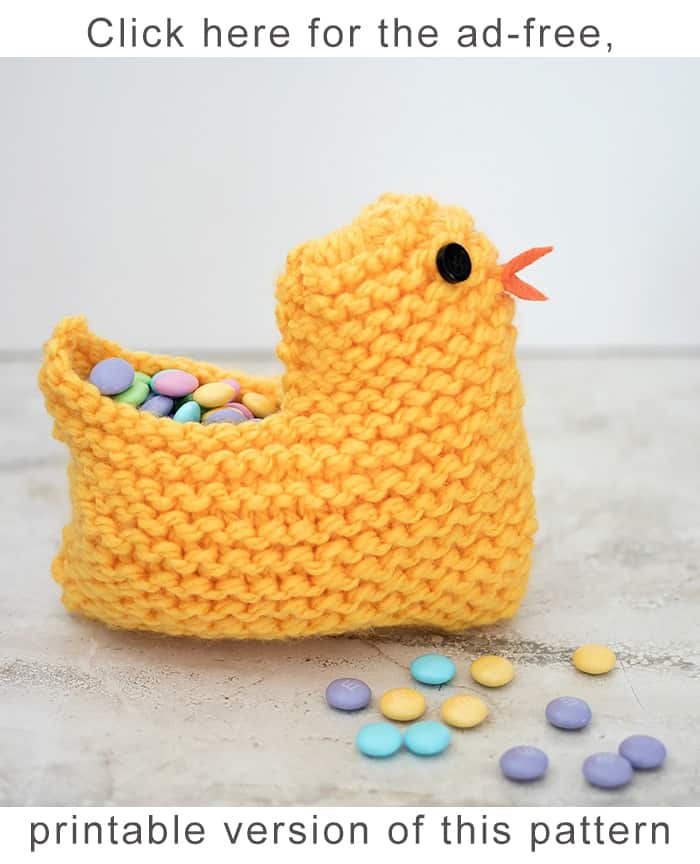 Want more free Easter Knitting Patterns?
One Square Bunny Knitting Pattern
Baby Bunny Hat Knitting Pattern
(Disclosure: As an Amazon Associate I earn from qualifying purchases)
Yarn: Loops & Threads Charisma Yarn in Yellow (yarn weight #5)
Needles: Size US 8 single point
Also needed: 2 black buttons (7/16 inch), yarn needle, needle and thread, orange felt and fiber fill
Gauge: not important for this pattern
Knit Easter Chick Basket Knitting Pattern
(makes 1)
Cast on 38 stitches.
Knit 12 rows in garter stitch
Cast on 1 stitch at the beginning of the next 6 rows (44 stitches)
Cast off 12 stitches of the beginning of the next 2 rows (you will be left with 20 sts)
Knit 12 rows.
Break yarn leaving a 10 inch tail. Thread through remaining stitch and pull to tighten.
How to assemble the Knit Easter Chick Basket
This is what the piece looks like when you are finished knitting.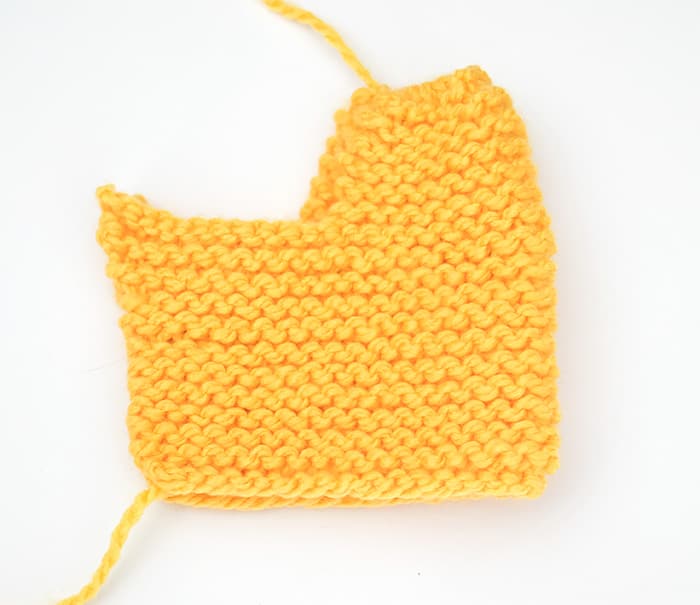 Fold the piece over as pictured.
To make the head- sew the back seam, but stop before you reach the "flat" part. This is the opening for the basket.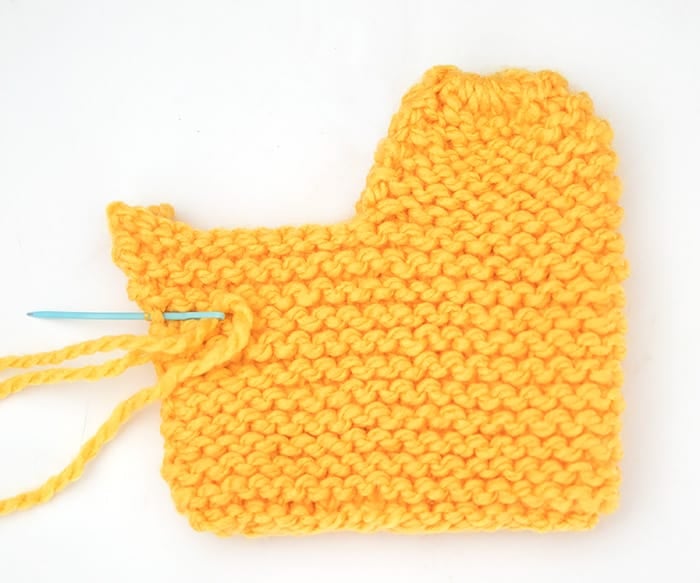 Using a yarn needle, sew the bottom and side seam closed.
Sew the button eyes on.
To make the beak- cut a diamond shape out of felt that's approximately 1 1/4 inches tall from top to bottom point.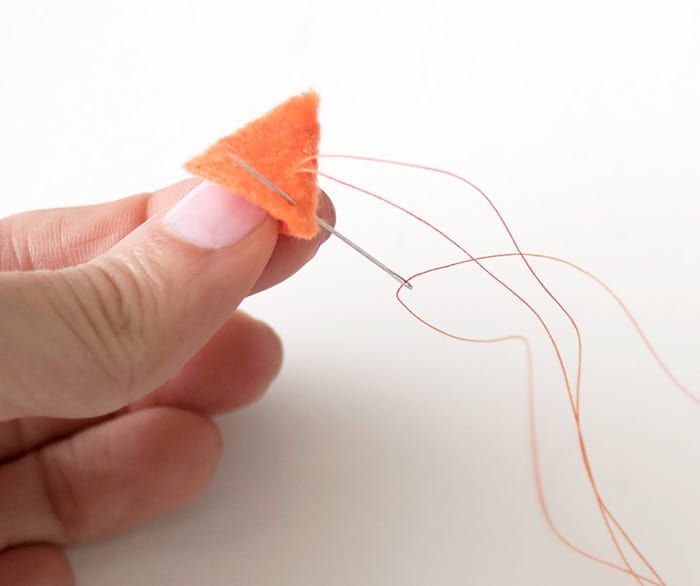 Fold the felt in half and stitch along the edge. This creates the beak shape. Sew the beak on to the chick. Lastly, stuff the head and the bottom with fiber fill. Fill the basket with chocolate eggs or even Easter eggs.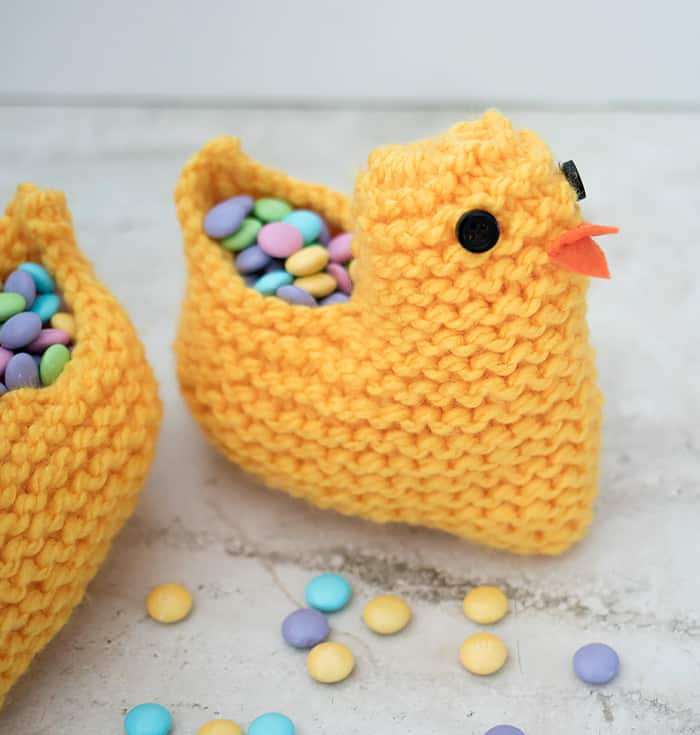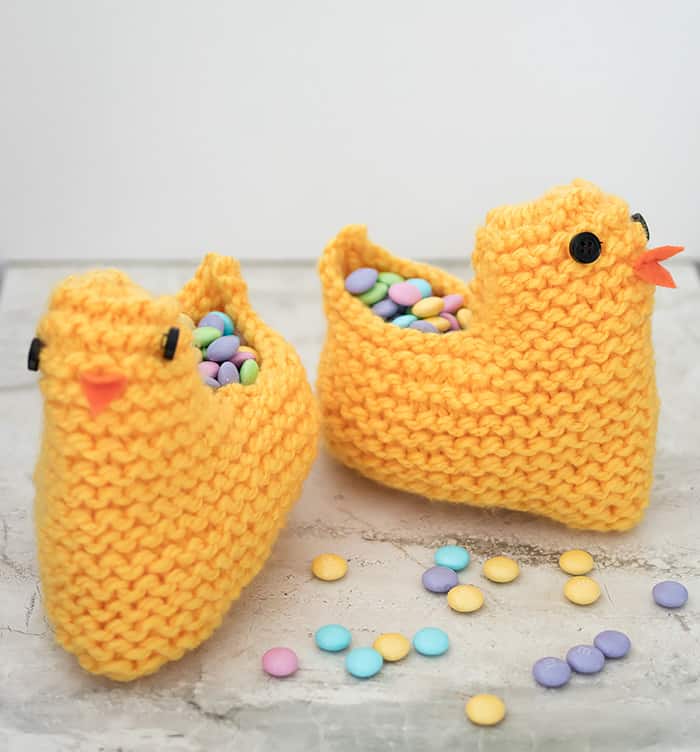 I love seeing your finished projects! If you enjoyed making this new pattern- Knit Easter Chick Basket, or any of my other free knitting patterns, I'd love to see yours on Instagram, just tag me @ginamicheleblog. Happy knitting!