Malibu Wide Plank Flooring Review
Malibu Wide Plank Flooring Review- my favorite DIY project to date!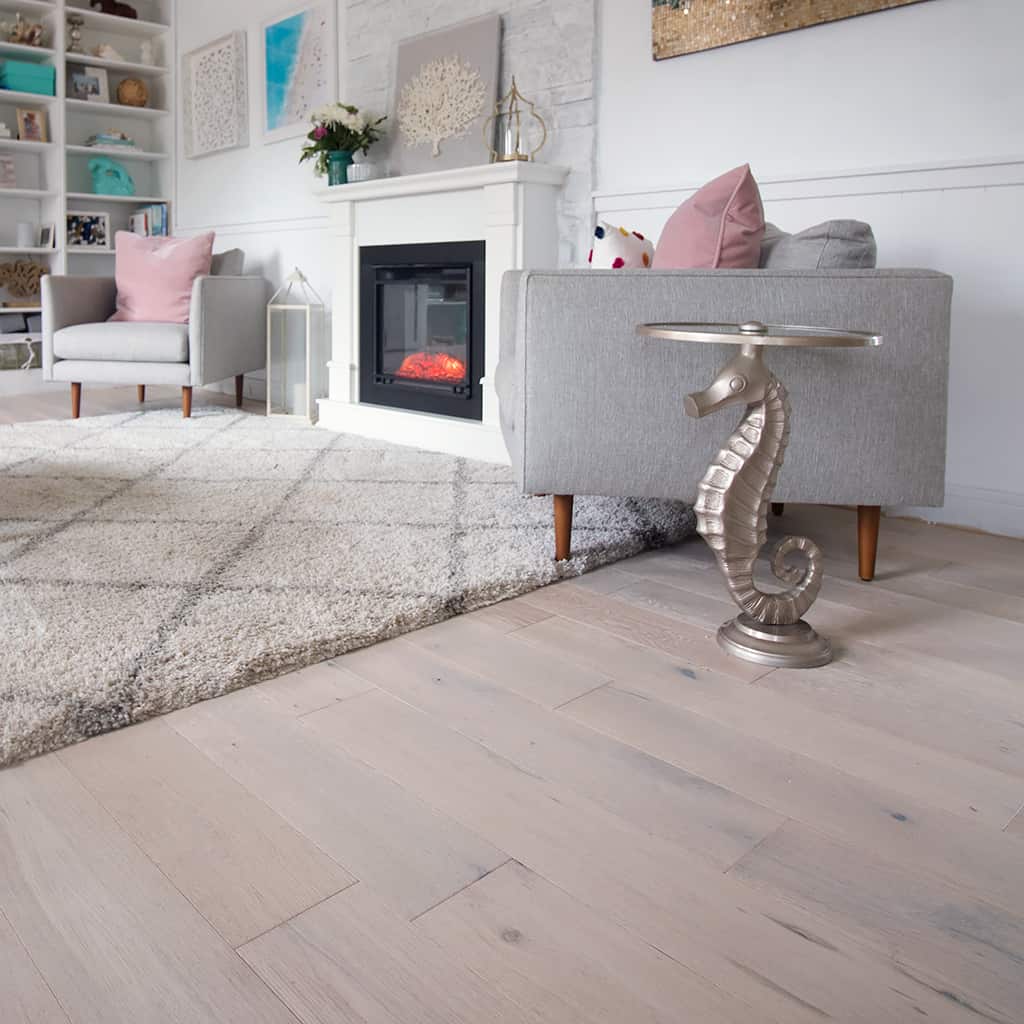 I've completed many DIY upgrades (and have many more to go!) since moving into my builder-grade home. The single project that had the biggest impact was installing new flooring!
This is a picture from move-in day. This space was being used as an office (hence the giant wraparound desk). The flooring was an inexpensive laminate in a dated almond color. In addition to the flooring being unattractive, it had also been installed improperly, which caused it to swell and become uneven when the humidity was high. I knew it had to go asap!
Malibu Wide Plank Flooring Review
I had fallen in love with whitewashed floors after seeing them on Pinterest. My original idea was to install natural colored hardwood and whitewash them myself. While looking at the flooring samples at Home Depot, I came across this Malibu Wide Plank flooring. The color was beautiful and it saved me all the work of whitewashing the floors myself!
Each plank is hand-stained for a far more vivid color depth than machine-stained hardwood. The subtle color variations between planks complement each other beautifully when they are laid down. The boards feel substantial and they are much heavier and high-quality than the old laminate flooring.
The Malibu Wide Plank is engineered hardwood and it installs with a super-easy click lock system. I was surprised at how easy this flooring was to install! The boards slide into the slides of each other and then you push down to lock them in place. No nails or glue are necessary! I used a jigsaw to cut the planks that went around the doorways.
I completed the flooring approximately 6 months ago. I waited to write this post because I wanted to see how the hardwood would hold up. I'm happy to report that it looks just as good as the day I installed it! Surprisingly, this flooring has proved to be kid-friendly. Dropped toys (even the heavy ones!) don't result in nicks or dents. I clean up any spills with a hardwood cleaner and a sponge. No trace is ever left behind.
The whitewashed wood color has really transformed the look of my house. The lighter color made everything look brighter and fresh.
Looking for more Home DIY Projects?
How to Upgrade Your Windows with Craftsman-style Trim