Easy DIY Kids Climbing Wall for a Treehouse
Easy DIY Kids Climbing Wall for a Treehouse- this beginner-friendly, afternoon project is a fun addition to any treehouse that kids will love!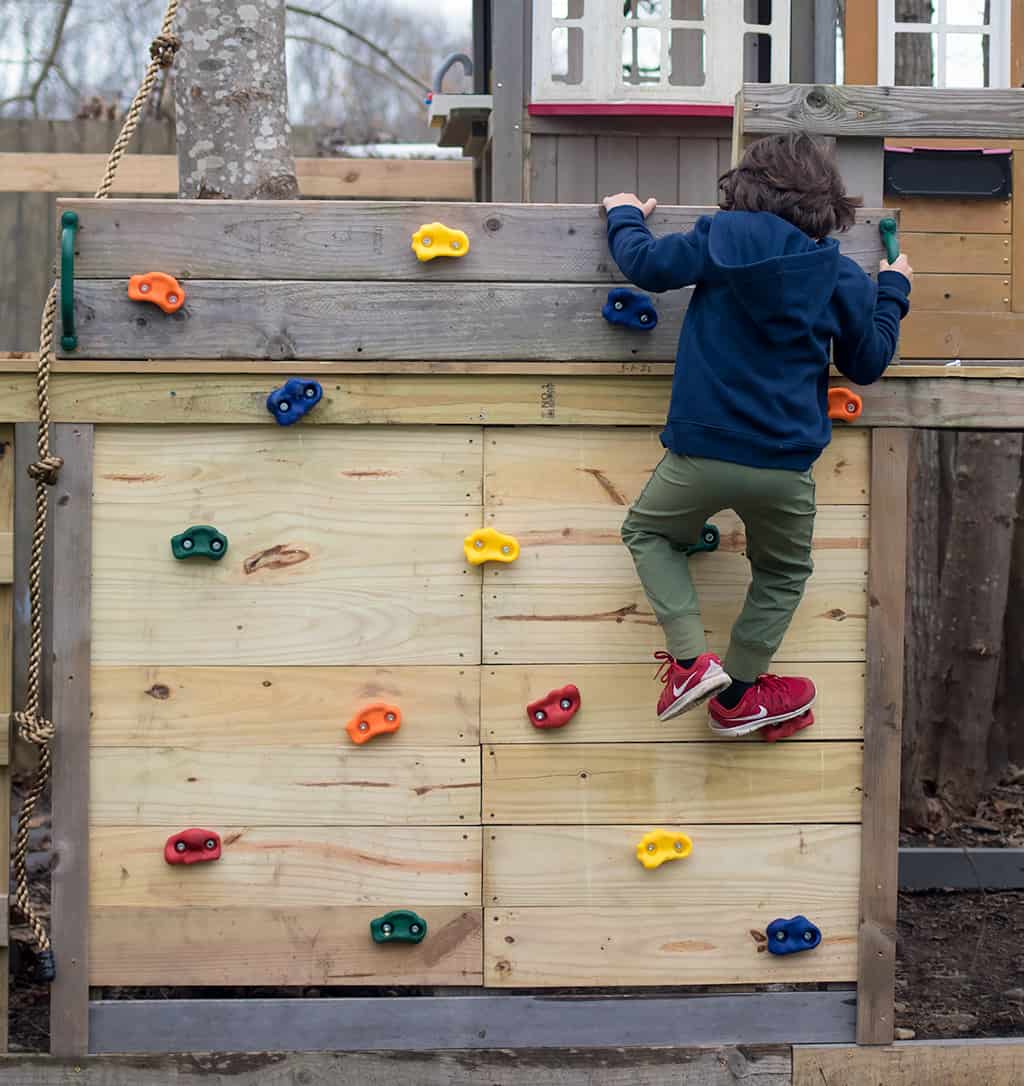 I recently built my oldest a treehouse. He loves it, but he said it would be even cooler with a climbing wall. I had some leftover wood from building the treehouse, so I figured I'd put it to good use! This DIY Climbing Wall is simple to build and it only took an afternoon. The only power tools needed are a drill and a circular saw (or a miter saw). I attached the climbing wall to the treehouse platform which eliminated the needed to build a fancy base.
I bought these rock climbing holds. They're very easy to hang and they come with their own hardware. The kit also included large, green handles and a climbing rope.
Easy DIY Kids Climbing Wall for a Treehouse
(Note- I didn't include cutting lengths for this post. Since there's no standard size for a treehouse, measurements will vary)
Supplies needed:
2x4s
2x6s
1×6 deck boards
1x3s (for trim)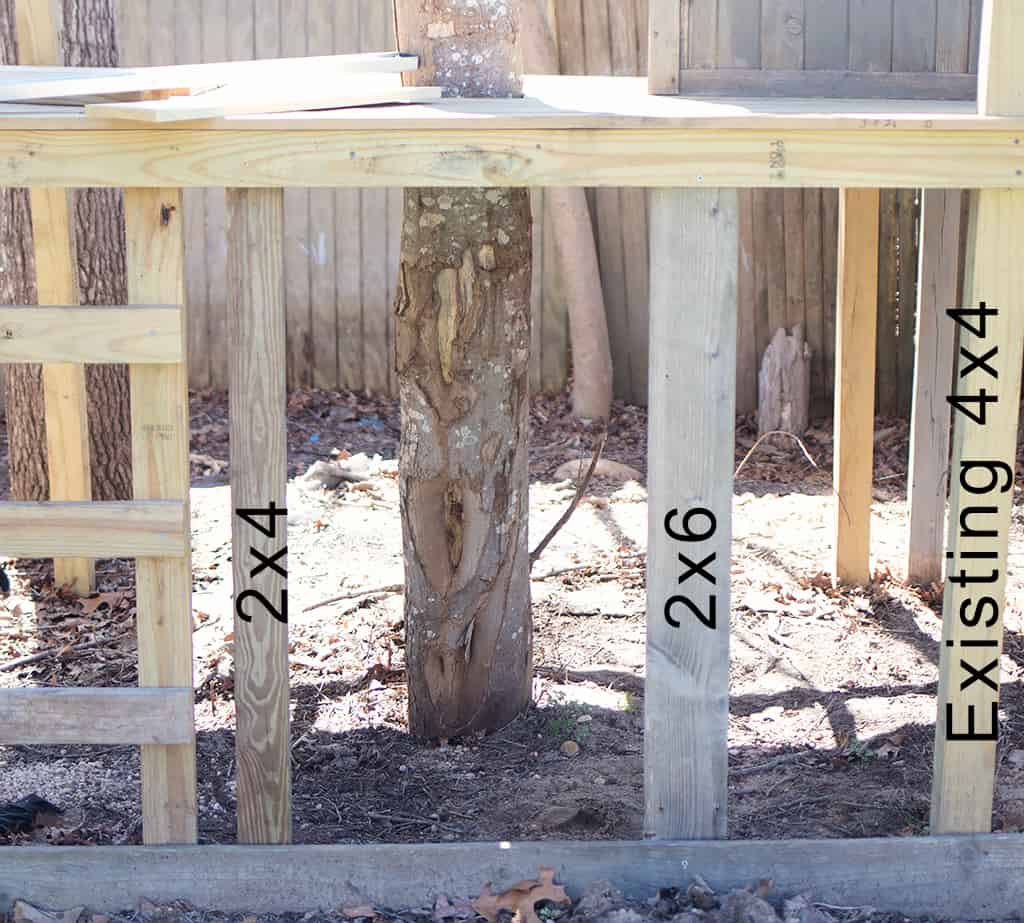 I used 4 pieces of wood for vertical support. I added a 2×4 to the side and a 2×6 to the middle. The 2, 4×4 posts were already there. I would recommend adding a support beam every 24 inches or so.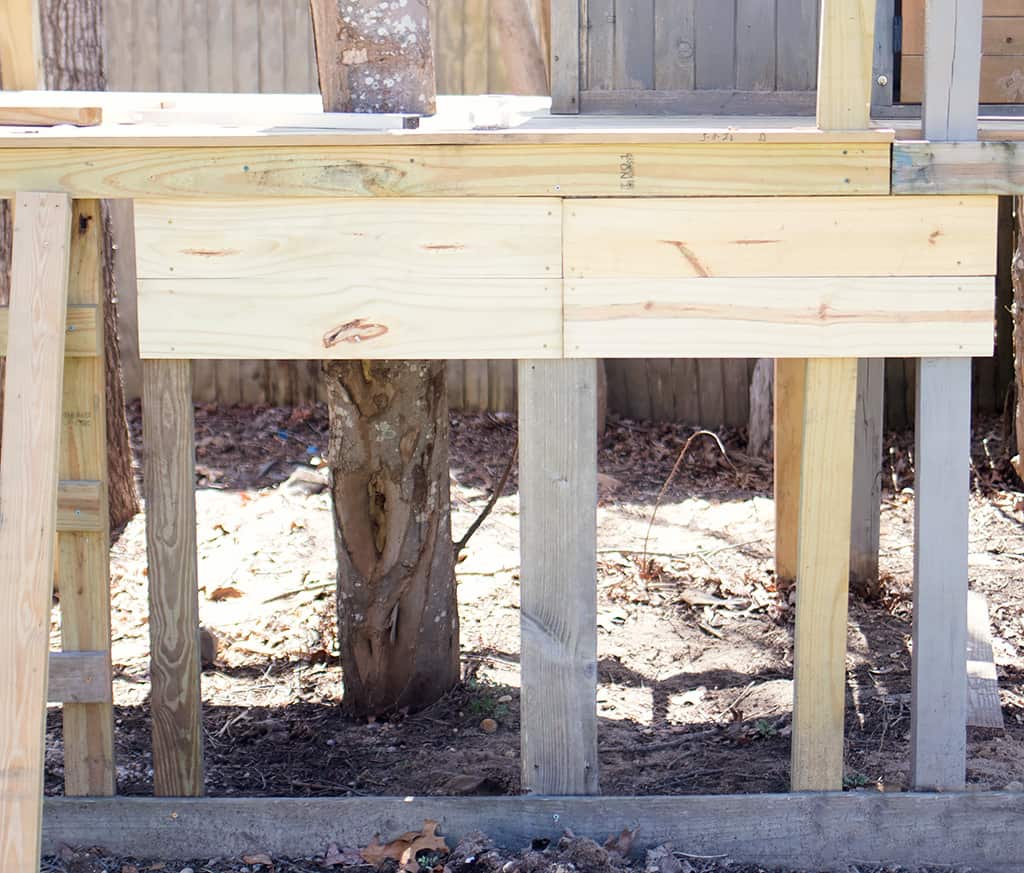 I used leftover pieces of deck board and connected them in the middle of the 2×6. You could also use 1 long deck board for each row.
I added 1×3 trim to the sides for a more finished look. I also added 2, 2x6s to the top to make the wall higher.
The next step is to attach the climbing holds. I pre-drilled holes and the secured them using the hardware provided.
Finally, I screwed on the plastic handles and attached the climbing rope (both included with the climbing holds) to a tree.
Looking for more Easy Outdoor DIY Projects?
Outdoor Chalkboard DIY- Weatherproof and Durable!
How to Build a Sandbox with a Roof