Mirror Flower Pot DIY with Gorilla Glue Clear plus $250 Home Depot Gift Card Giveaway
This is a sponsored post written by me on behalf of The Gorilla Glue Company  for IZEA. All opinions are 100% mine.
I'm a total Plant Lady and I can never have enough flowers! Plants are a cheerful and inexpensive way to add color to a room. Plus, they're great for the air quality. My ever-growing flower collection requires lots of new pots. I generally choose flower pots that are sleek and simple to let the plant take center stage. I decided to shake things up by creating this Mirror Flower Pot DIY. Initially, I wasn't sure if it would work (I was worried about the tiles falling off), but Clear Gorilla Glue® made this project a breeze!
Choosing the right glue for your DIY project is so important. The wrong glue can make the finished project look messy, or even worse, it won't hold! Clear Gorilla Glue (which I purchased at Home Depot) is perfect for this Mirror Flower Pot DIY because it's easy to work with and it dries clear. It also doesn't foam or expand as it cures. Best of all, Clear Gorilla Glue is incredibly strong and it can be used for both indoor and outdoor applications! This is my go-to glue when I'm working on a DIY that involves glass or any material where over-spill is an issue.
Supplies needed for Mirror Flower Pot DIY
4, 6 inch Mirror Tiles (available at most craft stores)
Clear Gorilla Glue
Scrap wood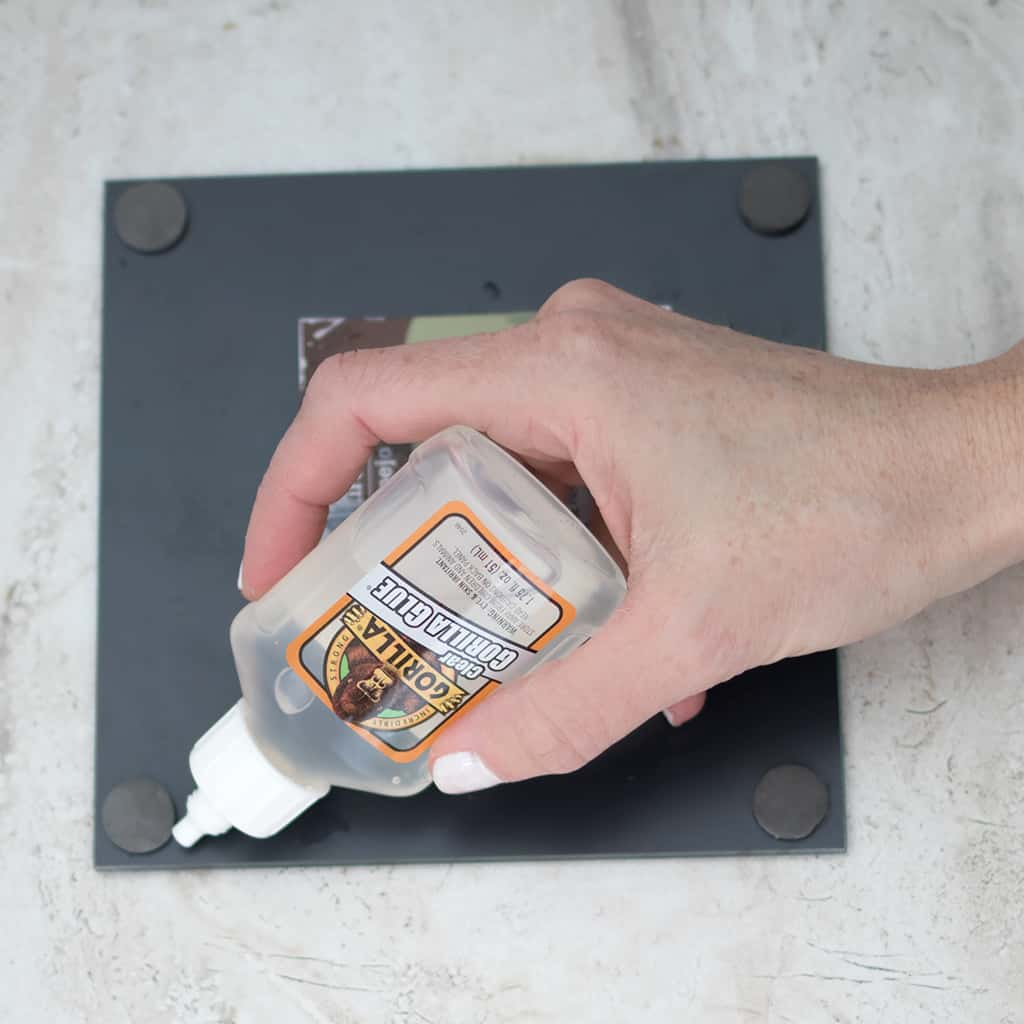 Run a thin line of Clear Gorilla Glue along the inside sides of the mirror tiles.
Form the tiles into a box and hold in place with soup cans or something similar. Clear Gorilla Glue takes 2 hours to adhere and 24 hours to fully cure. I left the soup cans around the sides for the full 24 hours.
Cut a piece of scrap wood that measure 6 1/2 X 6 1/2 inches. Place the mirror box on top and line it up on the wood square. There should be a small amount of wood overhang on each side.
Glue the mirror box to the wood on the inside sides. Let cure.
The Mirror Flower Pot DIY is complete! This flower pot is intended to hold a smaller pot inside. Do not put the dirt and plant directly in the mirror pot.
This Mirror Flower Pot currently sits on a shelf in my kitchen. I'm happy with the way it turned out! I love the way the mirror reflects the leaves. It really catches your attention when you walk in the room!
Wait, there's more…Gorilla Glue is giving away a $250 Visa Gift Card!!! Imagine all the DIY supplies you could buy with that! Enter below