Felt Pumpkin Thanksgiving Centerpiece DIY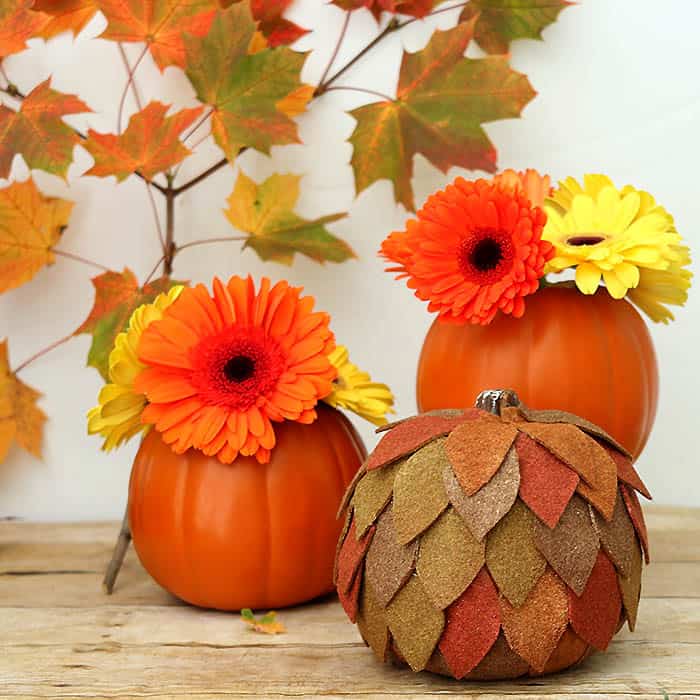 Thanksgiving will be here in a few short weeks! When it comes to decorating the table I like colorful centerpieces and rich metallics are always a plus. This Pumpkin Thanksgiving Centerpiece DIY is a great way to upgrade your styrofoam pumpkins.
This Felt Pumpkin DIY is made by cutting leaves out of felt, painting them different metallic shades and gluing them onto a foam pumpkin. The flower vases in the background are foam pumpkins that I cut the top off and placed a glass inside. These centerpieces are easy, inexpensive and they'll brighten up any Thanksgiving table!
Supplies:
Foam pumpkin
2 Felt sheets (9×12 inches)
Metallic paint
Glue gun
Want more Holiday themed DIYs?
Pottery Barn inspired Silver Bells Wreath
Cut a leaf out of the felt that measures approximately 3 inches long and 1 1/2 inches wide. Use the leaf as a template and cut out leaves from the 2 sheets of felt.
Paint the leaves and let dry.
Starting at the bottom, glue the leaves to the pumpkin.
Work in circles until the pumpkin is covered.