Easy Tank Knitting Pattern
Easy Tank Knitting Pattern- if you can knit a rectangle, you can make this easy tank top!
The weather is finally warming up so I'm excited to kick off my spring knitting pattern series! This Easy Tank Knitting Pattern is great for beginner knitters. There are no increases or decreases! This sleeveless top is knit in two pieces (rectangles) and then seamed together at the shoulders. Side tabs are knit separately and then stitched on. This is a relaxed, easy summer top that can be worn over a tank with jeans.
I used a lightweight alpaca blend yarn for this pattern. It's great for warmer temperatures and it's so soft!
KEEP IN TOUCH! FOR MORE INSPIRATION, TUTORIALS, AND FREE KNITTING PATTERNS, SIGN UP FOR OUR WEEKLY NEWSLETTER:
Want more fast & easy knitting patterns?
Easy Kid's Poncho Knitting Pattern
Easy Toddler Sweater Knitting Pattern
Easy Tank Knitting Pattern
Yarn- Lion Brand Yarn Touch of Alpaca Bonus Bundle in Jade (worsted weight yarn, 2 skeins)
Size: US 8 needles single point
Difficulty: easy level knitting pattern
Gauge: 2 inches= 8 stitches
(the finished top measures 44″ across the bust)
Pattern instructions:
BACK: Cast on 80 stitches. Work in Garter Stitch for 3 rows.
The first and last 3 stitches are knit in Garter Stitch throughout the pattern.
Work in Stockinette Stitch (working the first & last 3 edge stitches in Garter Stitch) for 22 inches. Bind off.
FRONT: Work to correspond to back.
SIDE TABS: (make 2) Cast on 12 stitches. Work in garter stitch for 1 1/2 inches. Bind off.
FINISHING: Sew the shoulders together- 5 inches in from the sides. Sew tabs on to the tank at the sides- 7 inches from the bottom hem.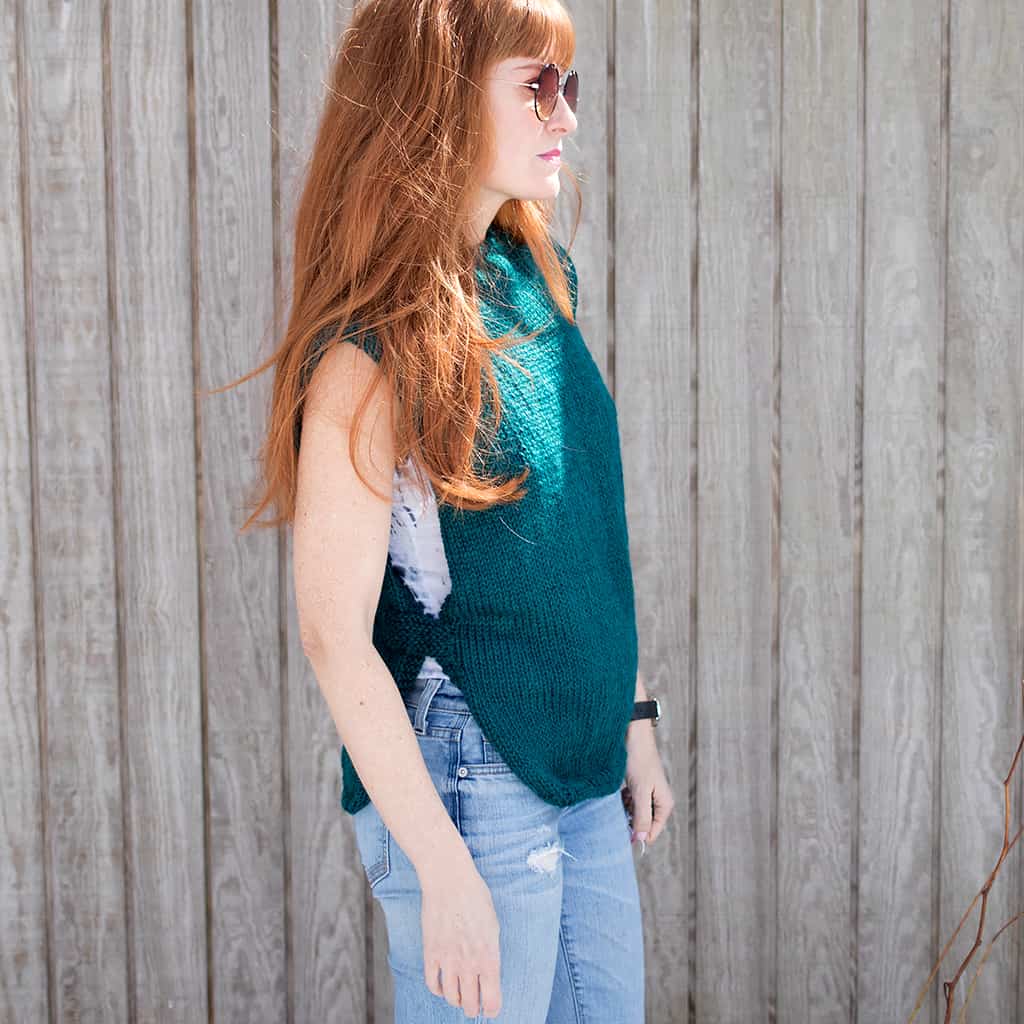 I love seeing your finished projects! If you enjoyed making these Easy Tank Knitting Pattern, or any of my other free knitting projects, I'd love to see yours on Instagram, just tag me @ginamicheleblog. Happy knitting!