Double Layered Chunky Cowl Knitting Pattern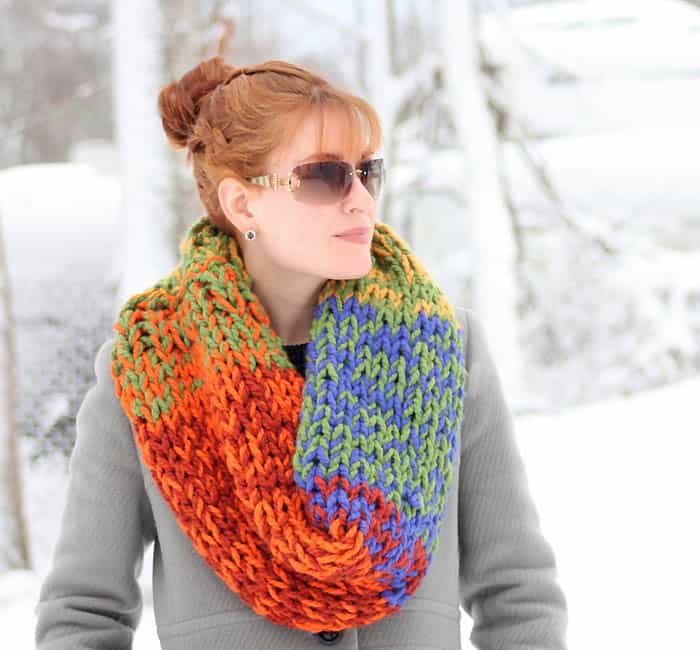 I've been using Thick & Quick yarn for a lot of my knitting projects lately. I love how fast it knits up and the color selection is great. I was left with several balls that were about half used, so I decided to make a super chunky cowl. I knitted this scarf using 2 different colors at the same time. This technique created a thick texture and an interesting pattern with the colors.
Yarn: Lion Brand Wool Ease Thick & Quick (I used Grass, Cobalt, Pumpkin, Spice, Butterscotch)
Size US 35 straight needles
Knitting Pattern
Using 2 different strands of yarn at the same time, cast on 20 sts. When you run out of a color, knot another one on and continue working. Work in stockinette stitch for 36 inches. Bind off and sew seam together.
Follow
(function(d, s, id) {var js, fjs = d.getElementsByTagName(s)[0];if (d.getElementById(id)) return;js = d.createElement(s);js.id = id;js.src = "https://widget.bloglovin.com/assets/widget/loader.js";fjs.parentNode.insertBefore(js, fjs);}(document, "script", "bloglovin-sdk"))
!function(doc,s,id){ var e, p; if(!doc.getElementById(id)) { e = doc.createElement(s); e.id = id; p = '//shopsensewidget.shopstyle.com/widget-script.js'; var cb = new Date().getTime(); p += '?cb=' + cb; e.src = p; doc.body.appendChild(e); } if(typeof window.ss_shopsense === 'object'){ if(doc.readyState === 'complete'){ window.ss_shopsense.init(); } } }(document, 'script', 'shopsensewidget-script');