Easy Leaf Knitting Pattern
Easy Leaf Knitting Pattern- beginner-friendly knitting pattern for these festive leaves. Perfect for
autumn garland!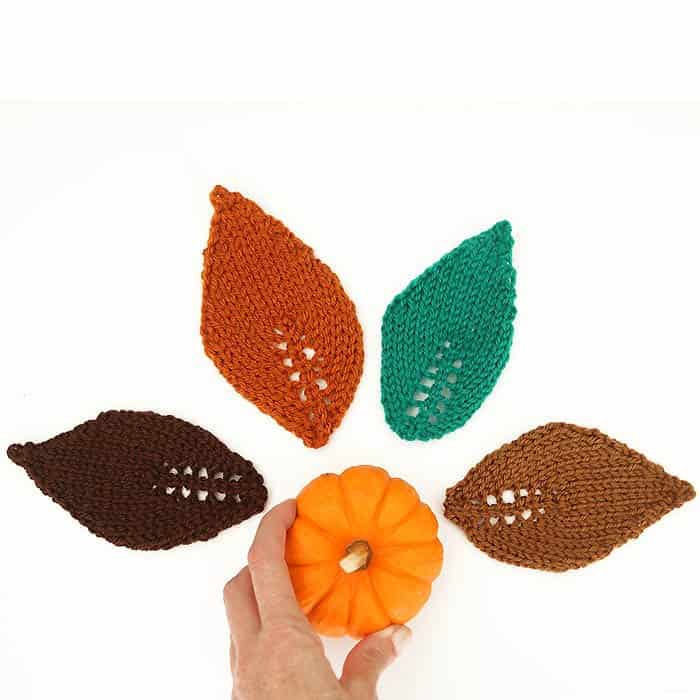 Hey friends! Can you believe it's the end of October already? Luckily, we still have another month of harvest decor! This Easy Leaf Knitting Pattern is really easy to make and it's a great way to use up scraps of yarn. These knit leaves can be strung as garland, sewn on as an applique or even attached to presents.
This pattern contains an abbreviations newbie knitters might not be familiar with- YO. YO simply means yarn over. Yarn Over creates an extra stitch and it makes a decorative hole when knitting.
Want more Free Knitting Patterns?
Fox Teapot Cozy Knitting Pattern
Scrap Busting Tassel Pillow Knitting Pattern
One Square Plush Bunny Knitting Pattern
Scroll down for the pattern or click below to buy the ad-free, printable version for a small fee. The printable version is an instant download that conveniently prints on 1 page.
Needles: Size US 6 straight
Easy Leaf Knitting Pattern
Cast on 3 sts.
Row 1: Purl
Row 2: K1, YO, K1, YO, K1 (5 sts)
Row 3: Purl
Row 4: K2, YO, K1, YO, K2 (7 sts)
Row 5: Purl
Row 6: K3, YO, K1, YO, K3 (9 sts)
Row 7: Purl
Row 8: K4, YO, K1, YO, K4 (11 sts)
Row 9: Purl
Row 10: K5, YO, K1, YO, K5 (13 sts)
Row 11: Purl
Row 12: K6, YO, K1, YO, K6 (15 sts)
Row 13: Purl
Row 14: K7, YO, K1, YO, K7 (17 sts)
Decrease
Row 1: Purl
Row 2: Knit 2 together, knit to last 2 sts, knit 2 together
Repeat these 2 rows until 3 sts remain
Purl row
Knit 2 together, Knit 1, pass stitch over to bind off.