Super Easy Toddler and Kid's Beach Cover Up DIY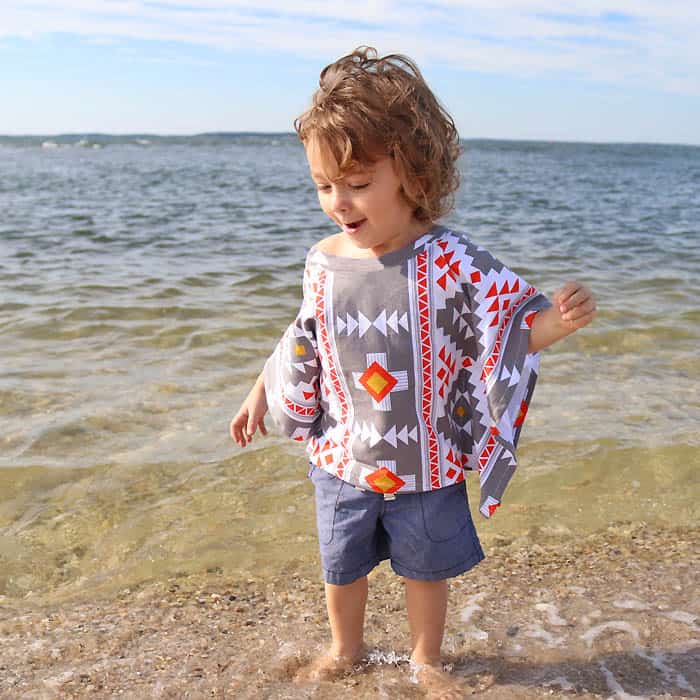 Summer may be coming to a close, but that doesn't mean our trips to the beach are! I love taking Indigo to the beach in the evenings. Sometimes the air is a bit cool, so I wanted to make him a little beach cover up for the transitional weather. This Kid's Beach Cover Up DIY is so easy to make! Basically it's just fabric folded in half, with a neck hole cut out and 2 side stitches. It only took 15 minutes to make.
This cotton jersey is from Fabric.com. Unfortunately, it's sold out, but they have plenty of other great prints!
Supplies for Kid's Beach Cover Up DIY:
Cotton jersey fabric
Want more Easy Sewing Patterns?
Fold the fabric in half .
The measurements for the fabric above correspond to a Toddler size. If you are making this for a larger child, measure from the top of the shoulder down to the top of their thigh. Then, have them hold out their arms and measure from one forearm to the other.
Find the middle of the fabric at the top fold line. Cut an 8 inch long semi circle. Put the cover up over the child's head to see if it fits. You may need to cut the neckhole a little larger. Hem the sides and the bottom.
Measure 6 inches in from the sides. Sew a line that's approximately 8 inches long.
To make the neck binding: Take a piece of fabric that's the length of the neck hole and 1 1/2 inches wide. Sew the ends together. Place the right side of the binding against the wrong side of the cover up and sew.
Fold the edge of the binding over twice and pin in place. Stitch down.