How to Sew Pajama Pants Without a Pattern
How to Sew Pajama Pants Without a Pattern- sew your own pajama pants in any size. Great beginner sewing project!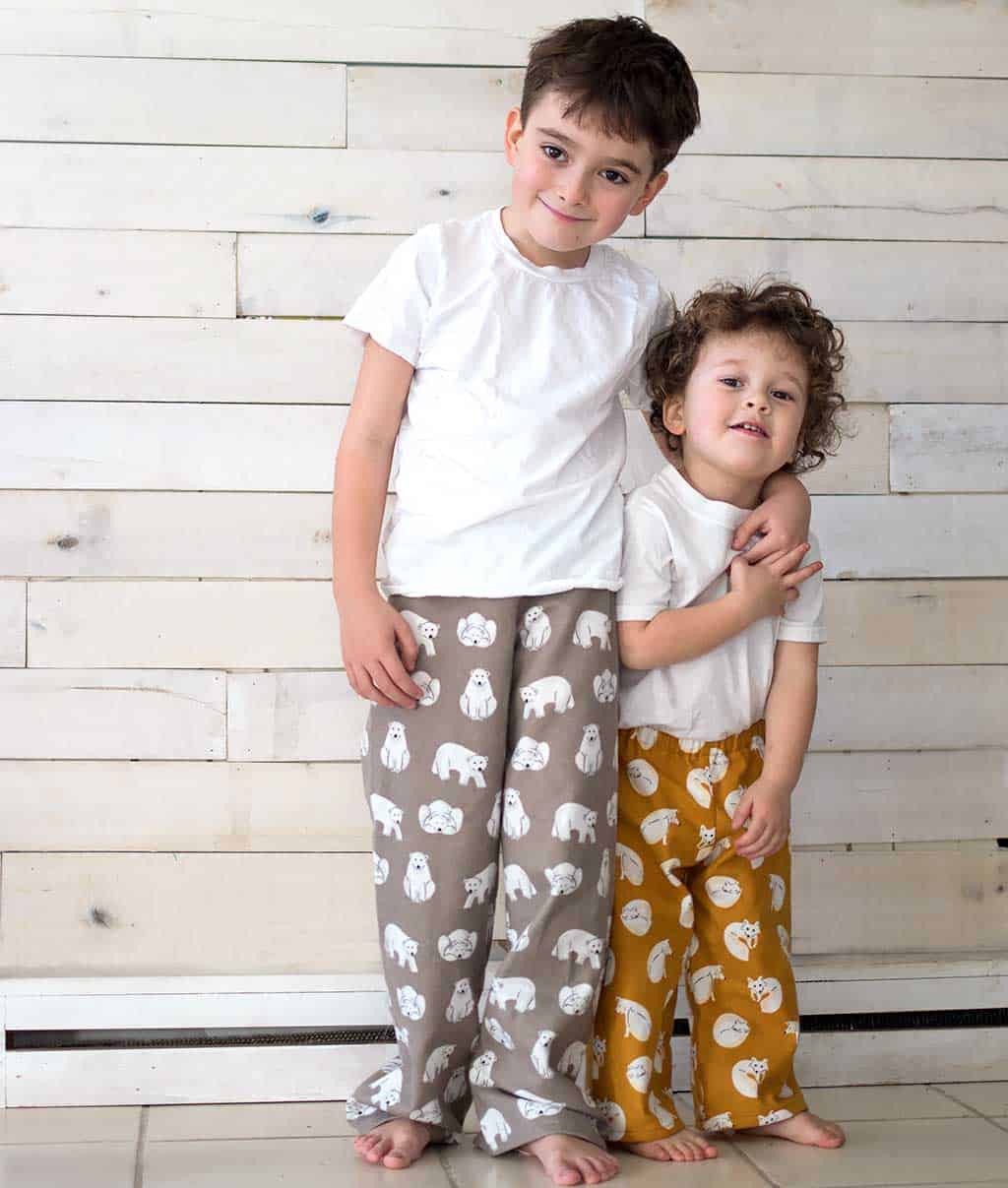 Cozy PJ pants are a winter must-have in my house. These lounge pants can be made in under 20 minutes and you don't even need a store-bought sewing pattern. This beginner-friendly technique shows you how to create a sewing pattern from Pajama bottoms you already own for toddlers, kids and adults.
What kind of pajama pants are best to use?
The easiest pajama pants to use are loose fitting with an elastic waist.
KEEP IN TOUCH! FOR MORE INSPIRATIONS, TUTORIALS, AND FREE KNITTING PATTERNS, SIGN UP FOR OUR WEEKLY NEWSLETTER:
How to Sew Pajama Pants Without a Pattern
Supplies needed for the pajama pants pattern:
Pair of pajama pants to use as a template
Woven cotton fabric or lightweight fleece (I used this organic cotton flannel- Polar bears, Fox)
1/2 inch braided elastic
Scissors
Sewing machine
Sewing instructions: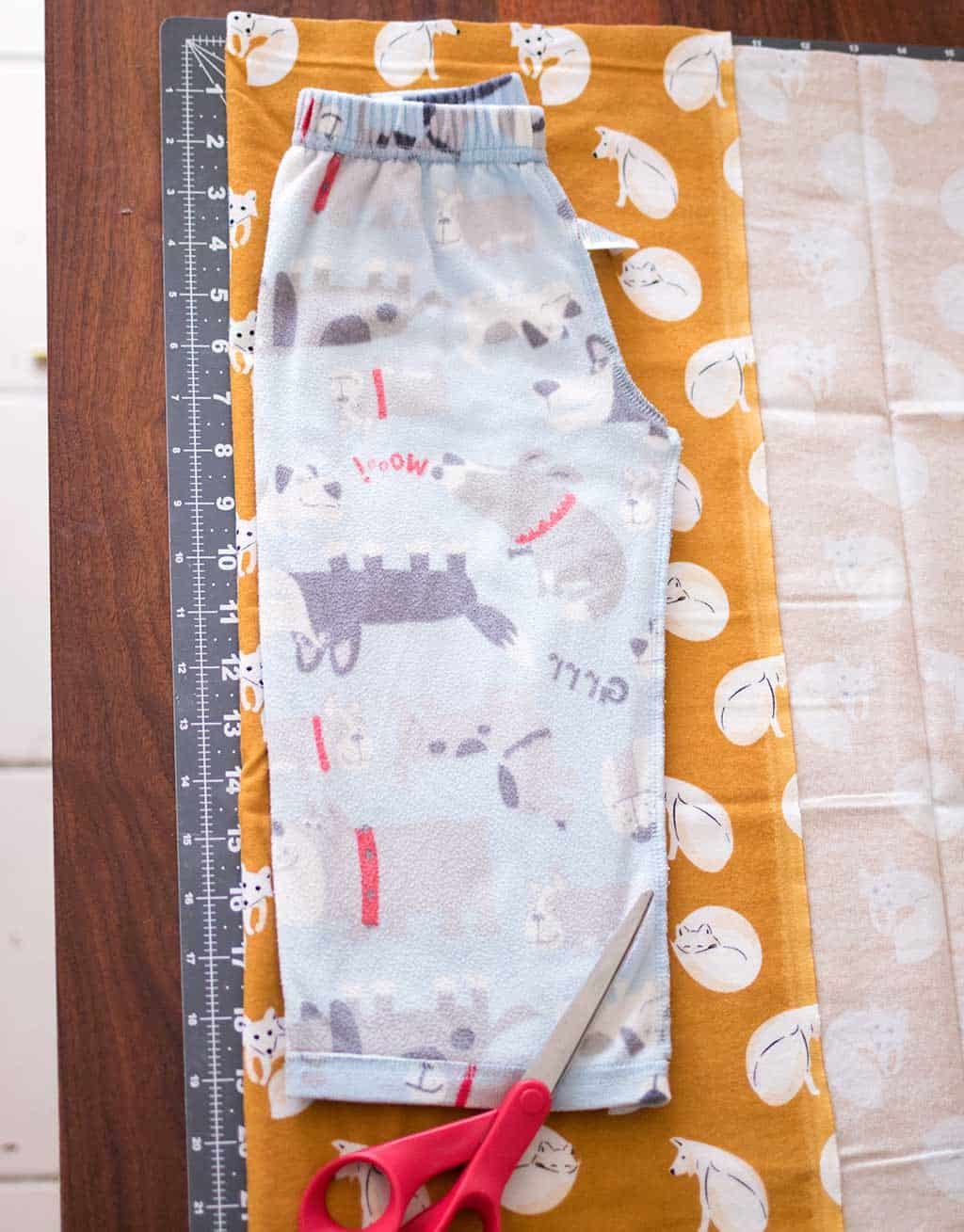 Turn the pants inside out. Fold one of the legs inside the other.
You can either trace the pattern directly onto the fabric you are using or you can use butcher paper if you plan on sewing multiple pairs of PJ pants.
Fold the fabric over widthwise. Place the outside leg of the pants on the fold.
Using a ruler, cut out the pattern piece leaving an ½ inch edge around the leg and back/front center for seam allowances. Leave 1 inch at the top of the pants.
With the rights sides of the fabric together, sew the leg seams. If you don't have a serger, a simple zig zag stitch is strong enough.
Turn the legs right side out. Sew the crotch seam along the front and the back.
To create a double fold hem: Using an iron, press over the bottom hem on the legs 1/4 inch. Fold it over another 1/4 inch and stitch down. This double fold hides the raw edge of the fabric and creates a finished look.
To create the elastic casing: using an iron, press down the waistband 1/4 inch. Fold over and press down another 5/8 inch. Stitch in place, leaving an opening to thread the elastic through. Measure the elastic around the waist. Cut 1 ½ inches off. Attach a safety pin to the end of the elastic and feed it through the waistband. Sew ends together and sew the opening closed.
Looking for more easy sewing projects like these pajamas?
How to Make a Sewing Pattern out of Existing Shorts
How to Sew a Bowl from Fabric Scraps
I love seeing your finished projects! If you enjoyed making this post- How to Sew Pajama Pants Without a Pattern, or any of my other sewing patterns, I'd love to see yours on Instagram, just tag me @ginamicheleblog. Happy sewing!