How to Sew a Dress Using a Tank Top as a Pattern
How to Sew a Dress Using a Tank Top as a Pattern- beginner-friendly tutorial shows you how to sew a tank dress- no store-bought pattern necessary.
    Tank dress are perfect for summer. They're easy and fun and they can be dressed up or down. They're also really simple to make- you don't even need a traditional sewing pattern! I'm going to show you how to sew a dress using a tank top as a pattern. This project is great for beginner sewers.
     
     Choosing the right tank top to use for the pattern is very important. You want one that has a simple design (simple front and back scoop is best) and that fits you nicely. As for fabric, a stretch jersey is essential. I like the heavier-weight ones because they're easier to sew and they're not see-through when the dress is being worn. I created this custom printed fabric at Contrado. I love the way it turned out! They have a huge selection of fabrics (including several jerseys) that they print on.
KEEP IN TOUCH! FOR MORE INSPIRATION, PROJECTS, AND FREE KNITTING PATTERNS, SIGN UP FOR OUR WEEKLY NEWSLETTER: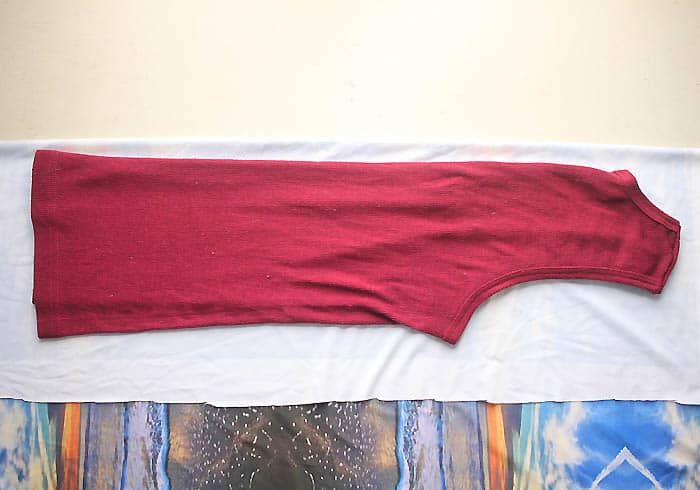 Fold the fabric over and lay the tank near the edge. (My tank was tight fitting and I didn't want my dress this tight, so I went in 1 inch on the folded edge)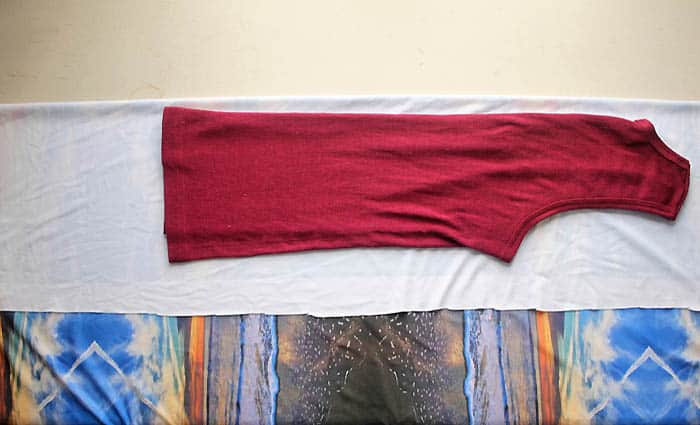 Measure on your body how long you'd like the dress to be. Add a few inches to this measurement (to be on the safe side) and mark the length on the fabric.
Cut out the dress pattern. Using this piece as a pattern, cut out another piece for the back. Sew the 2 pieces together at the shoulders and sides.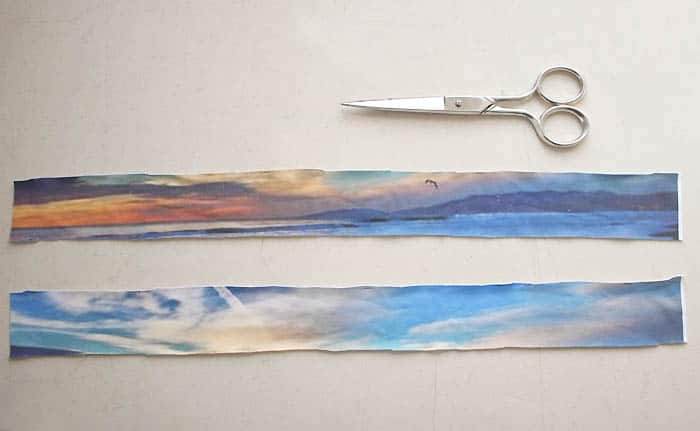 Measure the circumference of the arm holes. Cut 2 pieces of fabric in the length you measured. They should be 1 1/2 inches wide.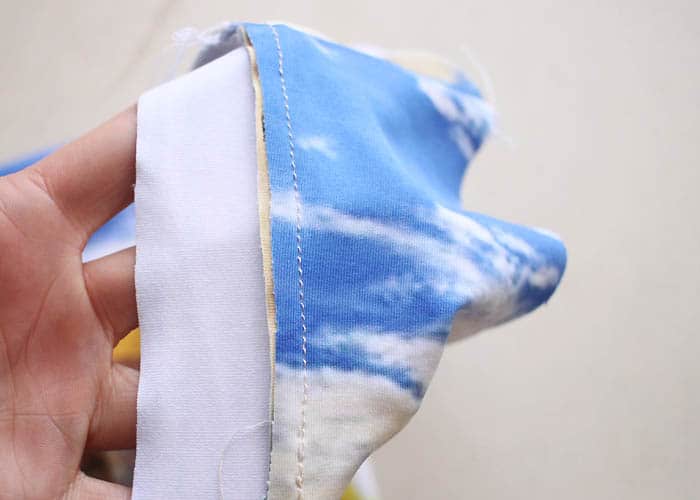 Sew the armhole strips together –right sides together and sew to the armholes.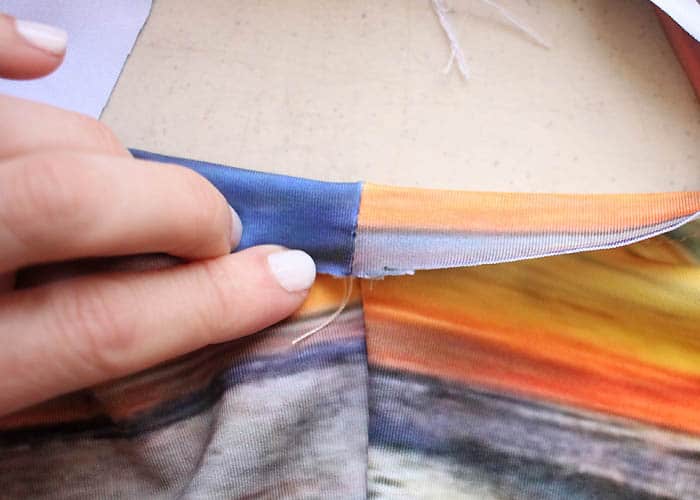 Fold the armhole binding over once.
Fold it over a second time and pin down. Topstitch down. Repeat these steps with the other armhole and the collar.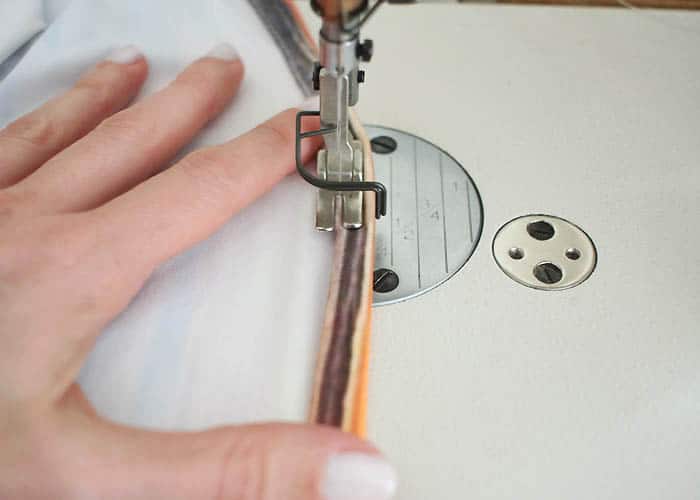 To create the bottom hem- fold the bottom hem over twice. Pin in place and sew down.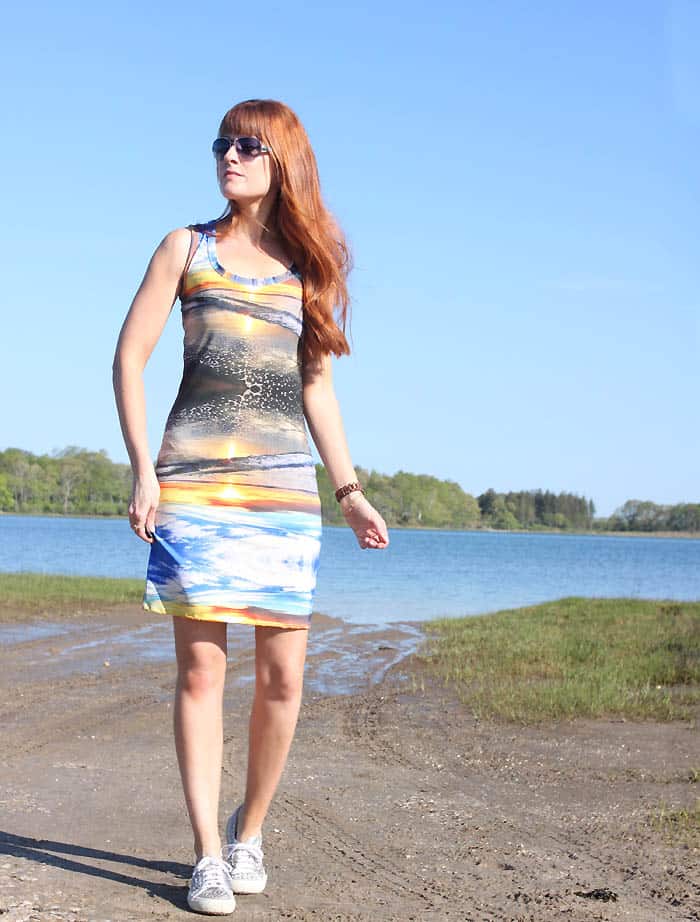 Looking for more beginner-friendly sewing projects?
How to Sew a Side Slit Skirt- no pattern necessary
How to Sew an Easy Swimsuit Coverup- No Pattern Necessary! 
DIY Beach Towel Poncho- No Pattern & No Sewing Machine Necessary!
I love seeing your finished projects! If you enjoyed making this How to Sew a Dress Using a Tank Top as a Pattern or any of my other easy sewing projects, I'd love to see yours on Instagram, just tag me @ginamicheleblog. Happy sewing!