EASY Watermelon Baby Booties Knitting Pattern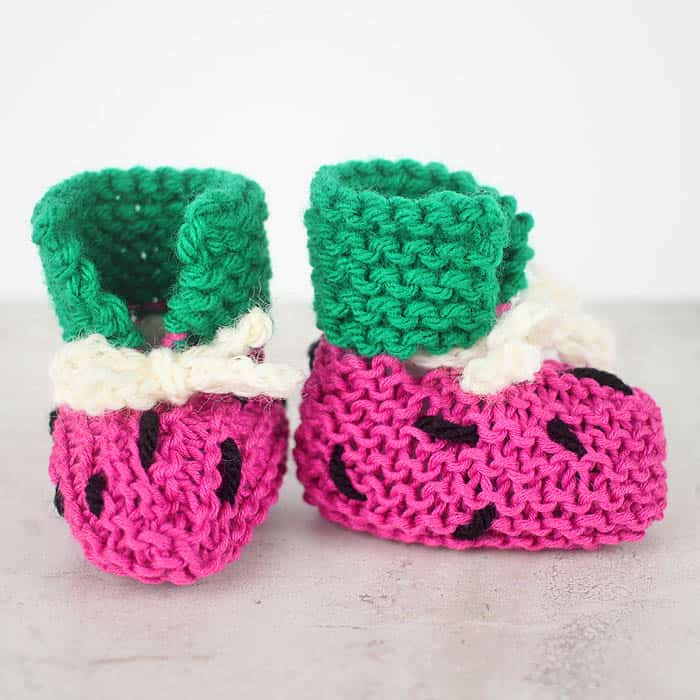 For many families Spring and Summer bring the addition of new little ones. Hand knit baby booties are a thoughtful gift, but if you're a newbie knitter, they can be difficult to make. This pattern is knit flat and then seamed when finished. There's no double point needles, or heel shaping- yay!!! To make these booties even cuter (and perfect for Summer!) I created a watermelon print using different colors of yarn. The "seeds" are stitched on after the bootie is completed using a yarn needle. This Baby Booties Knitting Pattern is as easy as it comes and they make a great gift. Happy Knitting!
Size: 0-3 months (footbed measures 3 inches)
Cast on 30 sts.
Rows 1-11: Knit across
Row 12: Bind off 7 sts. Knit to end of row.
Row 13: Bind off 7 sts. Knit to end of row.
Row 14: K1, YO, K2 tog, Repeat across- for the last stitch Knit 1
Rows 15-22: Knit across
Bind off loosely.
Want more FREE Baby Knitting Patterns?
How to assemble the Baby Booties Knitting Pattern:
This is what the piece looks like when you are finished knitting. I sewed the "seeds" on using a yarn needle.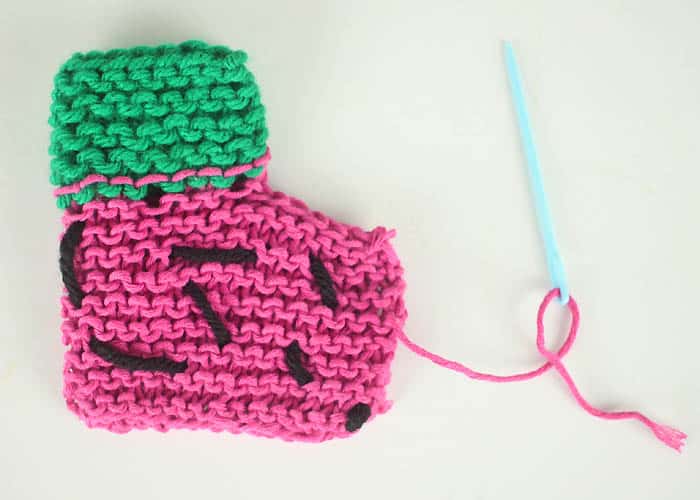 Sew around the front of the bootie. Turn right side out. Crochet a 12 inch chain using the white yarn. Insert through the holes to make the ties.