Bunny Cable Knitting Pattern
Bunny Cable Knitting Pattern- Get ready to hop into your knitting projects with this adorable bunny cable pattern. Perfect for adding a cozy touch to hats, scarves, or even a cute stuffed toy.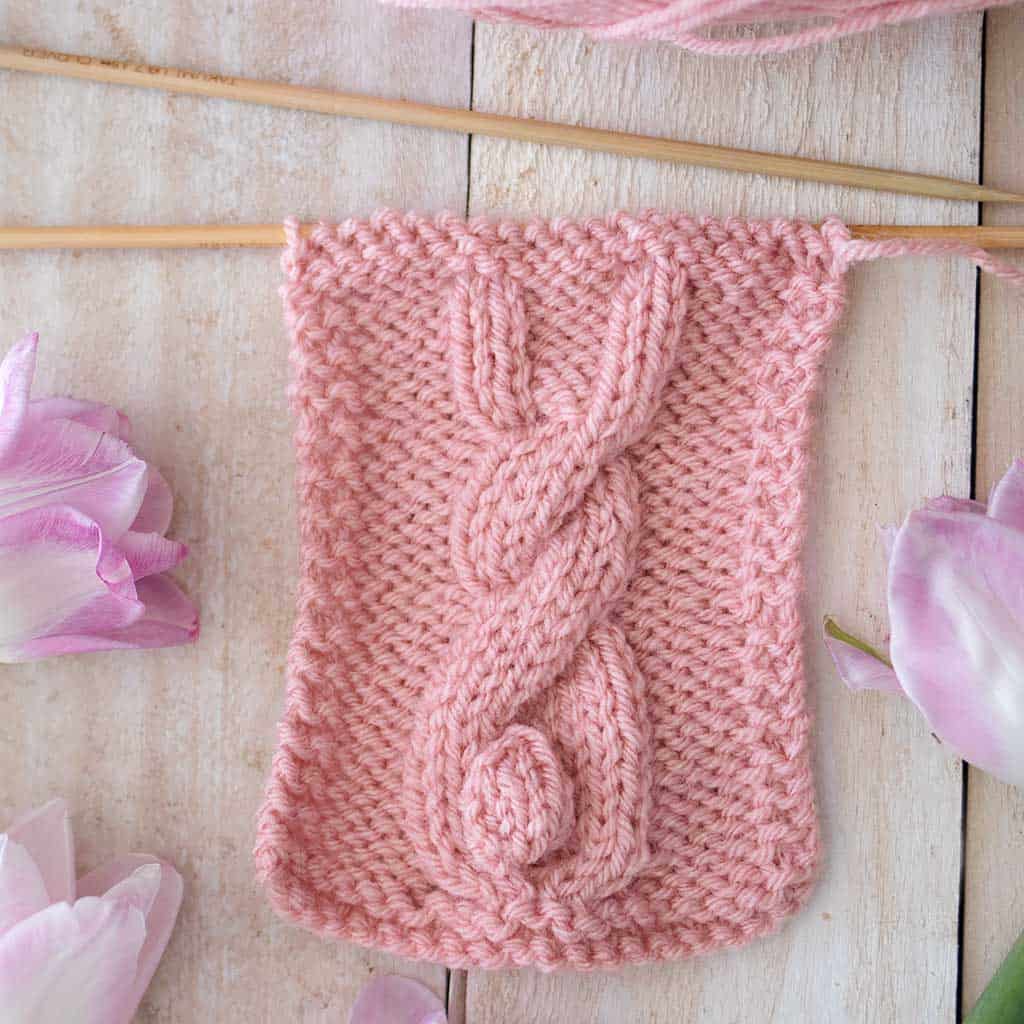 A bunny cable pattern is a knitting pattern that creates a design resembling a bunny using a cable knitting technique. It typically involves creating braids and twists in the knitting to form the bunny shape, often with added details like eyes, nose, and ears. Bunny cable patterns can be used to create a variety of knitting projects, such as hats, scarves, sweaters, and even blankets. They are a fun and whimsical way to add a cute touch to your knitting projects.
For this knitting pattern, I included a video tutorial. The video shows you how to create the cable rows as well as the bobble tail.
KEEP IN TOUCH! FOR MORE INSPIRATIONS, TUTORIALS, AND FREE KNITTING PATTERNS, SIGN UP FOR MY WEEKLY NEWSLETTER: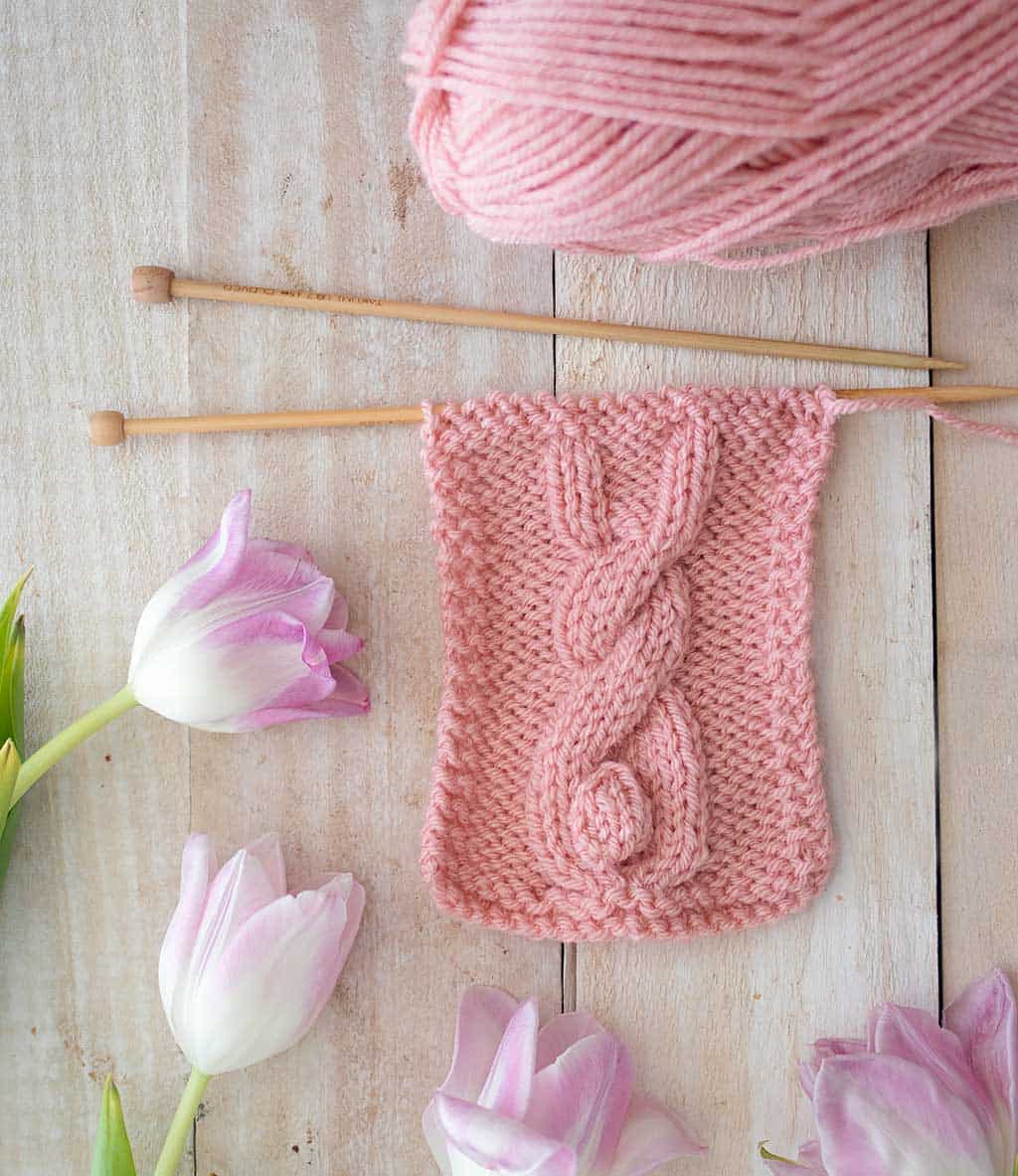 Bunny Cable Knitting Pattern
(As an Amazon associate, I earn from qualifying purchases)
Yarn: Lion Brand Vanna's Choice in Rose
Needles: Size US 7 straight knitting needles
Abbreviations in this pattern:
MB = Make bobble: Knit into the front of the stitch, then the back, then the front, then the back, and then the front one last time, and slide the old stitch off — 5 sts in 1. Turn your work so that the WS is facing you (the stitches are on the LH needle).
Turn P 5, Turn K 5, Turn P 5
• Turn SSK, K1, K2Tog (3 sts)
• Turn P3
• Turn Slip 1, K2Tog, PSSO (1 st)
Pattern instructions:
Cast on 20 stitches
Rows 1 and 2: knit across.
Row 3: K2, P4, K8, P4, K2
Row 4: K6, P8, K6
Row 5: K2, P4, C2B, C2F, P4, K2
Row 6: K6, P8, K6
Row 7: K2, P4, K8, P4, K2
Row 8: K6, P8, K6
Row 9: K2, P4, K4, MB, K3, P4, K2
Rows 10, 12, 14, and 16: K6, P8, K6
Rows 11, 13, and 15: K2, P4, K8, P4, K2
For the Head:
Row 17: K2, P4, C4B, P4, K2
Rows 18, 20, 22, and 24: K6, P8, K6
Rows 19, 21, and 23: K2, P4, K8, P4, K2
For the Ears:
Row 25: K2, P4, C4B, P4, K2
Rows 26, 28, 30, and 32: K6, P2, K4, P2, K6
Rows 27, 29, 31: K2, P4, K2, P4, K2, P4, K2
Row 33: K2, P16, K2
Rows 34 and 35: K20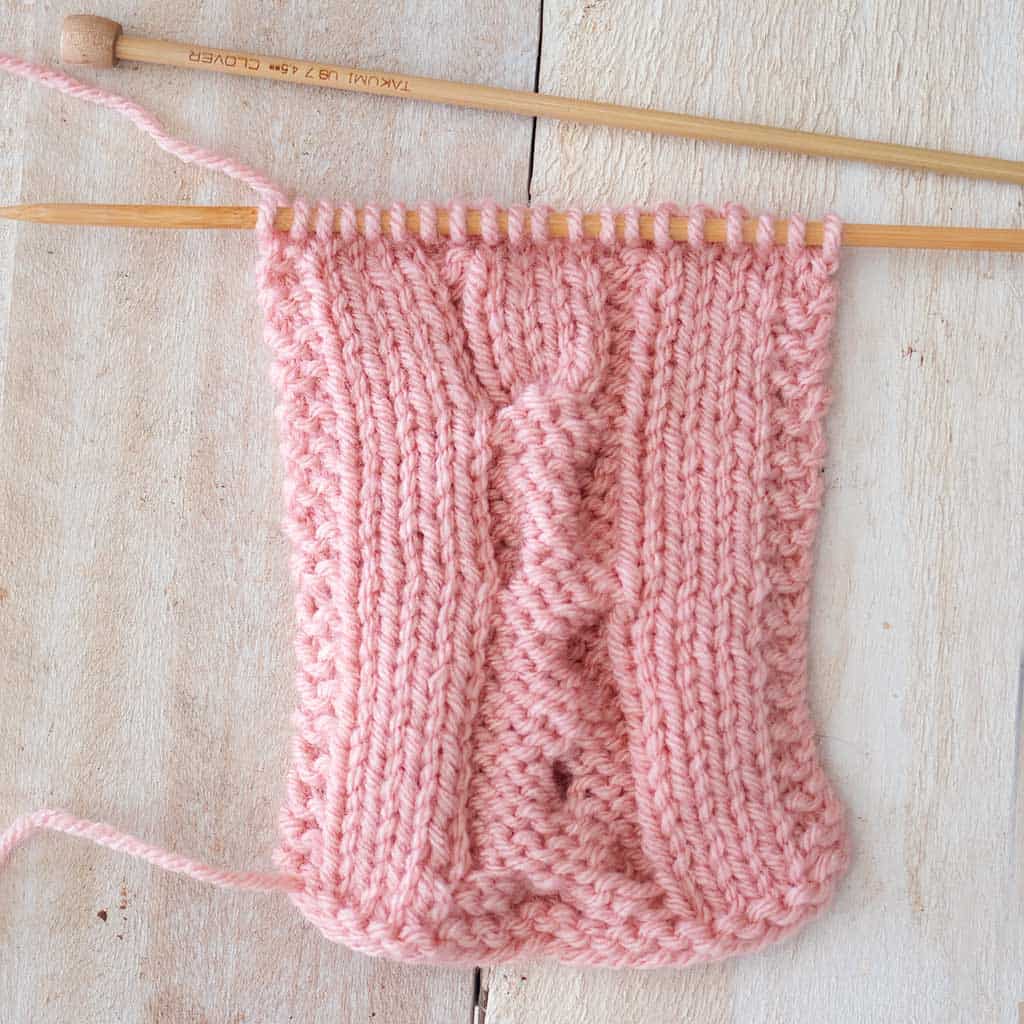 This is what the back of the work looks like.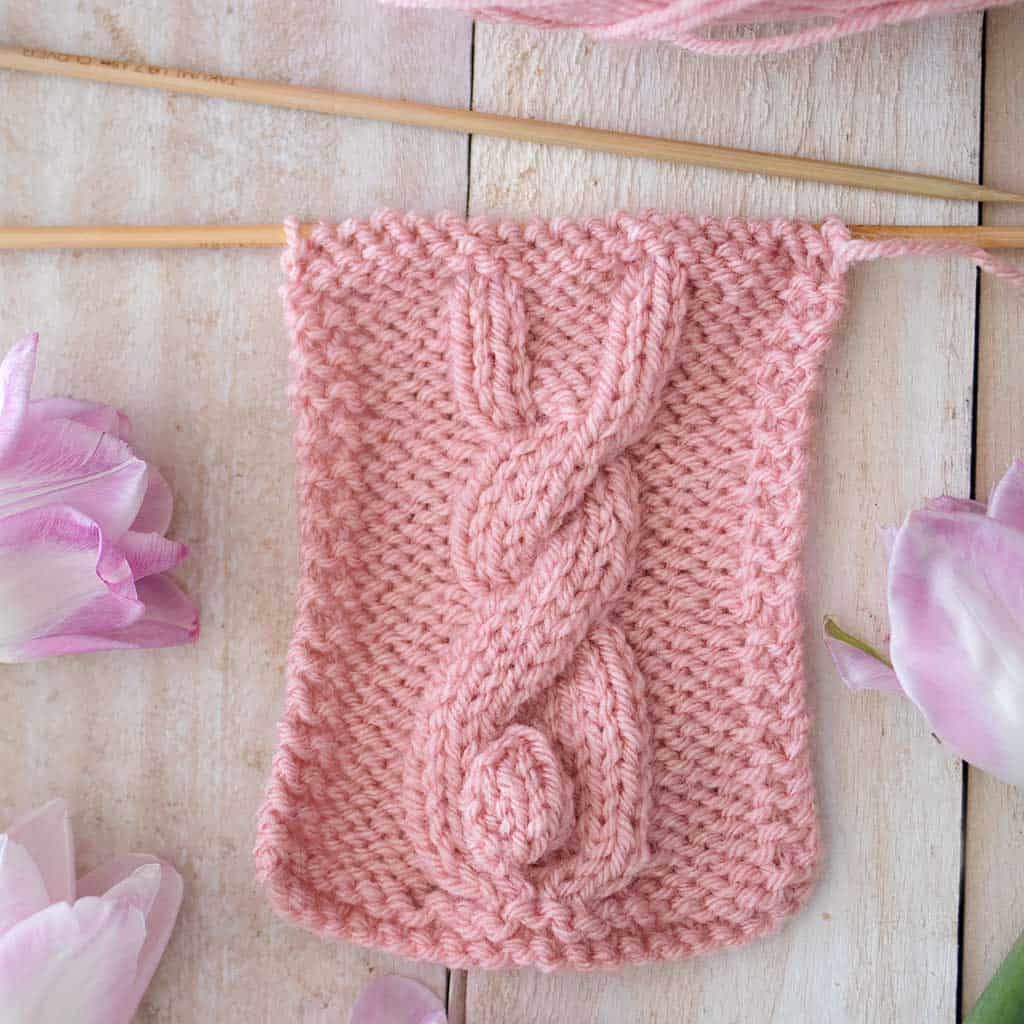 Tips for Cable Knitting:
Use the right needles: Cable knitting typically requires needles with a long, straight shaft to accommodate the cable stitches. Circular needles or double-pointed needles are good options.
Practice your tension: Cable knitting can be a bit tighter than regular knitting, so it's important to practice your tension to avoid puckering or pulling. Try knitting a swatch first to get a feel for the tension required for cable knitting.
Read the pattern carefully: Cable knitting patterns can be complex and require careful attention to detail. Make sure to read the pattern carefully and understand the cable symbols before starting.
Use stitch markers: To help keep track of the cable pattern, use stitch markers to mark the beginning and end of each cable section.
Use a cable needle: A cable needle is a special needle used to hold the cable stitches while you work the other stitches in the pattern. Make sure to use the right size cable needle for your project.
Practice, practice, practice: Cable knitting can be challenging at first, so don't be discouraged if it takes a few tries to get the hang of it. With practice, you'll be able to create beautiful cable patterns with ease.
Looking for more knitting tutorials like this Bunny Cable Knitting Pattern?
How to Knit the Lattice Seed Stitch
How to Add Beads to Any Knitting Project
How to Knit the Scallop Stitch
How to Knit the 3 Color Honeycomb Stitch
I love seeing your finished projects! If you enjoyed making this Bunny Cable Knitting Pattern or any of my other free knitting patterns, I'd love to see yours on Instagram, just tag me @ginamicheleblog. Happy knitting!
Like what you see here? Don't forget to visit my other blogs: