How to Add Beads to Any Knitting Project
How to Add Beads to any Knitting Project- add a fun, colorful touch to any knitted items with this easy technique! Ideal for beginners.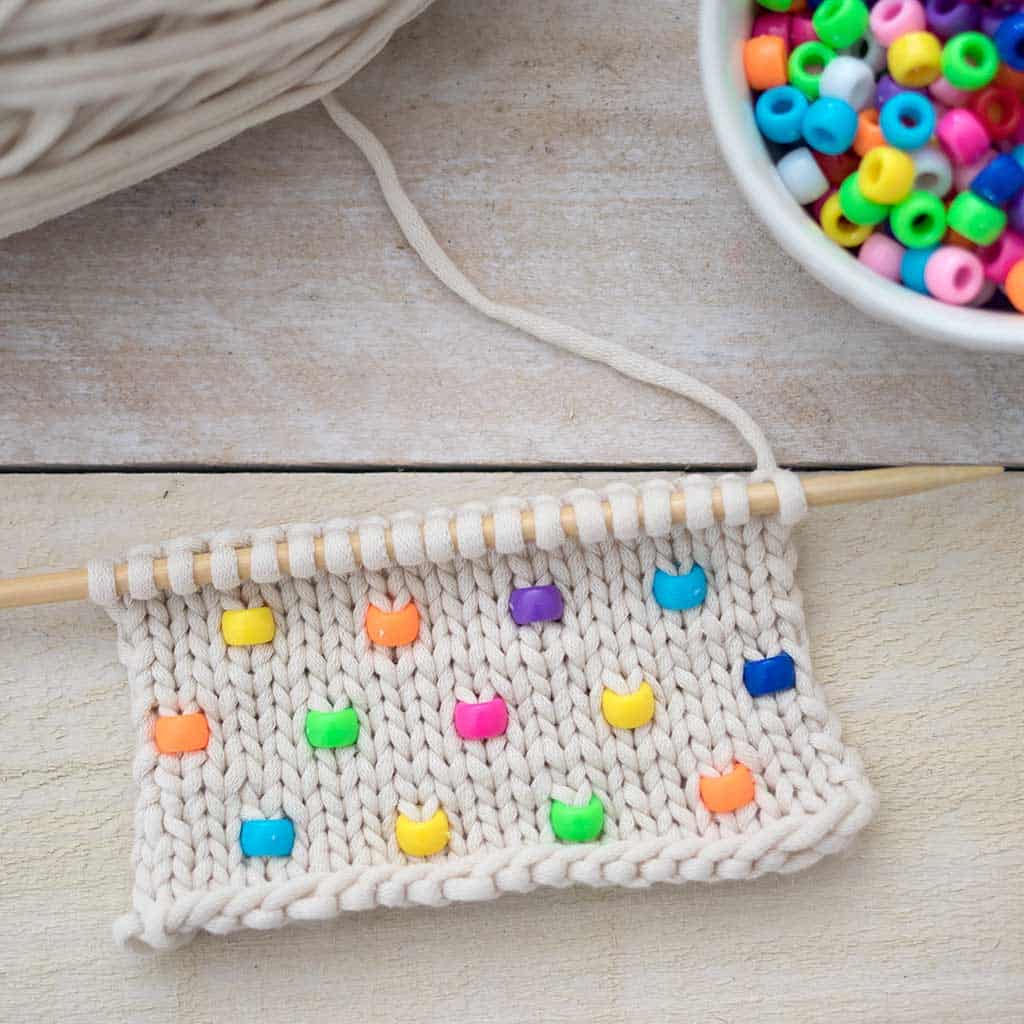 Today I'm going to show you an easy way to add beads to any project that you are knitting. This technique can be used on scarves, sweaters, bags, shawls, pillows etc. I added the beads to add a simple stockinette stitch, but this method can work on a variety of knitting stitches.
For this tutorial, I used Bernat Home Decor yarn. It's a cotton and nylon blend with a tubular feel (like t-shirt yarn). It's chunky without being too heavy, has a great drape and it knits up fast! It's perfect for embellishing with beads because the yarn doesn't split which makes it easy to work with.
KEEP IN TOUCH! FOR MORE INSPIRATIONS, PROJECTS, AND FREE KNITTING PATTERNS, SIGN UP FOR OUR WEEKLY NEWSLETTER:
For this project I created both a video tutorial and step-by-step instructions.
How to Add Beads to any Knitting Project
(As an Amazon Associate I earn from qualifying purchases)
Supplies needed
Yarn (I used Bernat Home Decor yarn in Clay (yarn weight #5 bulky)
Very small crochet hook or loop turner
If you want to create an intricate design with the beads, you can sketch it out on graph paper first. I wanted to create rows with alternating placement of the beads, so I just eyeballed it.
Beads are added on the right side of the work. Thread a bead onto the crochet hook. Then, insert the hook through the stitch on the left needle.
Slide the stitch through the bead.
Place the stitch with the bead back onto the left hand needle. Knit the stitch as normal.
Continue working in stockinette stitch, add new beads every few rows on the right (knit) side.
Looking for more knitting tutorials like this accent beading?
How to Knit the Scallop Stitch
How to Knit the 3 Color Honeycomb Stitch
I love seeing your finished projects! If you enjoyed making this post- How to Add Beads to any Knitting Project, or any of my other knitting tutorials, I'd love to see yours on Instagram, just tag me @ginamicheleblog. Happy knitting!