How to Crochet Easter Eggs
How to Crochet Easter Eggs- a quick and easy project that's perfect for décor and Easter baskets!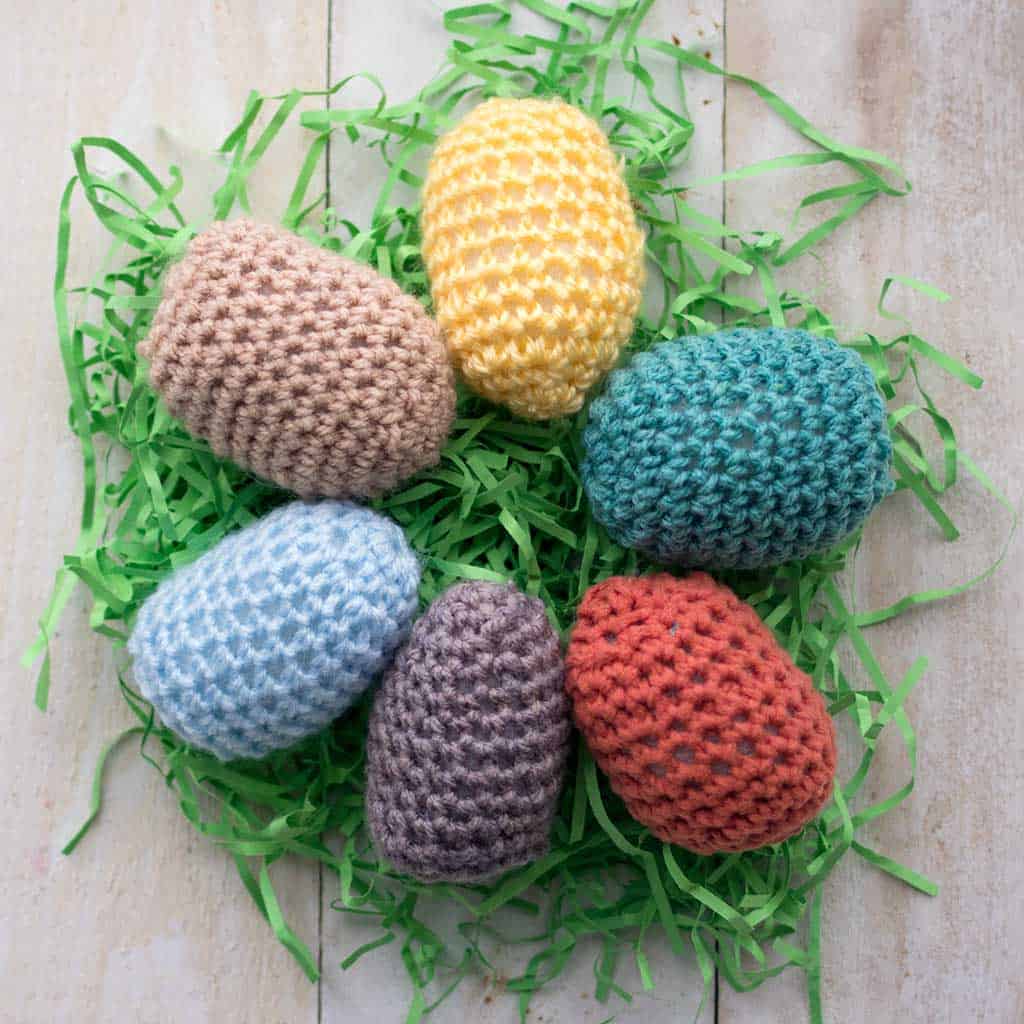 These knit easter eggs are easy to crochet and they make a great stash-busting project! I crocheted these eggs using different weights of yarn- #3 and #4 worsted weight yarn. Since this pattern is pretty simple, you can customize it by adding stripes.
These crochet eggs make great gifts to add to a kid's Easter Basket or for an Easter egg hunt.
For this free crochet Easter egg pattern, I have included both written instructions and a video tutorial.
KEEP IN TOUCH! FOR MORE INSPIRATIONS, TUTORIALS, AND FREE KNITTING PATTERNS, SIGN UP FOR OUR WEEKLY NEWSLETTER:
How to Crochet Easter Eggs
Pattern instructions:
Yarn: You can use either #3 or #4 worsted weight yarn (this is a great project to make use of yarn scraps!)
Crochet hook: 5 mm crochet hook H for the #3 yarn and 5.5 mm crochet hook I for the #4 worsted weight yarn
Gauge: not necessary for this project
Also needed: yarn needle, fiber-fill stuffing, scissors
Make a chain of 3. Slip stitch into the first chain to form a ring. Chain 1. Working in the center of the ring, make 6 single crochets.
Next round: *Single crochet in the first chain, make 2 single crochets in the next chain, repeat from * to the end of the round. (9 chains) Place a marker so you know where the beginning of the round is.
Next round: Make 2 single crochets in each stitch. (18 chains) Move the stitch marker at the end of each round.
Single crochet for 8 rounds.
Next round: Skip the first chain and make a single crochet in the second. Single crochet in every other chain. (9 chains)
(At this point, stuff the egg with poly-fill)
Next round: Single crochet in every other chain. (5 chains)
Finishing: Break the yarn and pull through the loop. Weave in the end.
Looking for more Easter craft projects like this crochet egg pattern?
How to Sew Fabric Twine Easter Baskets
Easy Easter Egg Knitting Pattern
One Square Bunny Knitting Pattern
I love seeing your finished projects! If you enjoyed making this crochet Easter eggs pattern, or any of my other free patterns, I'd love to see yours on Instagram, just tag me @ginamicheleblog. Happy crocheting!