How to Etch Glass with Armour Etch and Cricut
How to Etch Glass with Armour Etch and Cricut- an easy technique that works like magic!
Etching glass sounds complicated, but it's a breeze thanks to Armour Etch and Cricut! The Cricut is used to create a stencil and then the Armour Etch is brushed on and the glass etches in minutes. These dishwasher-safe glasses make a great custom gift!
What is Armour Etch?
Armour Etch is a fast-acting specially formulated glass etching compound that lets you create permanently etched designs on windows, mirrors, and household glassware.
I have included both a video tutorial and a more detailed step-by-step tutorial with pictures.
How to Etch Glass with Armour Etch and Cricut
Supplies needed:
Glass to etch
Painter's tape
I like to place my glass in the roll of painter's tape to hold it. Take a cloth and apply the Isopropyl Alcohol to the outside of the glass to clean dust and fingerprints.
Open Cricut Design Space and chose your image. For etching, simpler is best. The vinyl will need to lay flat on the drinking glass, so a smaller design is better than a larger one. Measure the area on your glass and resize the image so it fits in the space. The stencils can't be re-used, so if you're etching multiple glasses, you need multiple stencils.
Press the vinyl on the cutting mat and change the dial on the Cricut to "vinyl". Feed the mat and begin cutting. Once the image is cut, remove the mat and peel off the vinyl. The best way to do this is to put the mat face down and peel it away from the vinyl (as opposed to pulling the vinyl off the mat). This prevents the vinyl from getting damaged.
"Weed" the image by removing the cut vinyl to create a stencil.
Cut a piece of transfer tape that's the size of your image. Peel the backing off and stick it on top of your vinyl. Use the scraper tool to burnish (rub) the top of the tape. This will remove any air bubbles or wrinkles.
Peel the backing from the vinyl and affix the image to the glass. Burnish it a bit more and then remove the transfer tape. Make sure the stencil lays flat and there are no wrinkles on the image itself. As you can see in the pic, there was a wrinkle on the right side of my vinyl. This is ok because that area wasn't getting etched.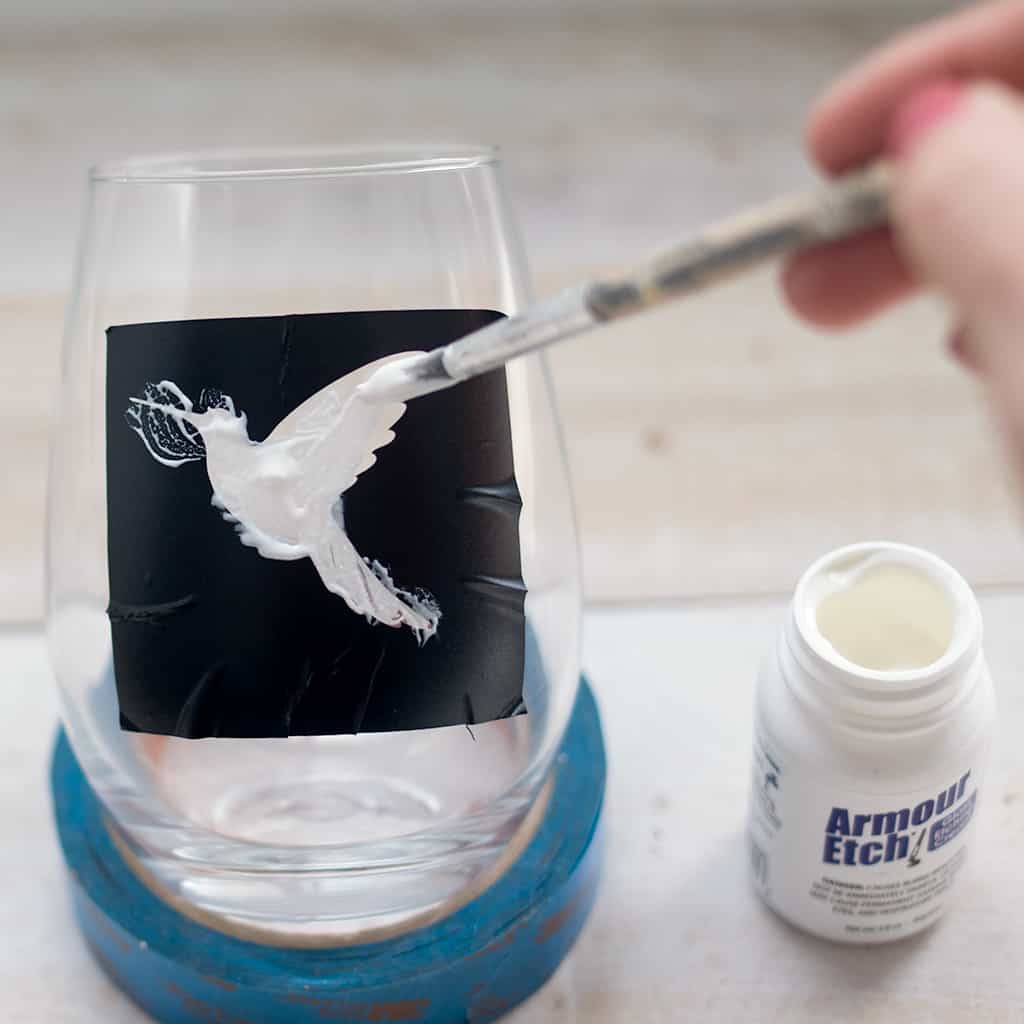 Paint on a liberal coat of the Armour Etch. The bottle says to leave it on for 1-3 minutes. I always do the full 3 minutes. After the time is up, rinse off the image under water and remove the stencil.
Looking for more projects?
Beginner's Guide to the Cricut Explore Air 2
How to Make Twine out of Fabric Scraps
How to Make a Butterfly Wreath