Beginner's Guide to the Cricut Explore Air 2
Beginner's Guide to the Cricut Explore Air 2- thinking of buying one? Just purchased one and don't know where to start? This guide will tell you everything you need to know to get started on your first project!
This crafting machine will upgrade your projects in a major way!
KEEP IN TOUCH! FOR MORE INSPIRATION, DIY PROJECTS, AND FREE KNITTING PATTERNS, SIGN UP FOR OUR WEEKLY NEWSLETTER:
What are the differences between the Explore Air and Explore Air 2?
The Cricut Explore Air 2 cuts twice as fast as the Air.
What can the Explore Air 2 do?
Simply put, the Explore Air 2 is a cutting machine. It can create everything from 3D projects to leather jewelry to t-shirt transfers. A quick search online will provide thousands of projects using Cricut. If you love to create, this machine is for you!
What materials can the Explore Air 2 cut?
This little machine can cut 100 materials – everything from cardstock, vinyl, and iron-on to a range of specialty materials.
How to use the machine
The Cricut Explore Air 2 can be used both wirelessly or with a USB cable. To begin, place the machine on a surface with at least 10″ available behind it so the cutting mat will have plenty of room.
Plug in the machine, connecting the power adapter and the USB cable, or set up Bluetooth for wireless.
Turn on the Explore Air 2 power button as well as your computer.
Visit the Cricut website and register a user account and download the plugin software.
Run the installer and visit design.cricut.com.
Click the menu icon in the top left corner and select New Machine Setup. You will be guided through the installation process and you will create a test project.
What accessories do you need?
The cutting mat is an essential accessory for the Cricut. The mat is used to load most material into the machine. It's sticky on one side of that the material is held firmly in place while it is being cut, inked or scored.
There are 3 different types of mats:
Light Grip Mat (blue) is suited for standard paper, light card stock, and vellum.
Standard Grip Mat (green) is suited for heavy cardstock, iron-on, and vinyl.
Strong Grip Mat (purple) is suited for specialty cardstock, matboard, backed fabric, faux leather and more.
Another important accessory if the Cricut Basic Tool Set.
This set contains scissors, reverse grip tweezers (enabling them to lift and secure in one step), scraper (constructed to scrape and clean unwanted scraps from the Circuit cutting mats, contributing to a longer-lasting mat), spatula (precisely lifts images from the Circuit cutting mat, preventing tearing and curling), and a weeder (perfect for removing tiny cuts, including Negative pieces of vinyl and iron – on from the carrier sheet, or poking out tiny negative pieces from a cut cardstock image).
What blades do I need for the Cricut Explore Air 2?
The Cricut Explore Air 2 is compatible with these blades: the Fine-Point Blade, and the Deep-Point blade.
The Fine-Point blade is ideal for cutting light to medium-weight materials, like:
Cardstock
Paper
Sticker Paper
Infusible Ink Transfer sheets
Adhesive vinyl
the Deep-Point blade can cut thicker materials since it is stronger, such as:
Cardboard
Chipboard
Craft Foam
Genuine Leather
How to create a design
Go to Cricut Design Space- design.cricut.com. Click the menu icon in the top left corner and select New Machine Setup. (You can also use the Design Space app)
Remove the protective firm from your cutting mat and set it aside. Don't throw it out because it is used to cover the mat when it's not in use.
On the left-hand side, there is a menu where you can choose from templates, projects (created by other crafters), image library, text library, shapes or upload your own image. Once you've made your selection, it appears on the grid where you can make edits.
Once you're finished choosing and editing your project, add the cardstock (or whatever material you're using) to the mat. Press it down in the upper left-hand corner (textured side facing up).
Set the smart set dial on the machine to cardstock (or whatever material you're using). Place the mat in the guides and press the arrow (load/unload) button to feed it. Press the "C" button on the machine on the machine to begin creating the design.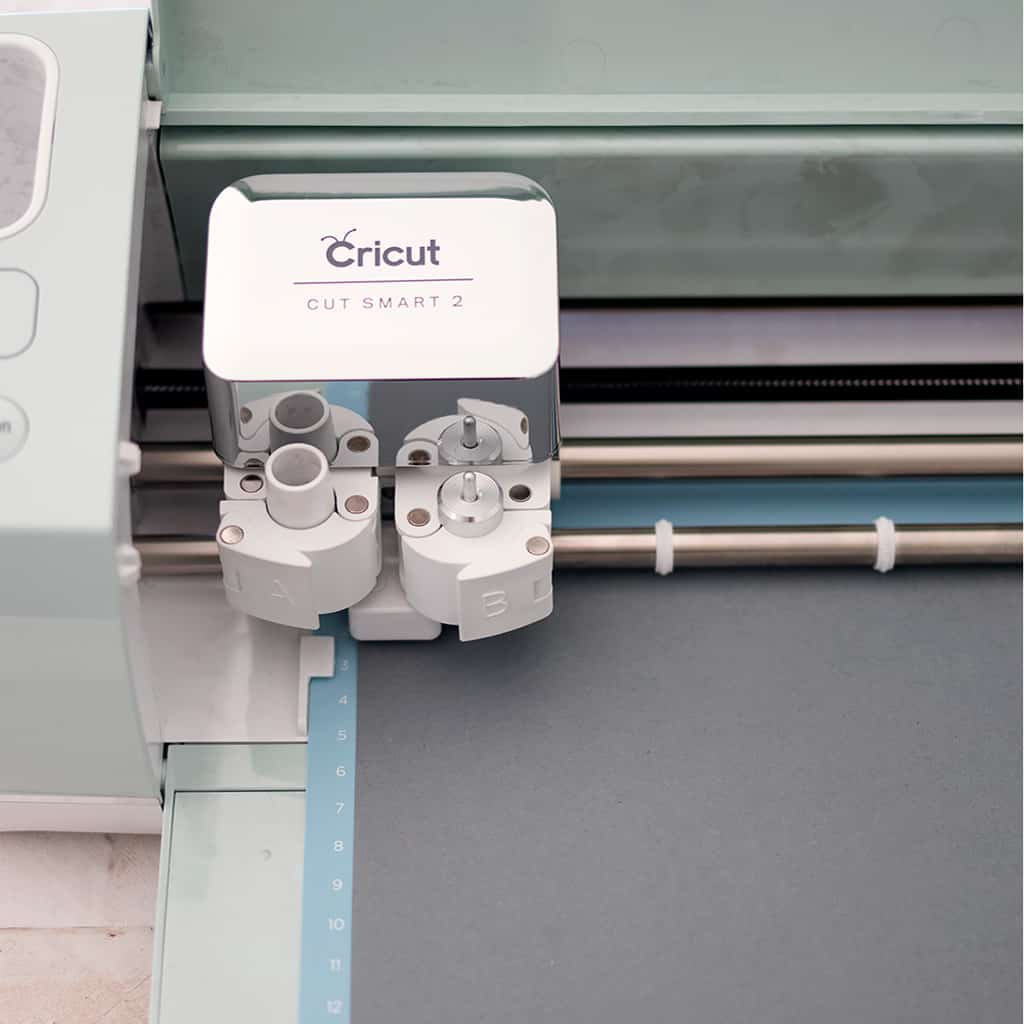 Once your design is finished, press the arrow button to release the mat. Place the cutting mat face down and peel it away to free your design.
What is Cricut Access?
Cricut Access is a premium subscription service offered by Cricut. It gives you access to over 100,000 images, over 500 fonts, and 1000's of ready-made projects. It also gives you 10% off purchases at Cricut.com for $9.99/month. If you plan on using your Cricut frequently, it's a great deal.
Looking for more crafting projects like this Cricut machine tutorial?
How to Make Twine from Fabric Scraps
How to Make Essential Oil Room and Linen Spray
I love seeing your finished projects! If you enjoyed making this post- Beginner's Guide to the Cricut Explore Air 2, or any of my other crafting projects, I'd love to see yours on Instagram, just tag me @ginamicheleblog. Happy crafting!