How to Crochet a Pumpkin – the Easy Way!
How to Crochet a Pumpkin- learn to crochet decorative pumpkins the easy way with this video tutorial!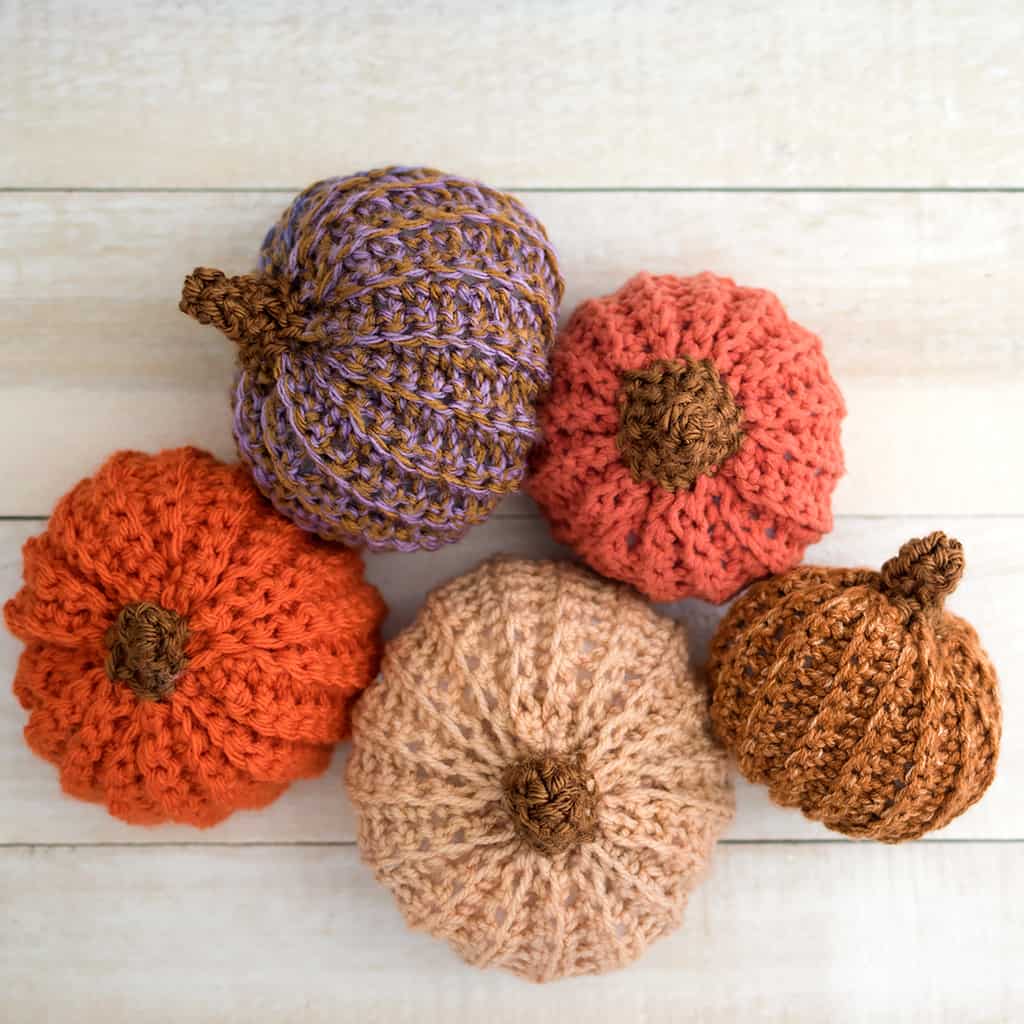 After featuring knitting patterns on the blog for years, I decided to branch out and include some crochet patterns as well! The first pattern is for these easy-to-make crochet pumpkins. These pumpkins are great for fall decorating. They can be placed on a mantel or bookcase or together in a large, decorative bowl.
Best of all? They're simple to crochet! Many crochet pumpkin patterns are worked in the round, but these pumpkins are worked flat using a single crochet. Then, they are folded over and seamed, gathered, and stuffed. The stem is created by picking up stitches around the top and working in a single crochet for a few rounds. This pattern is ideal for those who are new to crochet or for anyone looking for a quick and easy project.
This stuff pumpkin crochet pattern is a great way to make use of scrap yarn!
How to Crochet a Pumpkin- free crochet pattern
Yarn: #4 weight yarn and corresponding crochet hook
Also needed: Yarn needle, fiberfill
Gauge: not important for this pattern
Make a loop and ch (chain) 17 sts.
Turn the chain over and Single Crochet in the back ridges of each chain.
Once the row is finished, make a turning chain and turn the work over. Single crochet in the back of each chain. Repeat, making a turning chain each time you finish a row. Work until your piece measures 10 inches. Cut yarn, leaving a long tail.
To assemble the pumpkin: Once you finish crocheting the piece will look like a rectangle. Fold the piece over and sew the side seam. Run a stitch around the bottom of the pumpkin and pull to gather.
Add the stuffing to the pumpkin and push the needle through the inside (including the fiber fill). Run a stitch around the top of the pumpkin. Pull to gather. Weave in ends.
To create the pumpkin stem: Pick up the stitches around the top of the pumpkin. Work in single crochet for a few rounds. Break yarn and sew the top of the stem closed. Weave in ends.
Keep in touch!
For more inspirations, projects, and free knitting patterns, sign up for our weekly newsletter.
Looking for more Fall Craft Projects?
How to Make a Stenciled Doormat Without a Cricut Machine
How to Sew Fabric Pumpkins- Fast & Easy!
Scrap Yarn Pumpkin Knitting Pattern
I love seeing your finished projects! If you enjoyed making this post- How to Crochet a Pumpkin – the Easy Way!, I'd love to see yours on Instagram, just tag me @ginamicheleblog. Happy Halloween crocheting!
Looking for free Halloween knitting patterns?
Easiest Large Pumpkin Knitting Pattern
Kids Black Cat Hat Knitting Pattern
Kids Ghost Hat Knitting Pattern