DIY Mantel and Fireplace Upgrade with Wayfair
DIY Mantel and Fireplace Upgrade with Wayfair- take your fireplace from "blah" to "beautiful" with this easy tutorial!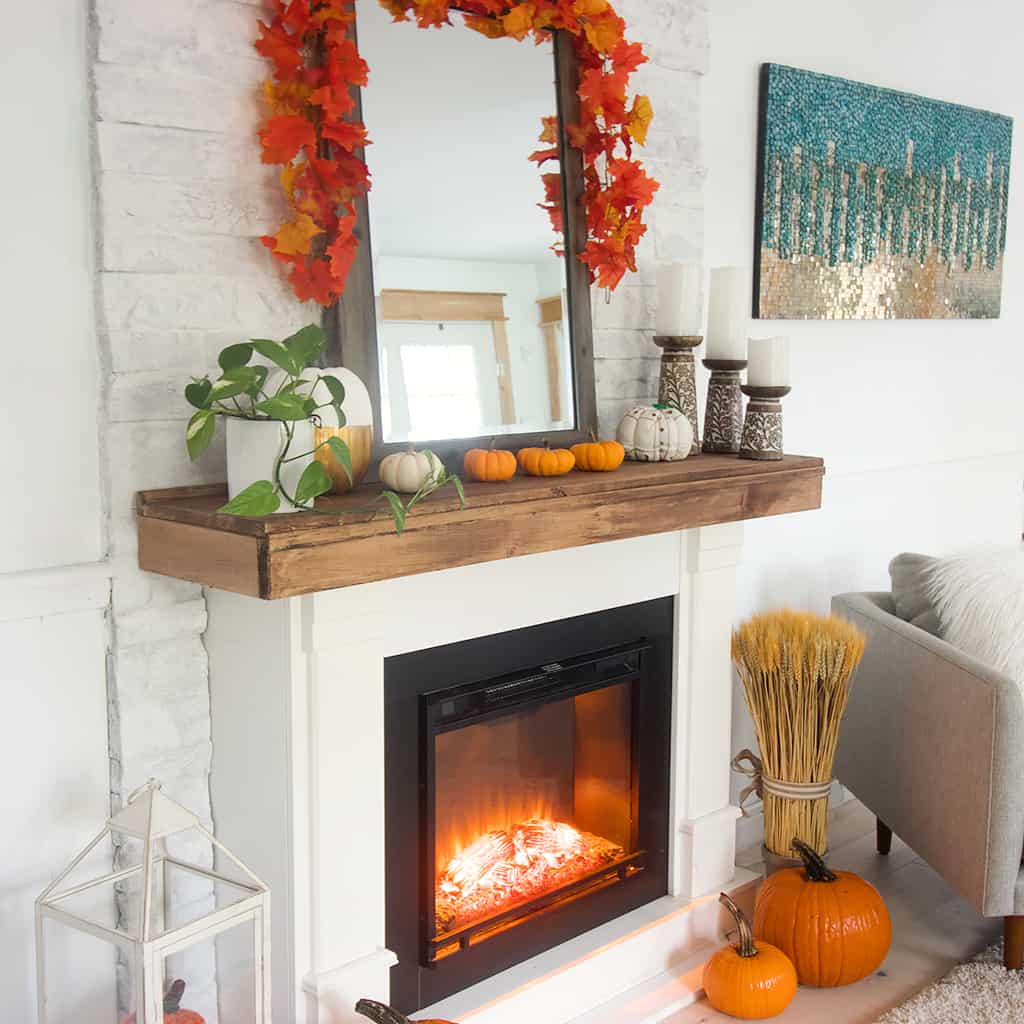 It's fireplace season! Fall is here, the weather is chilly and there's nothing better than cozying up in front of the fire with your favorite hot drink.
I'm going to show you, with some help from Wayfair, how simple changes can totally transform your fireplace.
The fireplace is a natural focal point in the room, and as you can see in this "before" picture, mine was dull! This plain, white space that lacked any warmth or personality and it didn't reflect my style.
I decided that an easy DIY mantle and some beautiful décor were in order!
DIY Mantel and Fireplace Upgrade with Wayfair
My electric fireplace already had a built-in mantle, but I wanted something more substantial and rustic.
This DIY Mantle fits on top of an attached mantle. It consists of the top, and 3 sides.
Supplies needed:
1 X 12 X 8 whitewood board
1 X 4 X 8 whitewood board
1/2 wide trim
Wood stain
Wood glue
Measure how long you would like the mantle to be. Mark and cut the 12 inch wide board to size. Cut the 1×4 the same length. Cut 2, 1x4s to measure 10 1/2 inches in length.
Glue the 1×4 together, clamp and secure with a nail gun.
Place the 1×12 on top and secure it with a nail gun. Attach 1/2 trim to hide the seam.
Sand the mantle and stain.
The new mantle will sit on top of the old one. I secured it in place with a few nails through the top.
Once you have your new mantle it's time to add some décor! Candles and plants are always a good choice because they can be styled to reflect the seasons. I styled this with pumpkins and faux leaves and I can easily switch them out for evergreens when Christmas rolls around.
This wood framed mirror was a great buy! It not only made the space look brighter, but it also created a focal point.
These trio of hand-carved candlestick holders were the perfect addition to the mantle! I love the way the carved floral design complements the rustic wood I used to make the mantle.
I topped the holders with these LED color-changing pillar candles. I love LED candles because they look like the real thing, minus the safety hazard. Another bonus of LED? These candles can change 12 different colors!
My final touch was this white ceramic planter. It was the ideal new home for my Pothos plant! I like the way the white pops against the dark wood.
There you have it! This project only took a few hours, and it totally transformed the room!