How to Protect Strawberry Plants from Birds (sponsored by Wayfair)
Learn How to Protect Strawberry Plants from Birds with this simple and easy method!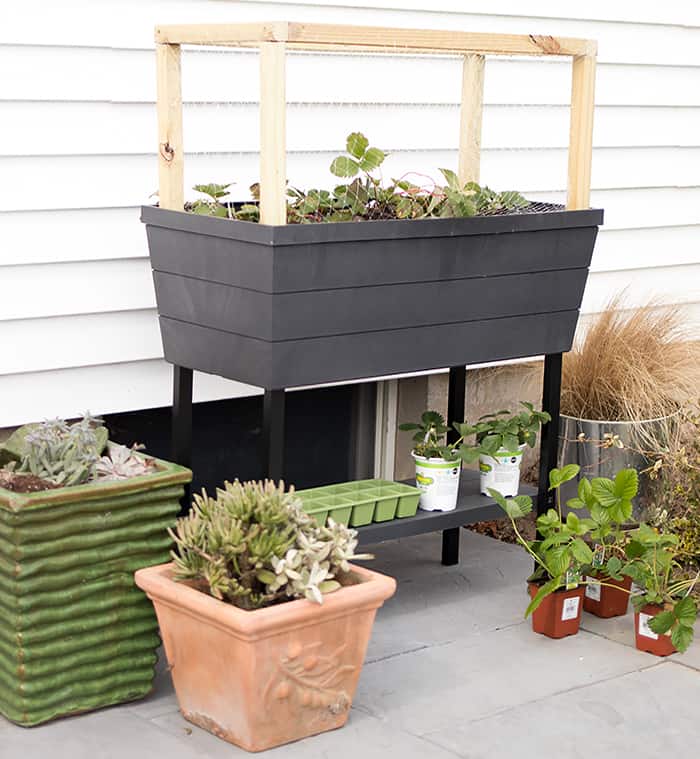 I'm a big proponent of green living so I like to celebrate Earth Day year round! My favorite way to get in touch with Mother Nature is to create a vegetable garden. Over the past few years, I've had successes and failures. My biggest gardening failure last year were the hungry birds who ate all my strawberries. This year I'm ready for them! Today I teamed up with Wayfair to show you How to Protect Strawberry Plants from Birds.
Every year my garden gets bigger! This year I decided to expend to my patio. I wanted a raised planter that was attractive, large enough to hold several strawberry plants and durable enough to be left outside year-round. This Urban Bloomer Plastic Raised Garden was just what I needed! It's constructed of resin which looks great and can withstand the elements. The 2.5 feet x 1 1.5 feet size easily holds half a dozen strawberry plants. Best of all? There's a built-in reservoir that allows for self-watering!
Click here to view more of Wayfair's beautiful selection of planters!
This raised planter can easily be bird-proofed with a few quick and easy steps.
Supplies needed
Bird netting
2 x 2 x 8 pressure treated (2 total)
Staple gun
How to Protect Strawberry Plants from Birds
Cut the 2 x 2 x 8s into the following pieces:
2- 29 inches
2- 13 inches
4- 16 inches
Make a rectangle with the 29 inch and 13 inch boards. Screw them together at the sides.
Sew the 13 inch boards to the bottom of the frame.
Wrap the bird fencing around the frame and staple in place. I stapled the netting to the inside of the frame so the staples wouldn't be visible on the outside.
Once you're finished stand the cover up in the planter.
This cover has been working like a charm! My plants have begun growing tiny strawberries and no birds can get to them!
Want more DIY Gardening Projects?
Tips for your Most Successful Vegetable Garden Ever