DIY Wrapped Crystal Ring- turn your favorite crystal into a ring using this easy technique,
I love making rings but sometimes it can be kind of tricky (cutting stones, setting them in bezels, soldering, etc) Today I'm going to show you a technique that's easy and inexpensive! This wire wrapped setting is minimal and it really lets the crystal nugget take center stage.

KEEP IN TOUCH! FOR MORE INSPIRATION, PROJECTS, AND FREE KNITTING PATTERNS, SIGN UP FOR OUR WEEKLY NEWSLETTER:
DIY Wrapped Crystal Ring supplies:
(As an Amazon Associate I earn from qualifying purchases)
Ring mandrel
Luster Stone Nugget
Bendable jewelry wire
Glue
Jewelry pliers
Cut your wire to 20 inches. Wrap around the mandrel 4 times leaving an equal length of wire on each side.
Wrap the long end of the wire around the ring once.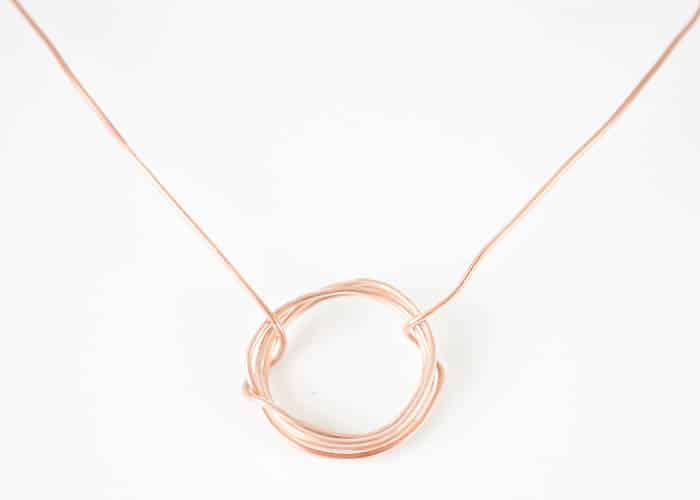 Repeat with the the other end of the wire.
Place the nugget against the ring and wrap the wires tightly over and around it.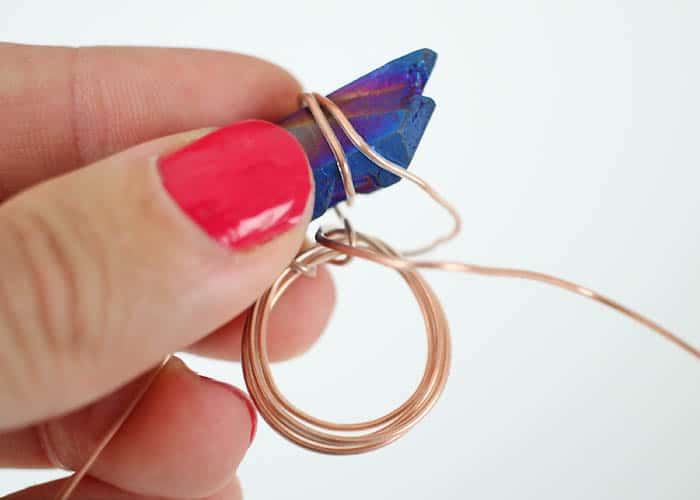 Wrap the wire around the nugget one more time. Loop the wire around itself at the base 3-4 times. Cut off any excess.
Repeat with the other side of the nugget.
Apply a bit of glue to the wire to ensure that the nugget doesn't slip out.
Looking for more easy jewelry projects like this DIY wrapped ring?
How to Turn Loose Beads into Cluster Pendants
I love seeing your finished projects! If you enjoyed making this DIY Wrapped Crystal Ring or any of my other easy DIY jewelry projects, I'd love to see yours on Instagram, just tag me @ginamicheleblog. Happy crafting!