DIY Gold Dipped Necklaces
DIY Gold Dipped Necklaces- turn jasper stones into gilded necklaces using this simple technique.
Adding gold leaf to natural stones is an easy way to make them look even more luxe!
KEEP IN TOUCH! FOR MORE INSPIRATION, PROJECTS, AND FREE KNITTING PATTERNS, SIGN UP FOR OUR WEEKLY NEWSLETTER:
Supplies needed for gold dipped necklaces:
(As an Amazon Associate I earn from qualifying purchases)
Jasper beads
Gold leaf pen (you can also use metallic gold paint and a small paint brush)
Tape
Eye pins
Jump rings
Silver chain
Lobster closure
DIY Gold Dipped Necklaces

Tape around the middle of the stone. Using the paint pen, color the top part with a thin layer of gold. Let it dry and give it a second coat.
Once the paint is dry remove the tape.
Insert the eye pin through the hole in the bead. Twist the end to form a loop.
Using the jewelry pliers, open the jump ring and attach an 8 inch length of chain to each side. Close each side of the jump rings.
Attach the lobster clasp using the jewelry pliers.
Optional- for extra durability, you can all finish the stone with a thin coat of sealer, such as Mod Podge. 
Looking for more easy jewelry projects?
How to Turn Loose Beads into Cluster Pendants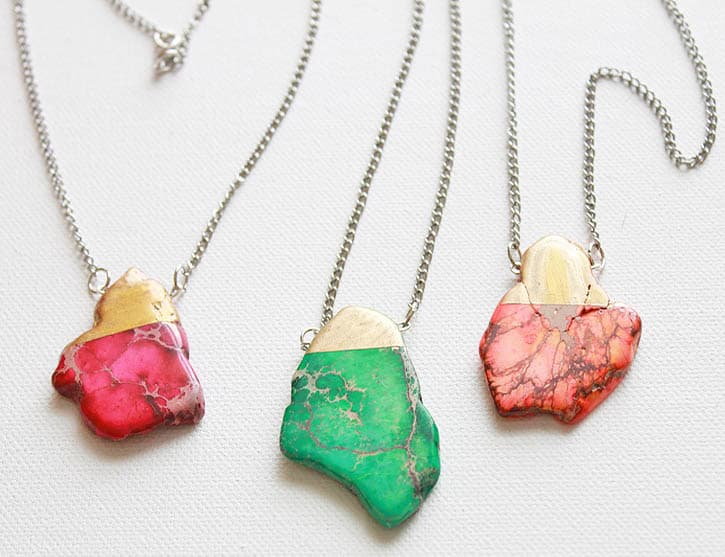 I love seeing your finished projects! If you enjoyed making these DIY Gold Dipped Necklaces or any of my other easy DIY jewelry projects, I'd love to see yours on Instagram, just tag me @ginamicheleblog. Happy crafting!