Fox Scarf Knitting Pattern- women & child sizes
Fox Scarf Knitting Pattern- a beginner-friendly pattern for a cute fox scarf. In women and kid's sizes.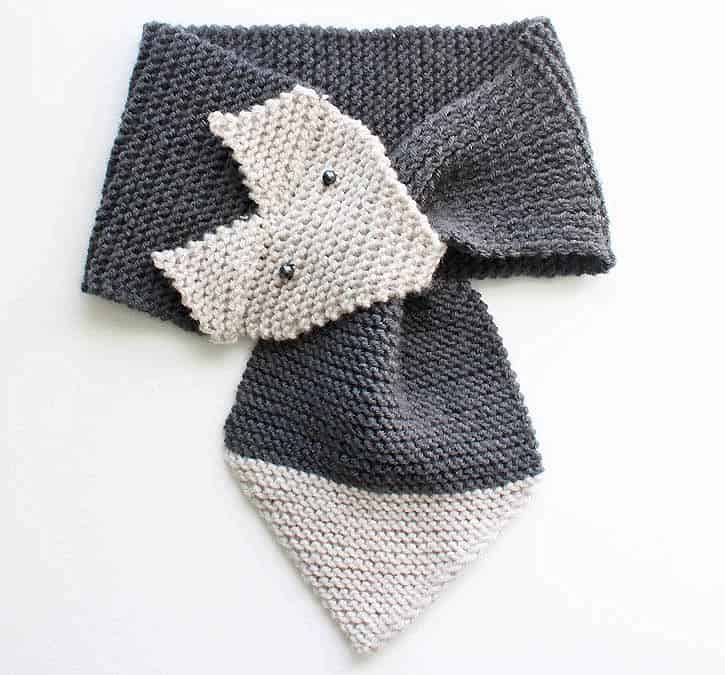 This fox scarf knitting pattern is a fun take on the fox stoles that were considered the height of glamour in the 1920's and 30's. I always found the original ones kind of creepy and sad, so I decided to do my own cruelty-free take on it! This scarf may look complicated but it's actually pretty easy to knit. It's a combination of garter stitch mixed in with some ribbing. A hidden loop under the fox head holds the tail in place while you're wearing it. I think this little guy turned out pretty cute and best of all, no foxes were harmed in the making of this scarf! Happy knitting!
KEEP IN TOUCH! FOR MORE INSPIRATIONS, PROJECTS, AND FREE KNITTING PATTERNS, SIGN UP FOR OUR WEEKLY NEWSLETTER:
Scroll down for the pattern or click below to buy the ad-free, printable version for a small fee. The printable version is an instant download that conveniently prints on 2 pages.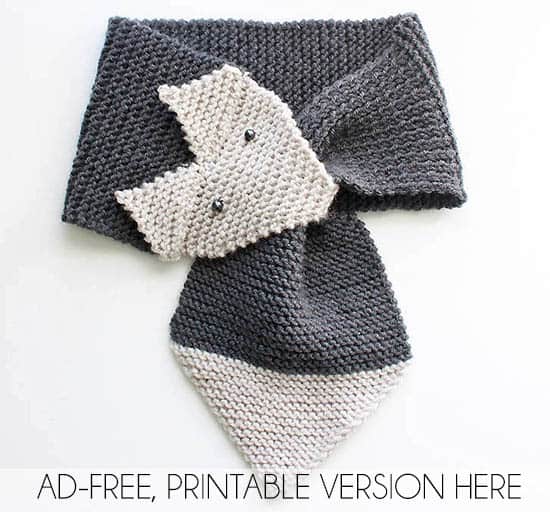 For sizes adult & child
Yarn: Vanna's Choice in Charcoal Grey (1 skein) and in Linen (1 Skein)
Needles: Size US 5 straight
Also needed: Needle & thread and 2 beads for the eyes
Free Fox Scarf Knitting Pattern
Cast on 2 stitches (linen)
Knit in Garter Stitch increasing 1 stitch at every other end until you have 32 stitches
Switch color to charcoal grey
Knit in Garter Stitch until the piece measures 9 inches from the beginning point.
Knit 2 stitches together 3 times, work across row to last 6 stitches, Knit 2 stitches together 3 times (26 stitches)
Work in K1, P1 ribbing for 6 1/2 inches
Switch to Garter Stitch and work for 20 inches for adult size (for child's size knit until 16 1/2 inches)
Switch color to linen
Knit 4 rows in Garter Stitch
Knit 2 stitches together at the beginning of each row until you are left with 5 stitches.
Knit the 5 stitches in Garter Stitch for 4 inches. Bind off
The scarf is worked from the bottom of the tail to the head.
This is the face end with the Garter Stitch tab.
To finish: fold the tab under and sew in place. The end of the tail goes through this loop, holding it in place.
To make the ears: Cast on 14 stitches. Knit 1 row. Knit 2 stitches together at the beginning of each row until 1 stitch remains. Bind off.
Sew the ears on.
Sew the eyes on.
Looking for more free Knitting Patterns?
Easy Baby Sweater Knitting Pattern
Beginner Thick & Quick Hat Knitting Pattern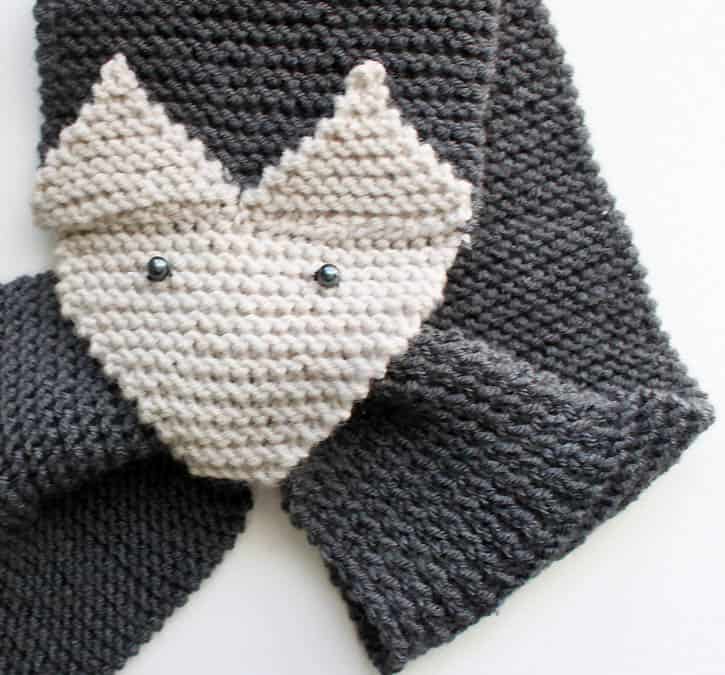 I love seeing your finished projects! If you enjoyed making this Fox Scarf Knitting Pattern, or any of my other free knitting patterns, I'd love to see yours on Instagram, just tag me @ginamicheleblog. Happy knitting!