Easy Aromatherapy Shower Melts
Easy Aromatherapy Shower Melts- pamper yourself with these relaxing and easy-to-make DIY shower melts.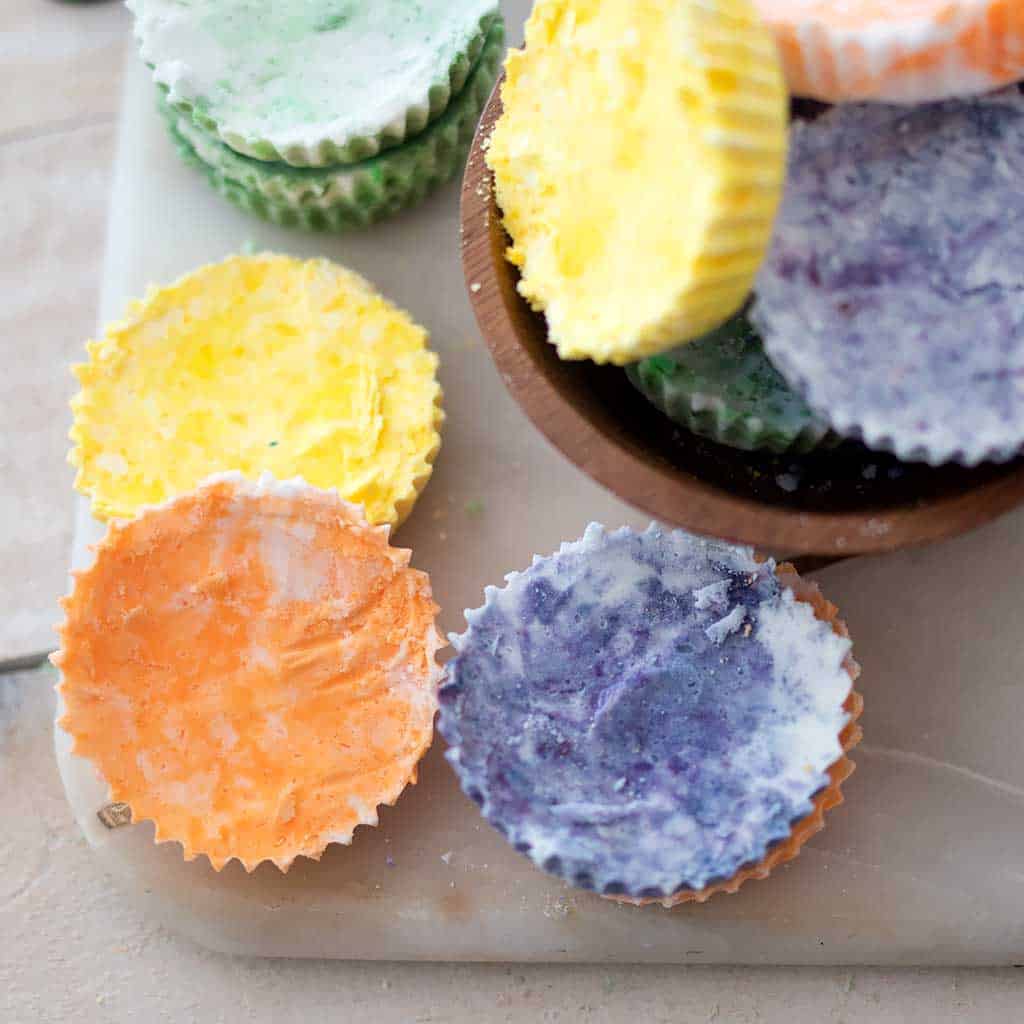 Aromatherapy shower melts are a simple and easy way to turn your shower into a relaxing, spa-like experience. They are made with a combination of pantry basics and fragrant essential oils, and they dissolve slowly in the steam and heat of the shower, releasing their soothing aroma and moisturizing properties. These aromatherapy shower steamers also make great gifts!
KEEP IN TOUCH! FOR MORE INSPIRATIONS, TUTORIALS, AND FREE KNITTING PATTERNS, SIGN UP FOR OUR WEEKLY NEWSLETTER:
Easy Aromatherapy Shower Melts
What are shower melts?
Showers melts (also known as shower steamers, or shower bombs) are little tablets or balls that dissolve in water and release a soothing aroma.
Unlike bath bombs, which generally contain some moisturizing benefits, shower melts are infused with essential oils or some other ingredients to release therapeutic scents. To make your own easy calming aromatherapy shower melts, you will need:
Ingredients needed:
(As an Amazon associate, I earn from qualifying purchases)
1 cup baking soda
1/2 cup cornstarch
1/2 cup Epsom salt
20 drops of essential oil (some of my favorites are eucalyptus (great for coughs, sinuses and congestion), peppermint, orange and lemon)
5-6 tbsp water
Soap dye (you can also use food coloring)
Directions:
In a mixing bowl, combine the baking soda, cornstarch, and Epsom salt. Stir well to combine.
Add water slowly to the powder mixture, start with about 2 teaspoons and stir well. Continue adding a teaspoon of water at a time and mixing in. You are looking for the consistency of damp sand. You should be able to squeeze the melt, and it holds its shape.
Optional- divide the mixture into smaller bowls to make various colors, scents. Add approximately 20 drops of essential oil to each bowl.
If you want to add color to your shower melts, add a few drops of soap dye or food coloring to the mixture.
Stir well to combine.
Transfer the mixture to the lined cupcake tray. Make sure the mixture is pressed in firmly so it holds its shape and there are no air bubbles.
Allow the shower melts to dry completely. This can take several hours or overnight, depending on the humidity and the size of your melts.
Once the melts are dry, pop them out of the molds and store them in an airtight container until you are ready to use them.
To use the shower melts, simply place one or two melts on the floor of your shower, away from the direct stream of water. As the melts dissolve, the essential oils will be released into the steam, filling your shower with a soothing and aromatic scent. Enjoy!
Why are my shower melts crumbly?
Most likely, the mixture is too dry. You can still save the batch, by breaking and crumbling the homemade shower melts into a bowl, add more water (a spray bottle works well) and mould again.
Looking for more craft projects like these Easy Aromatherapy Shower Melts?
Easy DIY Bath Bomb Recipe- Step by Step Tutorial
I love seeing your finished projects! If you enjoyed making these Easy Aromatherapy Shower Melts or any of my other craft projects, I'd love to see yours on Instagram, just tag me @ginamicheleblog. Happy crafting!
Like what you see here? Don't forget to visit my other blogs: