How to Make an Inexpensive Christmas Window Box
How to Make an Inexpensive Christmas Window Box- add seasonal curb appeal and holiday cheer to your home with this festive (and mostly foraged!) holiday window box filler. Total cost- $15!
I love updating my window boxes for the new seasons, but with 4 of them it can get pretty expensive. This holiday season, I decided to see what I could do with a mix of inexpensive basics and a bunch of evergreen clippings. I'm really happy with the way it turned out! Best of all, when the holidays are over I can remove the ornaments and the wreath and keep the greenery until spring.
KEEP IN TOUCH! FOR MORE INSPIRATIONS, TUTORIALS, AND FREE KNITTING PATTERNS, SIGN UP FOR OUR WEEKLY NEWSLETTER:
How to Make an Inexpensive Christmas Window Box
​Create a stunning holiday look with the classic Christmas DIY window planter box.
Supplies needed:
Foraged evergreens (I used Juniper, Boxwoods and a few varieties of pine)
Foraged pinecones
Christmas ball ornaments that are missing the tops
BBQ skewers
Inexpensive faux garland ($3.99 for 6 feet!)
Faux mini evergreen Christmas tree ($4.99!)
Small faux wreath ($3.99!) with bow ($1.49!) (or you can also tie your own using red ribbon)
Directions for these DIY Christmas Window Decorations:
Remove any old fall plantings, but leave the dirt in the window box. If will hold the branches in place when you stick them in. If you don't have soil in the boxes, you can use floral foam. Arrange the Christmas garland on the top of the planter boxes.
You may head heard that when it comes to container planting, the motto is "thriller, filler and spiller". I use this method for my window boxes as well. I started with the filler by pushing some Juniper branches into the soil on an angle.
For the "thriller" I added a faux mini evergreen tree. I also added a few Boxwood branches for additional vertical interest.
I wanted some red accents, so I added a few larger ornaments to the center front.
Next add the "spiller"- something that will drape over the sides a bit. I chose pine branches. I also filled in any bare spots with evergreen sprigs.
The next step is to fill in the space with some pinecones and ball ornaments. I noticed that the ball ornaments didn't show up when I placed them into the greenery. I had saved some ball ornaments that had lost their tops. I stuck a wood BBQ skewer into the dirt and inserted it into the end of the ornament. This gave the ornaments more height and made them stand out.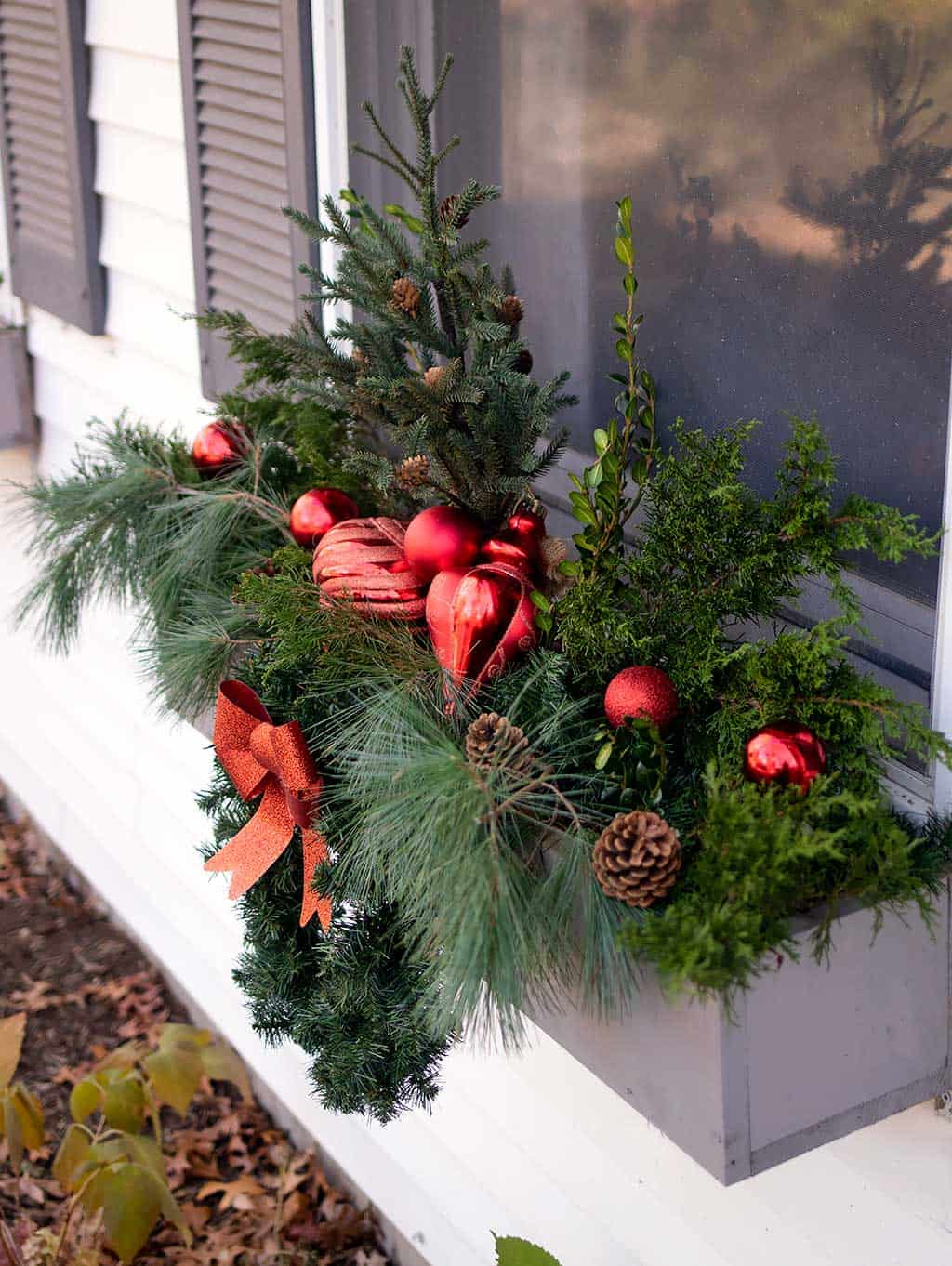 Looking for more Christmas ideas like this post, How to Make an Inexpensive Christmas Window Box?
5 Easy Christmas Tree Decorating Tips
Foolproof Way to Make Wood Slice Photo Ornaments
How to Make Mini Yarn Hat Ornaments
I love seeing your finished projects! If you enjoyed making this post- How to Make an Inexpensive Christmas Window Box any of my other Christmas decor ideas, I'd love to see yours on Instagram, just tag me @ginamicheleblog. Happy handmade holiday!