Super Easy Crochet Hat Pattern
Super Easy Crochet Hat Pattern- crocheted flat so it's perfect for beginners!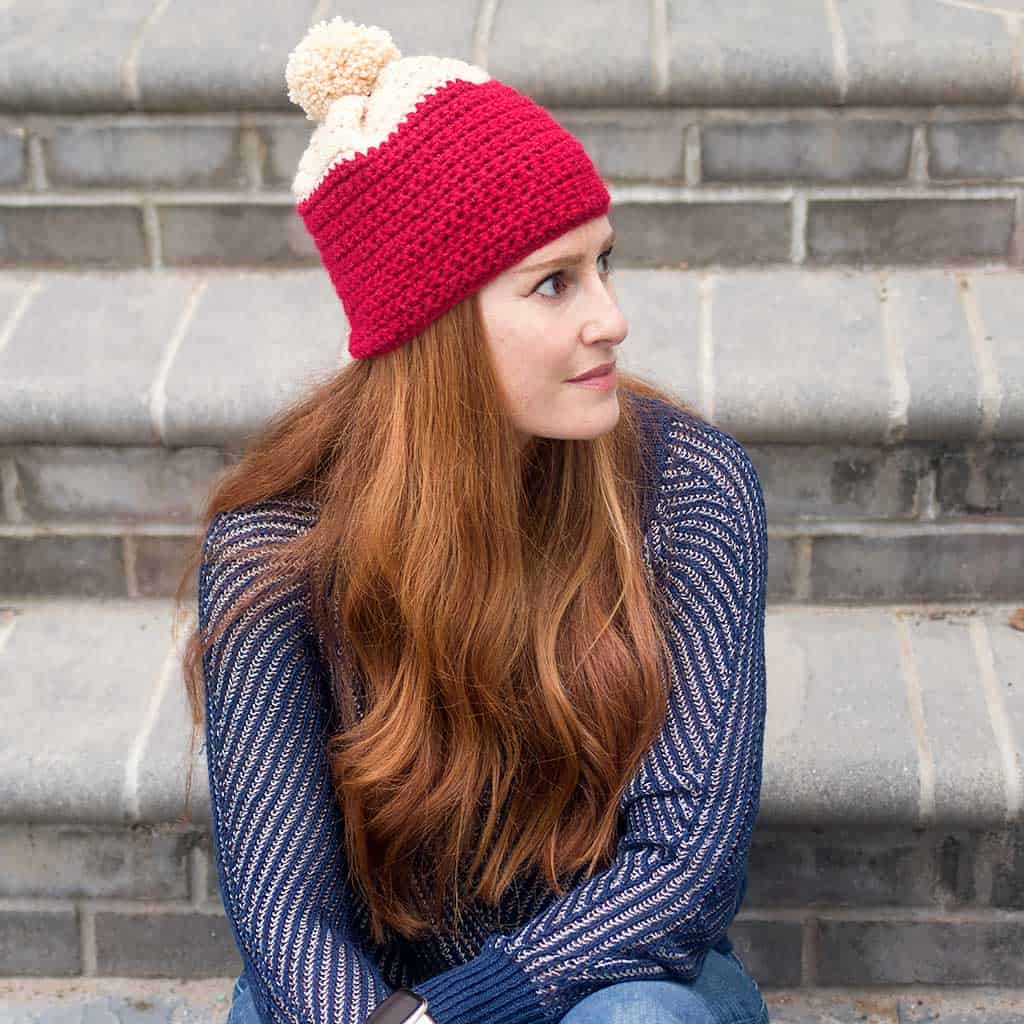 This hat is crocheted flat using a single crochet stitch. The top is gathered with a running stitch (a loose stitch woven in and out) and pulled tightly to close. Finally, a fluffy pom pom is added.
This basic pattern can be customized so many different ways!
Keep in touch! For more inspiration, tutorials, and free knitting patterns, sign up for our weekly newsletter:
Super Easy Crochet Hat Pattern
(As an Amazon Associate, I earn from qualifying purchases.)
Yarn: #4 worsted weight yarn (I used Lion Brand Wool-Ease)
Crochet hook: J10
Gauge: 11 single crochets = 4 inches
Size: Women's one size
Leaving a long yarn tail, chain 61.
Row 1: Single crochet in the 2nd chain from the hook and in each chain across – 60 single crochets.
Row 2: Chain 1, turn, single crochet in each stitch across.
Rep Row 2 until the piece measures about 9 inches. from the beginning.
Fasten off, leaving a long yarn tail. Thread tail through sts of last row and pull to gather. Sew the side seam and knot securely. Make and attach pom pom.
Looking for more easy crochet patterns like this Super Easy Crochet Hat Pattern?
How to Crochet a Pumpkin the Easy Way
Super Easy Baby Booties Knitting Pattern
Beginner Kid's Hat Crochet Pattern
Want even more free crochet patterns? Visit my new crochet blog- Adore Crochet.
I love seeing your finished projects! If you enjoyed making this Super Easy Crochet Hat Pattern or any of my other beginner free patterns, I'd love to see yours on Instagram, just tag me @ginamicheleblog. Happy crocheting!